Welcome
Welcome to the Division of Medical Biotechnology. We are located at the Department of Pathophysiology and Allergy Research of the Medical University of Vienna.
Groups
Biotechnology and Biochemical Diagnostics
Allergen Biology
Molecular Allergology
Biochemistry and Bioinformatics
News
2021-07-22
Graduation of Katharina Schwertner
Afte defending her thesis entitled In vitro model to investigate the effects of advanced glycation end products (AGEs) on the intestinal epithelium, Katharina Schwertner from Karin Hoffmann-Sommergruber's lab graduated with a master's degree in biotechnology at the University of Natural Resources and Life Sciences Vienna. Congratulations!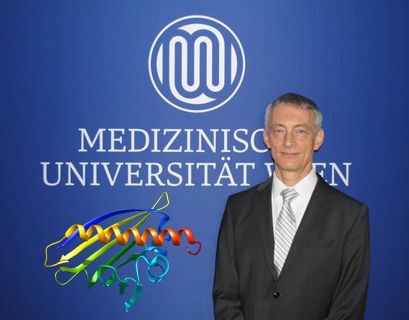 2021-07-10:
Paul Ehrlich Award for Heimo Breiteneder
We congratulate Heimo Breiteneder for receiving the prestigious Paul Ehrlich Award for Experimental Research, granted by the European Academy of Allergy and Clinical Immunology (EAACI). With this award, the EAACI honoured Heimo's breakthrough achivements in moelular allergy research, starting in 1989 with the molecular cloning of the major birch pollen allerrgen, Bet v 1, the first plant allergen sequenced and expressed as a recombinant protein, and continuing until today with works on the molecular and immunological characterization of allergens from pollen, natural rubber latex and food.
Address

Division of Medical Biotechnology
Department of Pathophysiology and Allergy Research
EBO-3Q
Währinger Gürtel 18-20 1090 Vienna, Austria
Phone: +43 1 40400 51120
Fax: +43 1 40400 51300

Head of the Division

Heimo Breiteneder
E-mail: heimo.breiteneder@muv.ac.at

Administration

Natascha Hendler
E-mail: petra-natascha.hendler@muv.ac.at

Webmaster

Christian Radauer
E-mail: christian.radauer@muv.ac.at