Heimo Breiteneder: areas of research
Biochemical and immunological characterization of food allergens
A selection of kiwi fruit cultivars. In previous publications, we and others have shown that different cultivars display marked differences in their allergen compositions.
Food allergy affects up to 5% of the adult population and an even greater number of children. Diagnostics of food allergy is frequently hampered by the absence of important allergenic proteins in commercial extracts. The use of pure, recombinant or natural, allergens will therefore improve allergy diagnosis and open new perspectives for treatment.
The focuses of our current research are the identification of allergens in kiwi fruit, an allergen source that has gained attention among allergists only since about ten years, and the characterization of fish allergens and their cross-reactivity among different fish species.
Selected publications
Bublin M, Pfister M, Radauer C, Oberhuber C, Bulley S, Dewitt AM, Lidholm J, Reese G, Vieths S, Breiteneder H, Hoffmann-Sommergruber K, Ballmer-Weber BK:
Component-resolved diagnosis of kiwifruit allergy with purified natural and recombinant kiwifruit allergens.
J Allergy Clin Immunol 2010, 125, 687-94. [PubMed] [doi:10.1016/j.jaci.2009.10.017]
Griesmeier U, Vázquez-Cortés S, Bublin M, Radauer C, Ma Y, Briza P, Fernández-Rivas M, Breiteneder H:
Expression levels of parvalbumins determine allergenicity of fish species.
Allergy 2010, 65, 191-8. [PubMed] [doi:10.1111/j.1398-9995.2009.02162.x]
Collaborations
Generation of allergen-specific recombinant antibodies
Design of an scFv-based sandwich-ELISA. Allergens are captured from the test solution by an immobilised antibody and detected by a labelled antibody that binds to an epitope different from the binding site of the catching antibody.
Phage display represents a valuable approach for the isolation of monoclonal human antibody fragments. This technique can be used for generating allergen-specific recombinant antibodies. It bypasses the inherent limitations in the use of polyclonal mammalian sera and the slow, laborious production of monoclonal antibodies.
In this project, we select allergen-specific monoclonal antibodies from the phage display library ETH-2. This library expresses CDR3-randomized single-chain variable-region antibody fragments (scFv), which consist of the variable domains from a human light chain and heavy chain connected by a flexible linker peptide. The selected antibodies can be expressed in various formats (e.g. as fusion proteins with alkaline phosphatase) for diverse application such as allergen detection assays or co-crystallization of allergen-scFv complexes for epitope identification.
Evolutionary biology and classification of allergens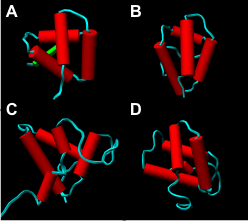 Structures of allergens from the prolamin superfamily. A: soybean hydrophobic seed protein (Gly m 1), B: peach non-specific lipid transfer protein (Pru p 3), C: castor bean 2S albumin (Ric c 3), and D: wheat 0.19 α-amylase inhibitor (Tri a 28). Though different in structure and amino acid sequence, the allergens show a common fold, a four α-helical bundle stabilized by four conserved disulphide bridges.
During the last two decades, our knowledge on allergenic proteins has considerably expanded. Today, a large number of allergen sequences and a small but growing number of three-dimensional structures of allergens are available. These data enable the conversion of unordered lists of allergens into a systematic classification based on structural biology. Our group focusses on the classification of plant allergens, the connection of structural similarity and allergenic cross-reactivity and the comparison of allergenic and non-allergenic members of protein families.
Selected publications
Radauer C, Bublin M, Wagner S, Mari A, Breiteneder H:
Allergens are distributed into few protein families and possess a restricted number of biochemical functions.
J Allergy Clin Immunol 2008, 121, 847-52. [PubMed] [doi:10.1016/j.jaci.2008.01.025]
Radauer C, Breiteneder H:
Evolutionary biology of plant food allergens.
J Allergy Clin Immunol 2007, 120, 518-25. [PubMed] [doi:10.1016/j.jaci.2007.07.024]
Collaborations
Interaction of allergens with dendritic cells
The first step in the generation of an allergic response is the uptake of the allergen by dendritic cells (DCs) residing in the skin and mucosa. These cells subsequently present the processed allergen to T lymphocytes in the local lymph node. Co-stimulatory signals generated by DCs determine the type of immune response that is initiated by helper T cells.
Our research focusses on the elucidation of the events taking place during uptake and processing of allergens by DCs on the molecular level, which ultimately lead to the induction of an inappropriate allergic reaction characterized by an excess of allergen-specific Th2 cells.
Selected publications
Smole U, Balazs N, Hoffmann-Sommergruber K, Radauer C, Hafner C, Wallner M, Ferreira F, Grössinger R, de Jong EC, Wagner S, Breiteneder H:
Differential T-cell responses and allergen uptake after exposure of dendritic cells to the birch pollen allergens Bet v 1.0101, Bet v 1.0401 and Bet v 1.1001.
Immunobiology 2010, 215, 903-9. [PubMed] [doi:10.1016/j.imbio.2009.11.003]
Smole U, Wagner S, Balazs N, Radauer C, Bublin M, Allmaier G, Hoffmann-Sommergruber K, Breiteneder H:
Bet v 1 and its homologous food allergen Api g 1 stimulate dendritic cells from birch pollen-allergic individuals to induce different Th-cell polarization.
Allergy 2010, 65, 1388-96. [PubMed] [doi:10.1111/j.1398-9995.2010.02407.x]
Collaborations