In the News:


Read our new Review Article on Nature-Derived GPCR ligands online. Great contribution from Edin! Even made it to the Cover Art of

Trends in Pharmacological Sciences

.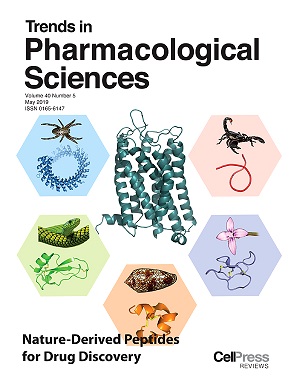 Ants as research model to study obesity and metabolic disorders? FASEB Journal describes how the neuropeptide oxytocin control locomotion, feeding behavior and metabolic gene expression in ants (this is the work of our former Postdoc Zita Liutkeviciute, with the help of Esther Gil Mansilla, Giulia Di Giglio and Edin Muratspahic, as well as our collaborators)

Our new study published in the

Our study on development of a stable, selective V1a-antagonist derived from an ant neuropeptide got published in Scientific Reports (Giulia Di Giglio was the PhD student working on the project, Postdocs Zita Liutkeviciute and Peter Keov were co-authors)

Our study on global distribution of oxytocin-like signalling in insects got published in Scientific Reports (work of our Postdocs Zita Liutkeviciute and Esther Gil Mansilla)
Media Reports on these two research reports were published in several Austrian newspapers and online news portals, including 'Der Standard' and 'Die Presse'

Article about our reseach on cyclotides "Die Kraft des Veilchens" in the largest German subscription daily newspaper.
For further artciles please visit our
News Archive
.
Upcoming Conferences:
9th Austrian Peptide Meeting 2019,Vienna
---