Am Jahrestag der Emigration von Sigmund Freud wird die Statue des Begründers der Psychoanalyse am MedUni Campus AKH zum Treffpunkt. Die Medizinische Universität Wien und die Sigmund Freud Gesellschaft laden zu Begegnung, Diskussion und Erinnerung.
Di., 4. Juni 2019, zwischen 11:00 und 19:00 Uhr
Sigmund Freud-Denkmal am MedUni Campus AKH
Spitalgasse 23, 1090 Wien
15:00 Uhr
Freud in der Medizinischen Ausbildung heute


Corinne Linke, Medizinstudentin

16:00 Uhr
Chow-Chow oder wie Sigmund Freud auf den Hund gekommen ist


August Ruhs, Wiener Arbeitskreis für Psychoanalyse

17:00 Uhr
"Meet your shrink" – ein praktischer Einblick in die Psychoanalyse


Bettina Reiter, Wiener Psychoanalytische Vereinigung

18:00 Uhr
Freud, Wien & die Universität
Stephan Doering, Professor für Psychoanalyse der MedUni Wien und Martin Engelberg,
Präsident der Sigmund Freud Gesellschaft
---
Enthüllung der Freud Statue am 4. Juni 2018
Am 4. Juni 1938 musste Sigmund Freud (1856-1939) vor dem Regime der Nationalsozialisten flüchten und sollte nicht wieder nach Österreich zurückkehren. 80 Jahre später, am 4. Juni 2018, enthüllte die Medizinische Universität Wien am Campus AKH eine von Oscar Nemon geschaffene Statue, um an einen ihrer bedeutendsten Denker zu erinnern. Freud war im Jahr 1936 für die Skulptur Modell gesessen.
Die Freud - Staute von Oscar Nemon
Bis zu seiner Flucht nach London war der Begründer der Psychoanalyse Mitglied der Medizinischen Fakultät der Universität Wien. Oscar Nemon (1906-1985) portätierte Freud erstmals im Jahr 1931 anlässlich seines 75ten Geburtstages. Freud fand diese Holzbüste, die nun im Freud Museum im London zu sehen ist, "ein erstaunlich naturgetreues Abbild".
Zwischen Freud und Nemon entstand eine Freundschaft und im Jahr 1936 - zu Freuds achtzigstem Geburtstag - wurde Nemon beauftragt, eine sitzende Ganzkörper-Skulptur Freuds für die Wiener Psychoanalytische Gesellschaft zu schaffen. Aufgrund des "Anschlusses" im Jahr 1938 wurde diese 70 Zentimeter hohe Statue nicht in Österreich aufgestellt, sondern erst 1947 in der New Yorker Psychoanalytischen Gesellschaft enthüllt. Später vergrößerte Nemon die Ganzkörperskulptur und mit Unterstützung von Donald Winnicott wurde 1970 ein erster 170 Zentimeter großer Bronzeguss neben Freuds letztem Wohnsitz in London Hampstead enthüllt.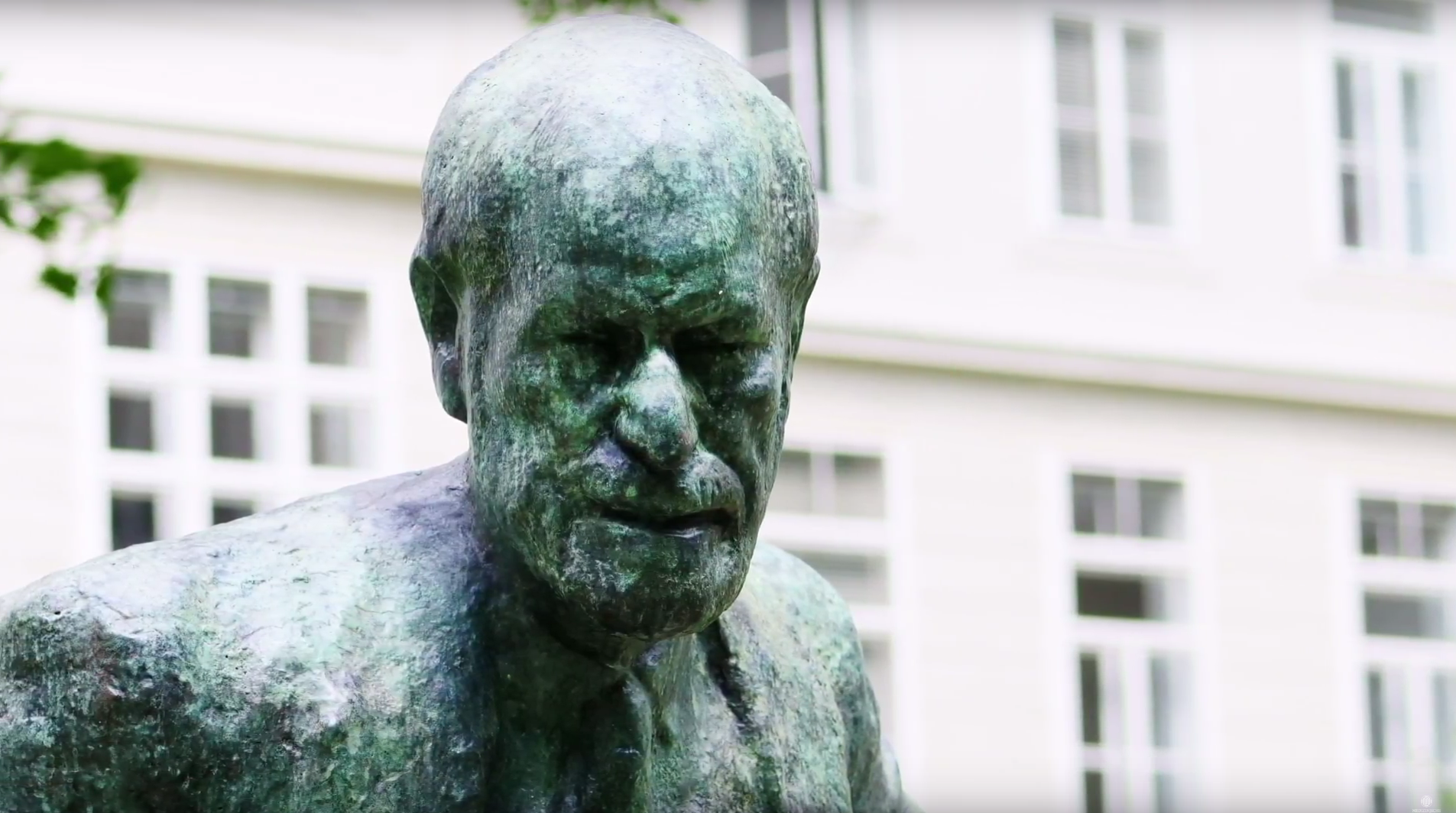 Piero Rosmondo, "Freud als model", Wiener Allgemeine Zeitung, August 5, 1931. (Oscar Nemon Archive, Collection Reference: 2004.21, Box 4, Scrapbooks, HMI Archive).
---
Enthüllung des Denkmals
Markus Müller
Rector of the Medical University of Vienna
Heinz Faßmann
Federal Minister of Education, Science, and Research
Michael Ludwig (to be confirmed)
Major of the City of Vienna
Lord David Freud
Great-grandson of Sigmund Freud; Member of the House of Lords, United Kingdom

Afterwards reception at the Statue – drinks and finger food.
Moderator: Stephan Doering
Session 1 – 13:00-14:30
Sigmund Freud – Oscar Nemon – Vienna – Cultural Theory
Welcome Address
Raimund Fastenbauer
General Secretary for Jewish Affairs, Jewish Community Vienna
Freud, Nemon, and the Freud Sculpture
Lady Aurelia Young
Daughter of Oscar Nemon
History and Future Orientation: Berggasse 19
Monika Pessler
Director of the Sigmund Freud Museum Vienna
Freud's Hands and what they might Tell
Ulrike Kadi
Department of Psychoanalysis and Psychotherapy,
Medical University of Vienna, Vienna Psychoanalytic Association, WAP
Late Freud's Experiences: The Permanent Value of his Scientific and Human Legacy
Giovanni Battista Foresti
Board Member of the International Psychoanalytical Association, IPA

Coffee Break
Session 2 – 15:00-17:00
Sigmund Freud, Psychoanalysis, and the University
Freud and the Development of Psychoanalysis in Vienna
Hemma Rössler-Schülein
President of the Vienna Psychoanalytic Society, WPV
Psychoanalysis and the University
Otto F. Kernberg
Past President of the International Psychoanalytical Association; Director Personality Disorders Institute, Cornell University New York
An International Contemporary Perspective on Psychoanalysis at the University
Jorge Canestri
President of the European Federation of Psychoanalysis, EPF
Psychoanalysis at the Medical University of Vienna Today
Stephan Doering
Professor and Chair of the Department of Psychoanalysis and Psychotherapy, Medical University of Vienna
Reception and free admission to all exhibitions from 17:30 on.
Host: Monika Pessler
Director of the Sigmund Freud Museum Vienna

Locations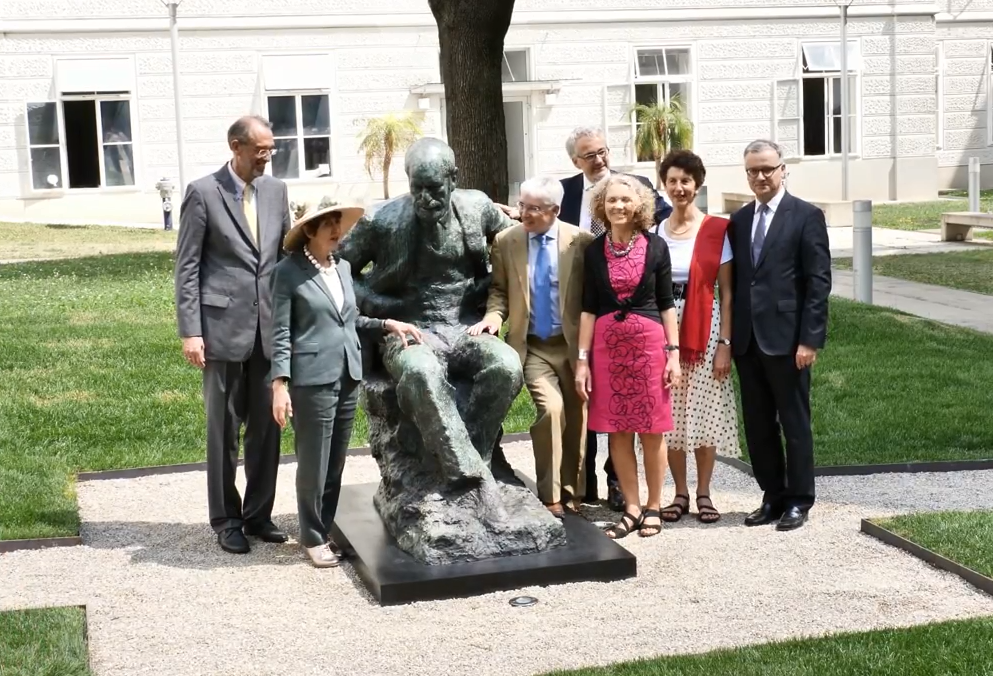 ---
Die Finanzierung der Statue erfolgte durch die Medizinische Universität Wien, die Stifter Wiener Psychoanalytische Vereinigung und Christian Andreas Plass, sowie die SpenderInnen European Psychoanalytical Federation, International Psychoanalytical Association,
Amber Privatstiftung, Christoph Binder, Gertie F. Bögels, Gea Bösch & Peter Schraivogel, Andrea & Oscar Bronner, Lisa & Stephan Doering, Margarita & Michael Freissmuth, Lord David Freud, Institute of Psychoanalysis London, Nestor D. Kapusta, Melanie Klein Trust London, Anneli Menninger & Kurt Graulich, Jürgen Pelikan, Raiffeisen Bank International AG, Hemma Rössler-Schülein & Johann Schülein, Elisabeth Skale, Lady Aurelia Young, Christoph Zielinski,
Thomas C. Bender, Gabriella Benecke, Angelika Berger, Ilia Borovikov, Anna-Bernadette Breves, Michael Buchholz, Marco Conci, Richard Crevenna, Croatian Psychoanalytic Society, Gerhard Dammann, Deutsche Psychoanalytische Gesellschaft, Gertraud Diem-Wille, Susanne Färber, Elfriede M. Fidal, Finnish Psychoanalytic Association, Hella Goldfein, Sonia Grassberger, Groupe Lecture Freud BY/Belgique, Janet Haney, Gavril Hercz, Johannes Hohenauer, Institut für Psychotherapie Berlin, International Psychoanalytic University Berlin, Charles Jenkins, Martin Jost, Gabriele Kehr, Otto Kernberg & Catherine Haran, Sylvia Knapp, Rupert Königswieser, Lady Rosa Lipworth, Klaus Markstaller, Jutta Matzner-Eicke, Jane McAdam Freud, Friedrich A. Mir Shamshiri, Moscow Psychoanalytic Society, Gabriele Moser, Ariel Muzicant, Österreichische Gesellschaft für angewandte Tiefenpsychologie und Psychotherapie, Bruno Podesser, Psychoanalytisches Institut Basel, Portuguese Psychoanalytic Society, Alfred Rink, Christa Rohde-Dachser, Gerd Schmithüsen, Timothy R. Skern, Alice Smolen, Thomas & Cornelia Sporner, Johannes Stockinger, Bernhard Strauß, Helen & Clive Taylor Robinson, Shahrokh F. Shariat, Rainer Thell and Sabine Hölzl, Jürgen Thorwart, Kinda & Rolf Tiedemann, Michael Trauner, Sabine Trenk-Hinterberger, Oswald Wagner, Christiane Wenckheim, Heike Westenberger-Breuer, Wiener Arbeitskreis für Psychoanalyse, Department of Biomedical Imaging and Image-guided therapy, Department of Urology, The Winnicott Trust London.