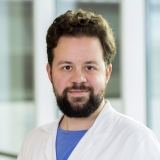 Keywords
Atherosclerosis; Cardiopulmonary Resuscitation; Cholesterol, HDL; Cholesterol, LDL; DNA, Mitochondrial; Dyslipidemias; Inflammation; Lipoprotein(a); Macrophages; Monocytes; Myocardial Reperfusion Injury; Systemic Inflammatory Response Syndrome
Research interests
My main research focus is the role of inflammatory mediators in both chronic and acute diseases, such as stable atherosclerotic disease but also critical illness and myocardial infarction with subsequent reperfusion injury. Within the immune system, our focus lies on the innate immune system with the monocyte-macrophage axis as our primary target. Currently, plasticity and heterogeneity within the monocyte-macrophage population and the interplay with lipids in stable disease, but also the role of monocyte heterogeneity within acute and critical illness represents our major research interest. A novel topic we are currently working on are the immunogenic properties of mitochondrial particles and especially mitochondrial DNA in critical cardiovascular care.
Techniques, methods & infrastructure
Routinely used techniques in our laboratory are cell culture of cells primarily of cardiovascular origin including endothelial cells from various origin, human cardiomyocytes and smooth muscle cells (HUVEC, HAEC, HHMEC, HCAEC, HACM, HSMC,...). A broad array of techniques is being used (ELISA, PCR, western blotting, flow cytometry, adhesion and chemotactic assays, reporter gene assays, basic histology,...) Furthermore, for the study of immune mediators in chronic atherosclerosis, a mouse model of atherosclerosis is being set-up. Due to our excellent location within the Anna-Spiegel-Forschungsgebäude, we have easy access to the wide spectrum offered by the core facilities (http://corefacilities.meduniwien.ac.at/?L=1).
Grants
Immune Activation in Familial Hypercholesterolemia (2017)
Source of Funding: Österreichischer Herzfonds, --
Principal Investigator
Proteomic Profiling to Reveal Novel Diagnostic Markers for Intestinal Complications in Critical Ill Patients (2016)
Source of Funding: Medical Scientific Fund of the Mayor of the City of Vienna,
Principal Investigator