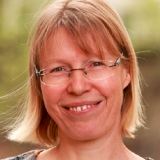 Keywords
Allosteric Regulation; Molecular Docking Simulation; Receptors, GABA-A; Structural Homology, Protein
Research group(s)
Ernst lab
Head: Margot Ernst
Research Area: GABA-A receptor subtypes, their structure and pharmacology. Role of GABA-A receptors in neuropsychiatric disorders. Current Members: Konstantina Bampali, Xenia Simeone, Jure Fabjan, Sabah Rehman
Members:
Research interests
GABAA receptor subtype structure and pharmacology,
structure prediction,
protein/ ligand interactions,
development of hybrid methods (experimentally guided in silico methods) to improve model accuracy in binding sites,
mechanism of allosteric modulation,
benzodiazepine site pharmacology,
binding site identification.
Techniques, methods & infrastructure
Experimental methods: Two electrode voltage clamp recordings of GABA-A receptor subtypes expressed in Xenopus oocytes, mutational analysis, radioligand binding assays of native and recombinantly expressed receptors.
Computational techniques: Comparative modeling, multi-template modeling, computational docking
Grants
Medical Neurosciences (DOC 33- B27) (2018)
Source of Funding: FWF (Austrian Science Fund), DOCFunds
Principal Investigator
Role of alpha-6 GABA-A Receptors in Neuropsychiatric Diseases (2015)
Source of Funding: FWF (Austrian Science Fund), Joint Projects
Principal Investigator
Ligands for the GABAA receptor alpha+ /beta- interface (2014)
Source of Funding: FWF (Austrian Science Fund), Stand-Alone Projects
Principal Investigator
Molecular Drug Targets (faculty member), coordinated by Gerhard F. Ecker (2010)
Source of Funding: FWF (Austrian Science Fund), Doctoral Programmes (W 1232)
Principal Investigator
Identification of drug binding sites in GABA-A receptors (2007)
Source of Funding: FWF (Austrian Science Fund), Stand-Alone Projects
Principal Investigator