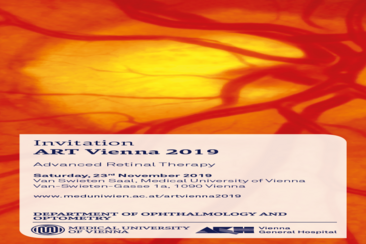 The field of retina has been greatly blessed with innovation during recent years. Break-throughs in diagnostic imaging as well as in technologies such as artificial intelligence (AI) and gene therapy have found most constructive grounds in ophthalmology.
For this year's conference we will therefore focus on the current condition of the "real world" as a starting point to define our needs and necessities and test the potential of AI to introduce novel horizons. Diagnostic imaging has further evolved with wide-field screening of the entire retina and OCT-A as an emerging tool for clinical routine and understanding disease mechanisms. Diabetes has become a growing pandemic and requires dedicated management in early diagnosis and monitoring of therapeutic interventions with AI already landed on clinical grounds. Major topics of unlimited relevance are the aging retina and the new developments in myopia worldwide which will be the Keynote Lecture at ART 2019.
Program and further information
Scientific Management
Ursula Schmidt-Erfurth, Professor and Chair,
Department of Ophthalmology and Optometry,
MedUni Vienna/Vienna General Hospital, Austria
Tel. +43 (0)1 40 400-79410, Fax -79120
sonja.leonhardsberger@meduniwien.ac.at
---
Registration open: 7:30
Programme
8.15 am
Welcome and OpeningUrsula Schmidt-Erfurth
8.30 – 10.00 am
The clinical trials and the real world Lessons from clinical studies: Which are the most important learnings for the practice of tomorrowCatherine Creuzot-Garcher, FranceConclusions and recommendations from the real world: What are the failures, needs and opportunities?Mark Gillies, Australia Is artificial intelligence the path to go?Ursula Schmidt-Erfurth, AustriaThe highlights of modern imaging The clinical value of wide-field imaging: What is the add-onMichael Ip, USA
10:30 am – 12.00 pm
OCT-A: Where are we now and tomorrow?David Huang, USAAnatomical and dynamic changes in retinal and choroidal vasculatureNadia Waheed, USA
1.00 – 1.30 pm
Keynote LectureNews in the myopic pandemic: The myopia reportsCaroline Klaver, The Netherlands
1.30 – 3.00 pm
Diabetes in the retina Relevant parameters in imaging of diabetic macular and retinal diseaseRamin Tadayoni, FranceWhat is the role of anti-VEGF in the different stages of diabetic retinal disease?Jennifer Sun, USA Diabetic retinal disease: Redefining our understandingTom Gardner, USAThe invasion of Dr. Robot to Ophthalmology: are doctors still needed in 2050?Bianca Gerendas, Austria
3:30 pm
What affects the macula What do we know about aging in the macula?Christine Curcio, USAEverything around the surgical treatment of macular diseaseGrazia Pertile, ItalyWhere are we with gene therapy in retina: A report from the clinicPaolo Stanga, GB
---
Participation fees
Participation fees (includes scientific program, lunch and coffee breaks)
Specialist 250,- EUR Doctor in training 150,- EUR
Fees should be paid to:
Medical University of Vienna Reference: KO74600006, Code: ART2019- and "Name of participant" ERSTE BANK BIC: GIBAATWW IBAN: AT36 201114041007 0700 Please note, that registration is not valid until your bank transfer is completed!
Payment until 9th November 2019
---