Die MedUni Wien zeichnet jeden Monat einen Forscher / eine Forscherin für deren hervorragende Leistung aus. Die Jury verleiht die Auszeichnung "Researcher of the Month" für diesen Monat an:
---
Researcher of the Month des Jahres 2021
Auszeichnungen für herausragende Forschungsarbeiten an der MedUni Wien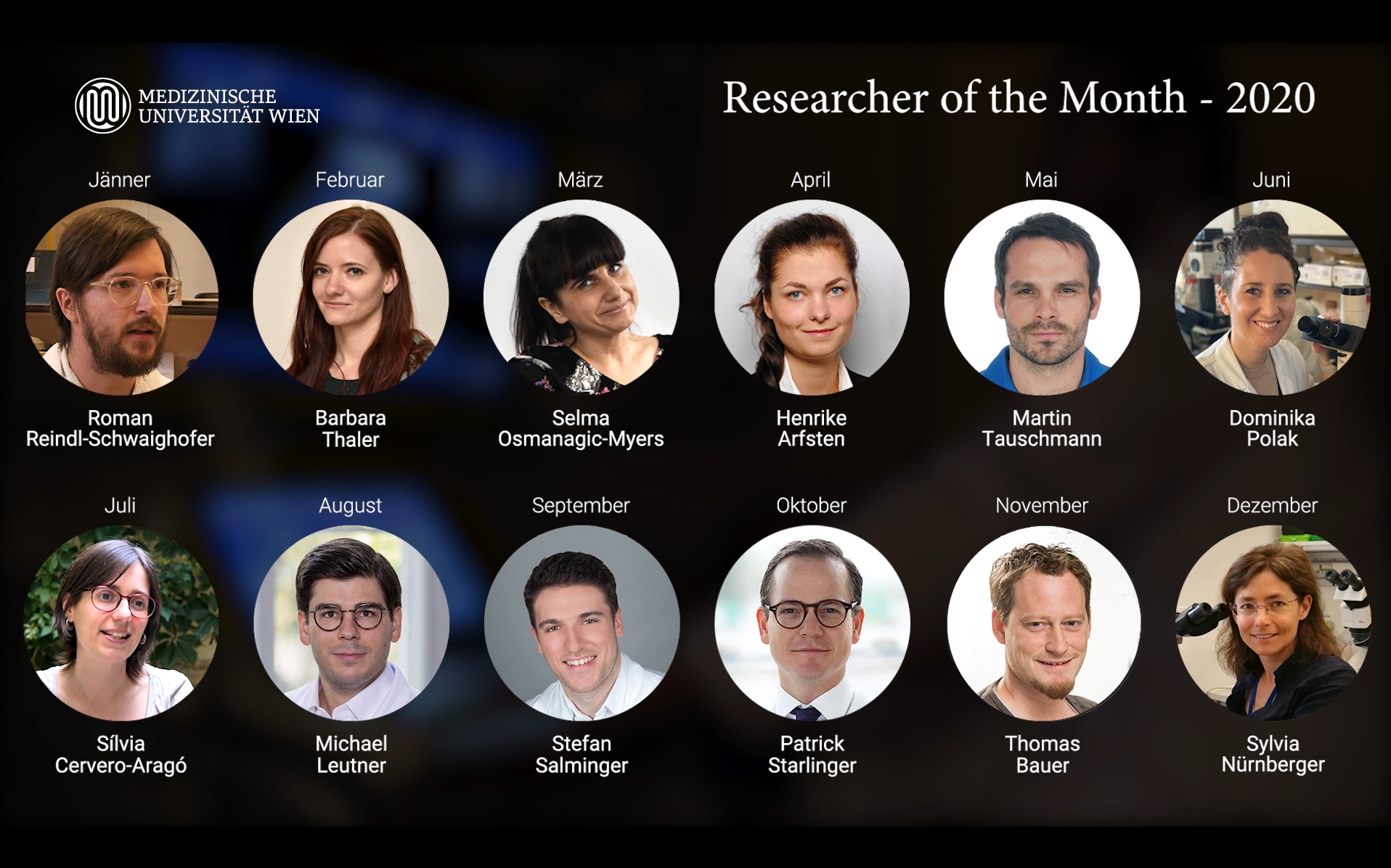 ---
Researcher of the Month 2021 | Einladung zur Bewerbung – bis 15.12.2021!
Im Monatsrhythmus werden ForscherInnen der MedUni Wien mit den besten Publikationen des Jahres 2020 im Laufe des Jahres 2021 als "MedUni Wien - Researcher of the Month" ausgezeichnet. Die oder der Ausgezeichnete wird an prominenter Stelle des MedUni Wien-Webportals mit Portrait-Photo, einem kurzen Video und ausführlichen Hintergrundinformationen präsentiert und medial bekannt gemacht. Voraussetzung für die Bewerbung ist eine Publikation (Erstautorenschaft) in einer herausragenden Zeitschrift, welche im Jahr 2020 veröffentlicht wurde.
---
Die Jury des Researcher of the Month
Um hervorragende Forschungsleistungen der MedUni Wien bekannt zu machen, startete das Rektorat der MedUni Wien im Juni 2004 das Programm "MedUni Wien - Researcher of the Month". Im Monatsrhythmus kürt eine unabhängige ExpertInnenkommission die Forscherin oder den Forscher des Monats für ihre / seine herausragende Forschungstätigkeit.