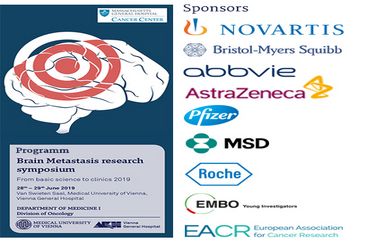 Symposium Summary
Brain metastases are a common and devastating clinical complication of cancer. Approximately 25% of patients with cancer will develop brain metastases. Median survival is limited after the diagnosis of a metastasis in the central nervous system despite having received standard therapies. Historically, our limited understanding of the molecular drivers and the microenvironment of brain metastases has hampered the application and development of novel therapeutics for this common complication of cancer. Recently, significant progress has been made in our understanding of the mechanisms of invasion and metastasis, tumor genetics, the immune microenvironment and the blood brain barrier. Novel targeted and immunotherapies are showing promise in brain metastases patients. We aim to bring together a panel of internationally recognized basic, translational, and clinical researchers in the field to discuss the latest advancements in the biology of brain metastases and the therapeutic implications of these advancements. The ultimate goal is to provide a forum for the exchange of ideas and importantly, to foster new collaborations to advance the field.
Educational Objectives
Evaluate and discuss the latest scientific advancements in brain metastases, including genomics, animal models, and the role of the immune microenvironment and blood brain barrier.
Develop strategies to incorporate emerging scientific advances to clinical trials and treatment paradigms.
Discuss the latest advanced imaging techniques for brain metastases and how they can be applied to clinical trials.
Evaluate the role of novel targeted therapies and immunotherapies in the management of brain metastases.
---
Abstracts
Oral abstracts will be presented during this symposium.
To submit an abstract for consideration, please use the guidelines below and upload here.
Title of abstract
Authorship list
Abstract (250 word limit)
The submission deadline is Sunday, 31 March.
Top abstracts will be selected for oral presentations at the meeting.
---
Registration
A free symposium hosted by Medical University of Vienna
---
Symposium Dinner in the Vienna town hall on 28th June, 19:30
(supported by the mayor of Vienna Michael Ludwig)
registration at the welcome desk (space is limited)
20 places reserved for students/PostDocs (supported by EMBO)
---
EACR sponsored prices
EACR Best Selected Talk (x1)
EACR Poster Prize (x4)
Winners will be announced during the Symposium dinner.
---
Contact
Anna Berghoff, MD, PhD
anna.berghoff@meduniwien.ac.at
Medical University of Vienna
Department of Medicine I
Clinical Division of Oncology
---