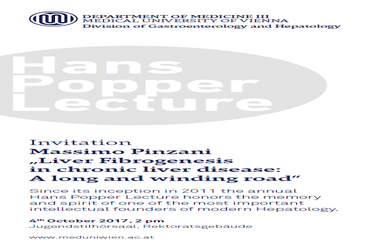 Massimo Pinzani
Director of the Institute for Liver and
Digestive Health,
Sheila Sherlock Chair of Hepatology,
University College London, UK
"Liver Fibrogenesis in chronic liver disease: A long and winding road"
Since its inception in 2011 the annual Hans Popper Lecture honours the memory and spirit of one of the most important intellectual founders of modern Hepatology.
Further Information and Program
Please send your registration to
alexandra.weisgram@meduniwien.ac.at
Program
Die Regeneration der menschlichen Leber und deren gestörte Abläufe, insbesondere in der überschießenden Bildung von Bindegewebe mit Narbenbildung (Fibrose, Leberzirrhose), stehen im Mittelpunkt der Hans Popper Lecture 2017 im Jugendstilhörsaal der MedUni Wien. Als Referent konnte für 4. Oktober (14.00 Uhr) der international hoch angesehene Fibrose-, Leberzirrhose- und Pfortader-Hochdruck-Experte Massimo Pinzani, Inhaber des Sheila Sherlock Chair of Hepatology am University College London, UK, gewonnen werden.

Pinzani beschäftigt sich aktuell vor allem mit den Mechanismen der Leberfibrose – kennzeichnend für diese ist eine Vermehrung von Bindegewebe auf Kosten der Hepatozyten, wodurch es zu Vernarbungen und Entstehung einer Leberzirrhose mit Folgekomplikationen (Pfortaderhochdruck, hepatozelluläres Karzinom) kommt. Pinzani forscht neben den Mechanismen der Fibrose-Entstehung auch daran, wie man Leberzellen auf der Bindegewebsmatrix im Sinne einer künstlichen Leber "züchten" könnte.

In Sachen Fibrose gibt es auch eine enge Kooperation mit der Klinischen Abteilung für Gastroenterologie und Hepatologie, Univ Klinik für Innere Medizin III der MedUni Wien, zugleich ist Pinzani seit Jahren ein großer Förderer und Mentor für die neue Generation von hepatologischen ForscherInnen wie etwa Thomas Reiberger und Matthias Mandorfer (beide von der Klinischen Abteilung für Gastroenterologie und Hepatologie der Universitätsklinik für Innere Medizin III an der Medizinischen Universität Wien).

"Dass Pinzani, der zuvor jahrelang in Florenz forschte, nun den renommierten Sheila Sherlock Chair innehat, passt perfekt zur symbolischen Strahlkraft der Popper Lecture", erklärt Michael Trauner, Initiator der Lecture und Leiter der klinischen Abteilung für Gastroenterologie und Hepatologie der MedUni Wien. "Denn Sheila Sherlock und Popper sind das bestimmende Zwei-Gestirn der modernen Hepatologie." Sherlock und Popper gelten als "die" Pioniere im Bereich der internationalen Hepatologie, sie gründeten 1958 auch gemeinsam die internationale Vereinigung zur Erforschung der Leber (IASL) und motivierten einander jahrelang gegenseitig durch ihre innovativen Forschungen, Shila Sherlock als Klinikerin, Hans Popper als Grundlagenforscher und Pathologe.

Über Hans Popper
Hans Popper gilt als geistiger Vater der modernen Hepatologie mit Wiener Wurzeln, nach seiner Vertreibung aus Österreich im Jahr 1938 prägte Popper mit der Fortsetzung seiner Laufbahn in den USA wie kein anderer das Fachgebiet der Hepatologie. Auf Popper gehen zahlreiche moderne Konzepte und Begriffe der Hepatologie zurück, wie die chronische Hepatitis, Cholestase und Leberzirrhose. Der visionäre Forschergeist Hans Poppers vereinte Grundlagenforschung und klinische Betrachtungsweise bereits zu einem Zeitpunkt, zu dem Biochemie und Molekularbiologie noch in ihren Kinderschuhen steckten. Faszinierend am Forscher Hans Popper ist, dass er trotz der noch relativ limitierten technischen Mittel seiner Zeit bereits in der Lage war, die wesentlichen Entwicklungen der modernen Hepatologie zu antizipieren. Seit 2011 gibt es auf Initiative von Michael Trauner die Hans-Popper-Lecture an der MedUni Wien.

Zusätzlich finden begleitende Forschungsseminare am 4. und 5.10. am Vormittag statt, welche die Möglichkeit bieten, Einblicke in die intensiven Forschungstätigkeiten auf dem Gebiet der Hepatologie an der MedUni Wien zu erhalten. Zugleich können die ForscherInnen mit Massimo Pinzani intensiv diskutieren.
---