All News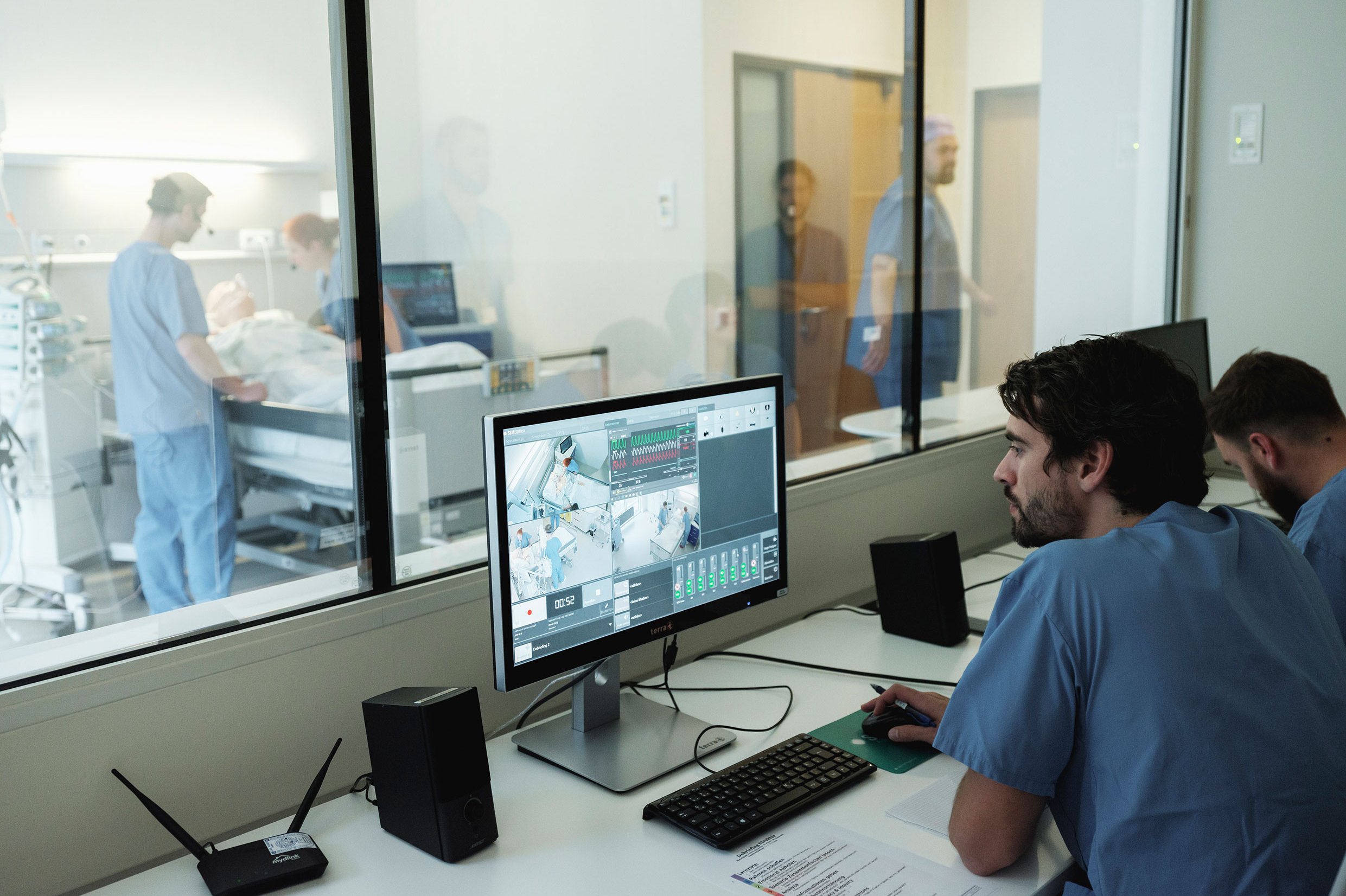 (Vienna, 15 September 2022) One of Austria's largest medical training centres, the University Simulation Center Vienna, opened its doors about a year ago. Following many postponements due to the pandemic, the Simulation Center is being presented to the public for the first time on the 15th of September.
"There is no doubt that medical staff routines will always be disrupted by emergencies which are unpredictable. In an emergency, every action counts and the teams have to be able to work in concert. It is not only possible but essential to practise this thoroughly in advance," says Vienna's City Councillor for Health, Peter Hacker. "We have created a perfect environment for doctors, nurses and other medical professionals to do this at Floridsdorf Hospital," says Hacker. Covering a total area of 1,000 m2 and equipped with state-of-the-art simulation technology, the centre offers numerous realistic simulation scenarios and varied training options.
"I am delighted to have a modern training centre for medical staff here in Floridsdorf. This ensures high-quality medical care for the patients, and the people of Floridsdorf also benefit from this," says district leader Georg Papai.
University Simulation Center combines research, innovation and teaching
Vienna is, and has long been, internationally respected as a research location. The joint simulation centre of Vienna Healthcare Group and the Medical University of Vienna combines research, innovation and teaching. "We already had plans to include a centre of this kind when we were planning the new Floridsdorf Hospital building, so we had a unique opportunity to allow plenty of space for it. This enabled us to map out hospital infrastructure in its original size," says WiGev Deputy General Manager Herwig Wetzlinger.
"The individual rooms of the centre can be laid out as operating theatres, trauma rooms, delivery rooms, intensive care units or wards to reflect the different exercise scenarios," explains Michael Binder, Medical Director of Vienna Healthcare Group. Ranging from new-born babies or toddlers to adults, there are nearly 30 simulation dummies available, some of which can open their eyes, move, breathe and even speak. These dummies can be used for measuring blood pressure and heart rate or performing an ECG and they can be resuscitated. In addition, modern audio/video technology, ultrasound equipment and "Do It Yourself" simulators developed at the centre are available for chest drainage, vascular puncture, laparoscopy or ECMO procedures. "Complex medical emergencies require extreme concentration. The more often they are practised, the more confident employees feel," says Binder.
"Medical skills are an essential part of providing the best possible patient care, as are effective communication, optimal teamwork and the use of all available resources. Medical simulation is an excellent way to reinforce these skills and practise competent, rapid decision-making, especially under emergency conditions. The University Simulation Center offers state-of-the-art equipment to test various scenarios as a team in a realistic setting," says Oswald Wagner, Vice Rector of MedUni Vienna.
Trainers educated to the highest level
Training sessions are controlled and monitored from three dedicated control rooms. Every detail is then analysed. This makes it possible to learn from mistakes in a completely safe environment and to optimise procedures. "The simulation centre offers realistic simulation scenarios and varied training options in more than 30 different training sessions," says Karl Schebesta, Director of the Center. In addition to the medical and technical skills that have to be repeatedly practised, it is primarily a matter of practising procedures, interfaces and communication in the multi-professional team.
In addition, great emphasis is placed on collaboration with internationally renowned institutions and organisations. It is via international collaboration that training concepts are refined, trainers are educated to the highest level and space is created for innovation. "Colleagues from Ireland, Germany, Switzerland, the Netherlands, Australia and Sweden have already joined us in Vienna," says Schebesta. Around 50 trainers from MedUni Vienna and WiGeV, from different disciplines such as anaesthesiology, paediatrics, emergency medicine, obstetrics, surgery, paediatric surgery and ortho-traumatology, are currently involved. The offer is primarily aimed at all clinical staff from Vienna Healthcare Group and the Medical University of Vienna. However, external colleagues are also given the opportunity to train here, provided there is available capacity. Around 200 training sessions were held at the University Simulation Center Vienna last year.
---