All News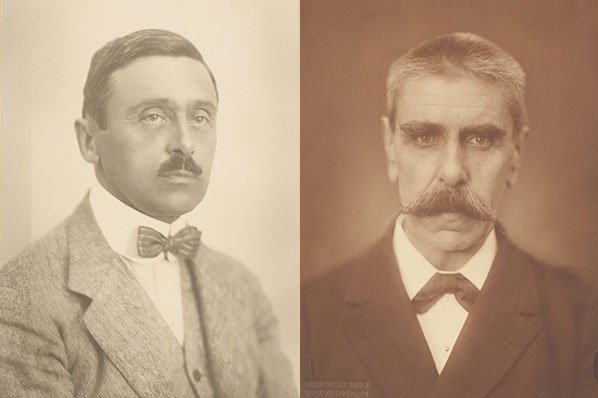 (Vienna, 23 May 2023) The collections of the Josephinum contain approximately 400 photographs by Max Schneider, including leading figures of Viennese medicine such as Julius Wagner-Jauregg, Clemens Pirquet and Guido Holzknecht. To mark the 100th anniversary of his work at the Medical Faculty, the predecessor of the Medical University of Vienna, the Medical Collections of MedUni Vienna will be exhibiting the work and life of the "Master of Physician Portraits" for the first time, starting on 1 June 2023. A press tour will be conducted on 30 May 2023.
On the 100th anniversary of his work at the Vienna Medical Faculty, the work and life of photographer Max Schneider will be presented for the first time at the Josephinum as part of FOTO WIEN 2023. The successful and distinguished portrait photographer had to flee Vienna in 1938 due to his Jewish origins. His journey took him to India, where he continued his work as a portraitist, and to the USA, where he died in 1958.
From 1913 onwards, Max Schneider (1887-1958) worked as a photographer in Vienna and, due to the proximity of his studio to the Medical Faculty, photographed leading medical figures. Technically adept and of high artistic quality, he created numerous portraits.
His photographs took a familiar, sometimes almost intimate look at the luminaries of Viennese medicine and thus illustrated their characteristic traits. His quality images were popular and printed in daily newspapers and medical journals as well as being transferred into drawings, paintings and prints. Schneider employed noble printing processes, thus giving his works the status of unique specimens in contrast to easily reproducible photography.
Regardless of political orientation, Schneider photographed the medical elite and created a kaleidoscope of diverse personalities, which was brutally crushed when the National Socialists seized power in 1938. The photo studio was "Aryanised" and Schneider's photographs were henceforth sold under a different name.
For the first time, the Josephinum is now displaying the work and life of the "Master of Physician Portraits" from 1 June 2023. "This exhibition provides a comprehensive insight into the photographic work of an artist," says the director of the Josephinum, Christiane Druml, "but also into perspectives of the destruction of his economic existence through Aryanisation and inadequate restitution after 1945".

Duration of the exhibition: 01 June - 26 August 2023
Curated by: Daniela Hahn
Josephinum – Medical History Museum Vienna
Währinger Straße 25, 1090 Vienna; www.josephinum.ac.at
Opening hours Wed-Sat, 10.00-18.00, Thu, 10.00-20.00
Fixed tour: Thursdays 18.30, Saturdays 11.00
---