All News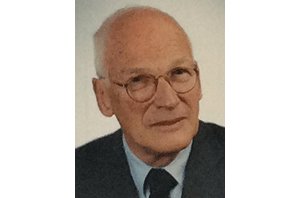 o.Univ. Prof.Dr.med. Mag.(phil) Heinz Huber
We mourn the death of Univ. Prof. Dr. Heinz Huber, who passed away on May 4, 2023, shortly before his 90th birthday.
Heinz Huber was born in Vienna on May 19, 1933, completed his medical studies in Vienna and received his doctorate in Vienna in 1957. He completed his training in internal medicine in Innsbruck and Vienna.
From 1962 to 1963 he was a fellow at the Royal Postgraduate Medical School London, Department of Haematology. His main research interests there were hypersplenism, polycythemia vera and malignant lymphomas.
In 1964, he received his residency in internal medicine.
From 1967-1968 Heinz Huber held the position of Fellow of the Department of Hematology and Immunology at the University of California in San Francisco and at the Scripps Clinic La Jolla. Research during this stay focused on Fc receptors and complement receptors on monocytes/macrophages and lymphoid cells. He succeeded in the first description of the Fc-gamma receptor on monocytes/macrophages.
In 1969 he habilitated with Herbert Braunsteiner at the Medical Clinic Innsbruck.
From 1968-1976 Heinz Huber was head of the working group for hematology and oncology at the University Clinic for Internal Medicine in Innsbruck. During this time he published a Citation Classical on interaction of Fc-gamma with complement (C3) receptors on monocytes (Heinz Huber et al; Science 1968).
In 1972 he was appointed Associate Professor specializing in Immunology/Immune Hematology.
From 1976 -1979 he worked as a primary physician at the Hospital of the Sisters of Mercy in Linz at the Medical Department with a focus on internal oncology and hematology. During this time, the department developed into a reference center in the internal treatment of solid tumors and hematological neoplasms in Upper Austria.
In 1979 he returned to the Medical University Hospital in Innsbruck and took over the management of the Outpatient Clinic for Hematology and Oncology.
1986-1991 Heinz Huber was instrumental in the development of a structural concept for the Department of Oncology and Hematology at the University Hospital of Internal Medicine in Innsbruck.
Prof. Huber was subsequently instrumental in researching, among other things, the expression of adhesion molecules on lymphoid cells, cytokine therapies of hematological diseases and the establishment of molecular cytological methods of oncogene expression. His scientific life was characterized by the establishment of translational research - it was always important to Heinz Huber to bring the scientific laboratory as close as possible to patients.
In 1993 Heinz Huber was appointed Full Professor of Internal Medicine with a focus on Oncology at the University of Vienna and became Head of the Clinical Division of Oncology.
From 1993 - 1999 he held the position of Clinic Director of the University Clinic for Internal Medicine I, retiring in 2001.
From 1986-1991 Heinz Huber was Chairman of the Austrian Society of Hematology and Oncology, where the promotion of young scientists was always an important concern. Heinz Huber was also very involved in the application and development of the additive specialist for hematology and oncology in internal medicine.
Furthermore, he was chairman of the Tyrolean Cancer Society/Cancer Aid. In this function he played a leading role in the establishment of a patient-oriented tumor registry.
In 1998 Prof. Huber was President of the Austrian Society of Internal Medicine.
Even after his retirement, Heinz Huber was very active and studied history at the University of Innsbruck. In 2010 he graduated with a Master (phil) degree. He published a book entitled: History of the Medical Faculty of Innsbruck and the Medical-Surgical Study Institute (1673-1938).

Univ.-Prof. Dr. Heinz Burgmann
Interim. Head of Department of Internal Medicine I
---