All News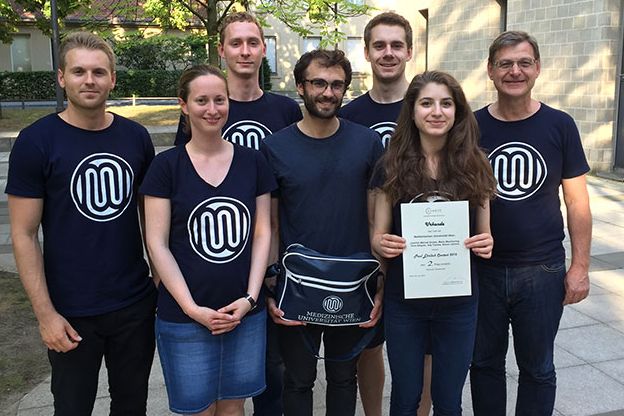 (Vienna, 28 June 2016) A team of students from the Medical University of Vienna took part in the Paul Ehrlich Contest, held in Berlin on 23 and 24 June 2016, and came second out of 15 participating teams. This international contest for medical students from various universities also acts as a yardstick for the effectiveness and quality of the universities' academic teaching in medicine.

The contest, going under the name of the "Paul Ehrlich Contest" (formerly the Goethe prize) brought 15 teams from medical universities and faculties within the German-speaking area together in Berlin. The contest took place over two days and comprised five categories: visual diagnosis, clinical cases, multiple choice questions, practical tasks and differential diagnosis.

The Viennese team made a strong showing and was still in the lead on the second day, before finally having to concede defeat to the home team from Berlin Charité.

The teams were supervised by lecturers, who had travelled with them and also acted as the jury for the contest. The Viennese team were supervised by expert educator Matthäus Grasl from MedUni Vienna's Department of Ear, Nose and Throat Diseases. "Our team shone with an abundance of theoretical and practical knowledge, huge optimism and engagement. The fact that we took second place in this contest shows that our students need not be shy of international comparison."

Although the Paul Ehrlich Contest is a light-hearted student competition, it is also an indicator of the quality of academic teaching. In any case, Anita Rieder, Vice Rector for Education at MedUni Vienna, is very happy with the result: "The fact that our students did so well in this contest, practically from a standing start and without any special preparation, shows that the education provided by MedUni Vienna more than holds its own with that of other universities in the German-speaking area. A huge thank-you to all participants, who were prepared to enter this contest even during the stressful exam period and who represented MedUni Vienna so successfully – and especially to Professor Grasl." Universities were invited to take part and MedUni Vienna called for prospective team members from amongst its year 4, 5 and 6 students. The 6-strong team was established following an internal selection procedure but "the quality of the applicants made the selection procedure very difficult for us".

The Paul Ehrlich Contest
The Benjamin Franklin Contest was held for the first time at the Free University of Berlin in 1998. This contest, in which teams of students from different medical faculties competed against each other, was continued after the merger to form the Charité – Universitätsmedizin Berlin [Berlin Teaching Hospital]. Between 2012 and 2015, the contest took place in the form of the Goethe Contest at the University Hospital in Frankfurt and Main. From 2016 onwards, this contest will alternate between Berlin and Frankfurt am Main – under the new name of the Paul Ehrlich Contest.
---