All News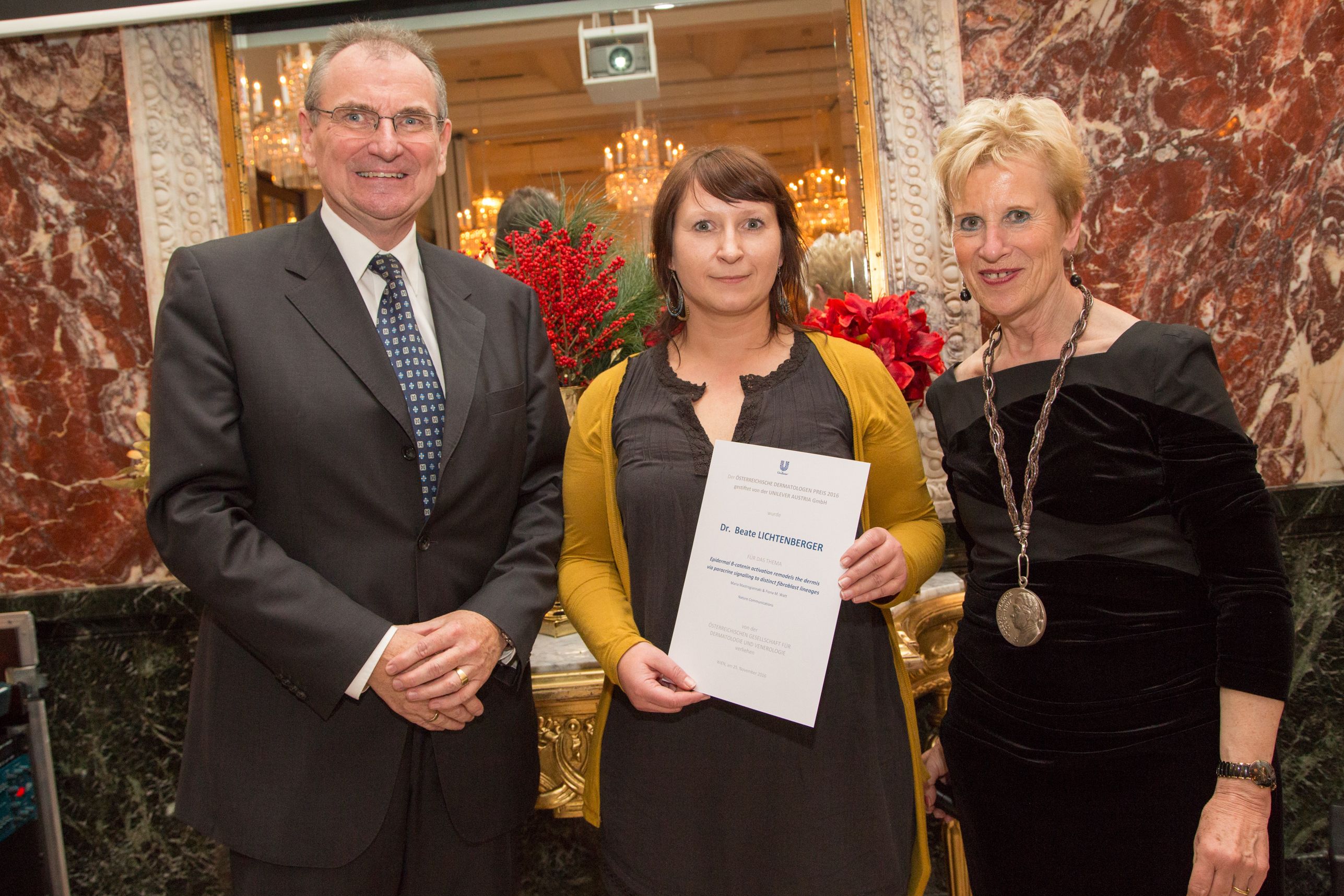 (Vienna, 19 December 2016) Beate M. Lichtenberger and Patrick M. Brunner of MedUni Vienna have been awarded the 2016 Austrian Dermatologist Prize by the Austrian Society of Dermatology and Venereology (ÖGDV), in recognition of their research work.


The physician Patrick M. Brunner is receiving the award and prize money for his outstanding work on treatment responses in atopic eczema. Biologist and geneticist Beate M. Lichtenberger has conducted research into the differentiation of fibroblast cells. The prize is an award for important scientific works in the field of dermatology and venereology and is given for outstanding work by young basic researchers.

Patrick M. Brunner, currently working at the Laboratory for Investigative Dermatology at The Rockefeller University in New York, discovered that therapeutic responses to topical steroids strongly depend on baseline skin expression of the two inflammatory mediators Interleukin-21 and Interferon-gamma. The characterization of their expression in individual patients might help to optimize future treatment strategies for these patients, and to differentiate steroid responders from non-responders even before treatment initiation. As topical steroids are often the comparator for therapeutic efficacy of investigational new drugs, these data might also be useful for the planning of future clinical trials for this debilitating, chronic inflammatory skin disease.

Beate M. Lichtenberger, member of the Skin & Endothelium Research Division at MedUni Vienna's Department of Dermatology in Vienna General Hospital, is receiving the prize for her work in the field of cell adhesion research. She was able to show that epidermal hedgehog and the growth factor TGF-b bring about changes in the dermis, due to the adhesion protein catenin. On the other hand, beta-catenin induces atopic hair follicles, among other things. This mechanism initiated by catenin can be inhibited using pharmacological or genetic knockout methods. However, as the doctor said in summing up her work, this depends upon different paracrine responses of various fibroblast cell lines. Here, new avenues are opening up in basic research into the signalling pathways in skin cells.

The Austrian Dermatologist Prize, which is being presented this year for the 44th time, is the oldest of the prizes awarded by the Austrian Society for Dermatology and Venereology. It is awarded in recognition of research work in the field of skin and venereal diseases. The €5,200 award for scientific works has been donated by Unilever Austria since 1973.
---