All News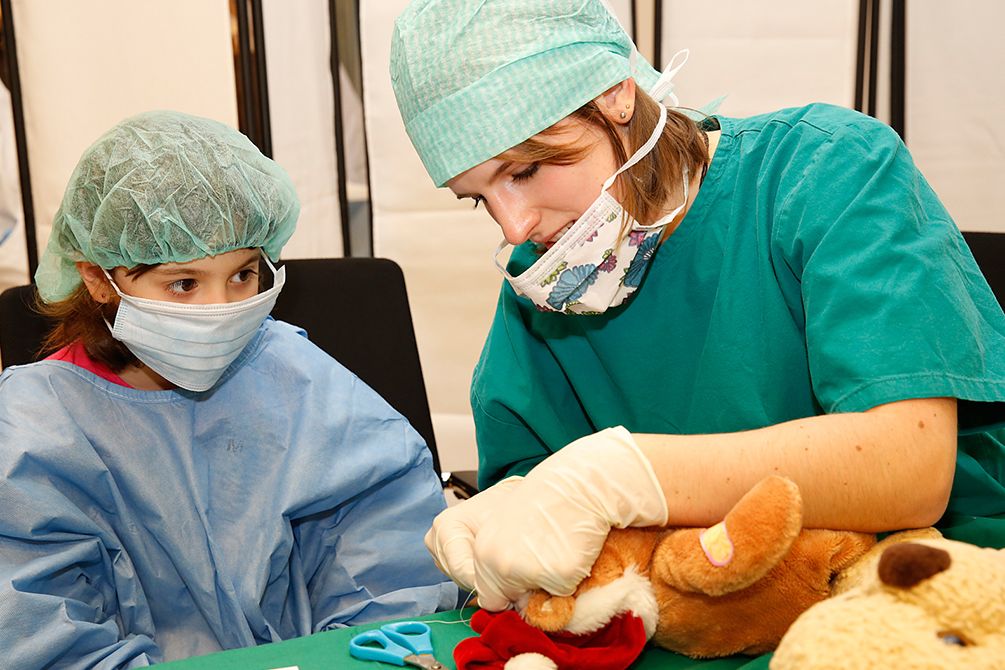 (Vienna, 28 November 2016) Teddy bears, cuddly toys and dolls in the operating theatre, having X-rays or CT scans: The aim of the Teddy Bears' Hospital initiative is to use the medium of play to stop children being afraid of visiting the doctor or hospital. The Teddy Bears' Hospital, which is now opening for the 16th time on 12 December, is a joint initiative of MedUni Vienna, the Austrian Medical Students' Association (AMSA), the Vienna Medical Association and the Academic Association of Austrian Pharmacists.
Because of the huge interest shown in previous years, this year, the hospital for cuddly toys will be open for three days, one day longer than previously: from Monday 12 December to Wednesday 14 December 2016 (9:00 – 16:00 hrs, Vienna Medical Association, Weihburggasse 10-12). The mornings are reserved for pre-booked school parties but, in the afternoon, individual children can come along with their teddy bears. The visit – and this hospital stay lasts approximately one hour – is suitable for kids aged between 4 and 8 years and admission is free. Group bookings: teddy-wien@amsa.at.

The children and their cuddly toys will be looked after by around 50 "teddy bear doctors", who are really students from MedUni Vienna. The procedure for the various treatments mimics the reality of a hospital – from admission through to discharge of the "patients". For example, the facilities include an ECG for measuring heart rate, a dental clinic and a first-aid station. "Surrogate teddies" that can be cut open and sewn up again, are available for operations. The children do not just accompany their teddy or doll but assist the doctor who is treating them.

Taking the fear out of hospital visits
"The Teddy Bears' Hospital has become a regular institution at our university and is supported by a high level of commitment from our medical students," says Anita Rieder, MedUni Vienna's Vice Rector for Education. "Children are able to learn about the sometimes complex procedures in a hospital in a playful and fun way so that, when they really have to visit their doctor or a hospital, they can use their positive experiences as a resource and be much more relaxed about what goes on there – without being afraid. This helps the children and also their parents and the doctors treating them. Even though it is fun, the children take it all very seriously." Every year, at the beginning of the school holidays, MedUni Vienna also runs the KinderUni Medizin (Children's University: Medicine), which is attended by more than 2,000 children and comprises over 5,000 class attendances as part of the university-wide Children's University events, explained Rieder.

"By accompanying their cuddly toys and helping to treat them, the children learn at a safe distance about what can happen and see that, in most cases, visiting the doctor is not nearly as bad as they had feared," say Yushan Yang and Silvana Neumann of the Austrian Medical Students' Association (AMSA), who head up the organising team.

Event: Teddy Bears' Hospital 2016
12 – 14 December 2016 (9.00-16.00 hrs., admission free – for children aged between 4 and 8 years, individuals need not book, for group bookings go to teddy-wien@amsa.at), Vienna Medical Association, Weihburggasse 10-12, 1010 Vienna. You are kindly requested to bring slippers or trainers with you.
---