All News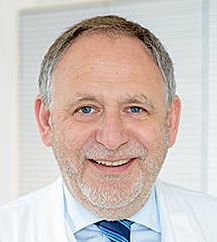 (Vienna, 5 September 2016) The Polish Society of Clinical Oncology (Polskie Towarzystwo Onkologii Klinicznej, PTOK) accepted Christoph Zielinski into its ranks as an honorary member in the Summer of 2015 and now the Polish Society of Oncology (Polskie Towarzystwo Onkologiczne, PTO) is similarly honouring the Head of the Department of Medicine I and the Comprehensive Cancer Center (CCC) Vienna. The title was conferred in a ceremony that took place on 2 September 2016 as part of the society's annual conference in Gdansk.

Zielinski was presented with his honorary membership certificate by the President of the PTO, Jan Wysocki, and his predecessor, Maciej Krzakowski. This award expresses the PTO's appreciation for Zielinski's services to Polish oncology and its gratitude for many years of support and collaboration in this area. MedUni Vienna and the CCC both extend their hearty congratulations.

PTO
The Polish Society of Oncology is the oldest and largest oncology society in Poland. It has more than 1,000 members: doctors, scientists and other cancer experts involved in many different aspects of oncology, such as: basic research, epidemiology, diagnosis and therapy.

About Christoph Zielinski
Christoph Zielinski studied medicine at the University of Vienna and graduated in 1976. From 1976 until 1978 he was an assistant at the University of Vienna's Institute of Immunology and in 1978 he began his specialist training as a consultant in internal medicine at the Department of Medicine II in Vienna. From 1979 to 1981 he was in Boston (USA), where he was a fellow at the Cancer Research Center of Tufts University.

In 1992, Zielinski was appointed Professor of Clinical-Experimental Oncology and Clinical Immunology and in 2002 he became Head of the Department of Oncology at the Department of Medicine I. Since 2004 he has been Chairman of the Department of Medicine I at MedUni Vienna. From 2008 until 2010 he served as vice-rector of MedUni Vienna. In 2010, he became coordinator and in 2013 MedUni Vienna appointed him as Head of the Comprehensive Cancer Center Vienna, a joint institution of MedUni Vienna and Vienna General Hospital.

Since 1999, Zielinski has been President of the Central European Cooperative Oncology Group (CECOG). The European Society for Medical Oncology, ESMO, elected him onto its Executive Committee - the management committee of the ESMO - for the years 2014 – 2017. Zielinski is on the editorial board of numerous scientific oncology journals and for many years he published the German edition of the prestigious Journal of Clinical Oncology. Since November 2015, the renowned oncologist has published the peer-reviewed open access online journal "ESMO Open – Cancer Horizons".

---