All News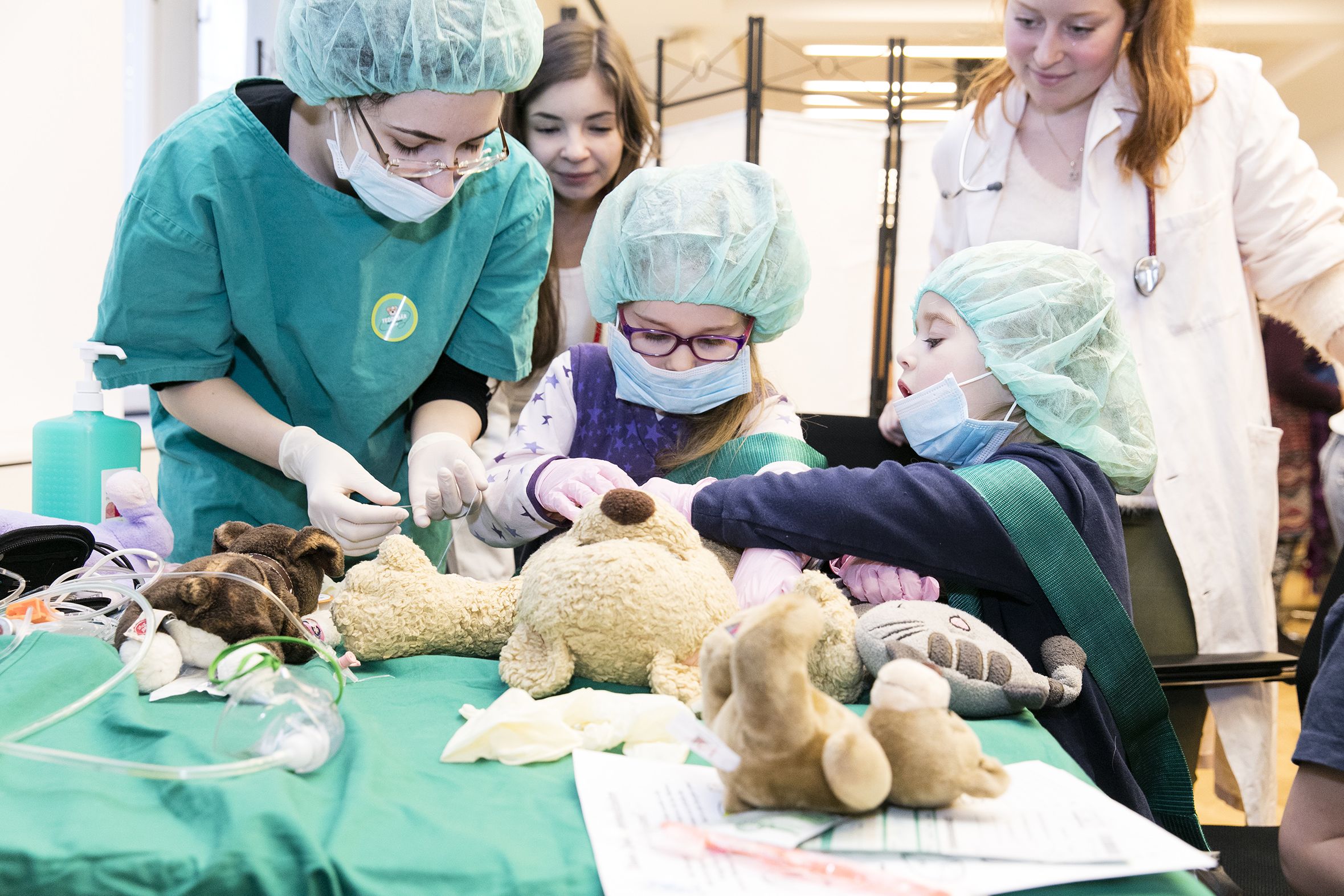 (Vienna, 30 November 2017) Teddy bears, cuddly toys and dolls having X-rays or CT scans, ECGs or on the operating table: the aim of the Teddy Bear Hospital initiative is to use the medium of play to stop children being afraid of visiting their doctor or hospital. The 17th Teddy Bear Hospital will be opening its doors for three days from 11 December (opening times on each day: 9:00 -12:00 and 13:00 -16:00 hrs, Vienna Medical Association, Weihburggasse 10-12). It is a joint initiative between MedUni Vienna, the Austrian Medical Students' Association (AMSA), Vienna Medical Association, St John's Ambulance Brigade and the Academic Association of Austrian Pharmacists.
The mornings are reserved for pre-booked school parties but in the afternoon individual children can drop in unannounced with their teddy bears, favourite dolls or soft toys. The hospital visit lasts approximately one hour and is suitable for kids aged between 4 and 8 years – admission is free. Group bookings: teddy-wien@amsa.at

The children and their cuddly toys will be looked after by around 50 "teddy-bear doctors" (students from MedUni Vienna). The procedure for the treatments mimics the reality of a hospital – from admission through to discharge of the "patients". For example, there will be an ECG for measuring heart rate, a dental clinic and a first-aid station. Of course, surgery will also be performed in the Teddy Bear Hospital, for which stand-in bears will be on hand. The children do not merely accompany their teddy bears but have the opportunity to act as junior doctors and play an active role in their treatment. And St John's Ambulance Brigade will run through resuscitation exercises with the children, show them round an emergency ambulance and describe all its functions.

Being more relaxed about hospital visits
"The Teddy Bear Hospital is an excellent project, which has now become an important tradition that the Medical University of Vienna is very happy to support and which enjoys a high level of commitment from our medical students," says Anita Rieder, MedUni Vienna's Vice Rector for Education. "The children learn in a playful way about the often complex procedures in a hospital, we engage their curiosity and address any experiences they might already have had in this hospital environment. It is hoped that they will no longer experience a visit to the doctor or to hospital as strange and possibly frightening but will be able to fall back on the positive experiences they had in the Teddy Bear Hospital."
Elke Wirtinger, Vice-President of Vienna Medical Association is delighted that the Teddy Bear Hospital is once again setting up in the Vienna Medical Association building: "The Teddy Bear Hospital has huge educational value, because it teaches children in a playful way how to deal with health issues. A positive spin-off is that this helps children to be less fearful of medical emergencies." That would also help if the children found themselves in a similar situation. Their curiosity about everything that goes on in a hospital or medical examination would then outweigh any fear and so make children more resilient," emphasises Wirtinger.

Event: Teddy Bear Hospital 2017
11 -13 December 2017 (9:00 -12:00 and/or 13:00 -16:00 hrs., admission free – suitable for children aged between 4 and 8 years, individuals need not book, for group bookings go to: teddy-wien@amsa.at), Vienna Medical Association, Weihburggasse 10-12, 1010 Vienna). You are kindly requested to bring slippers or trainers with you.
---