All News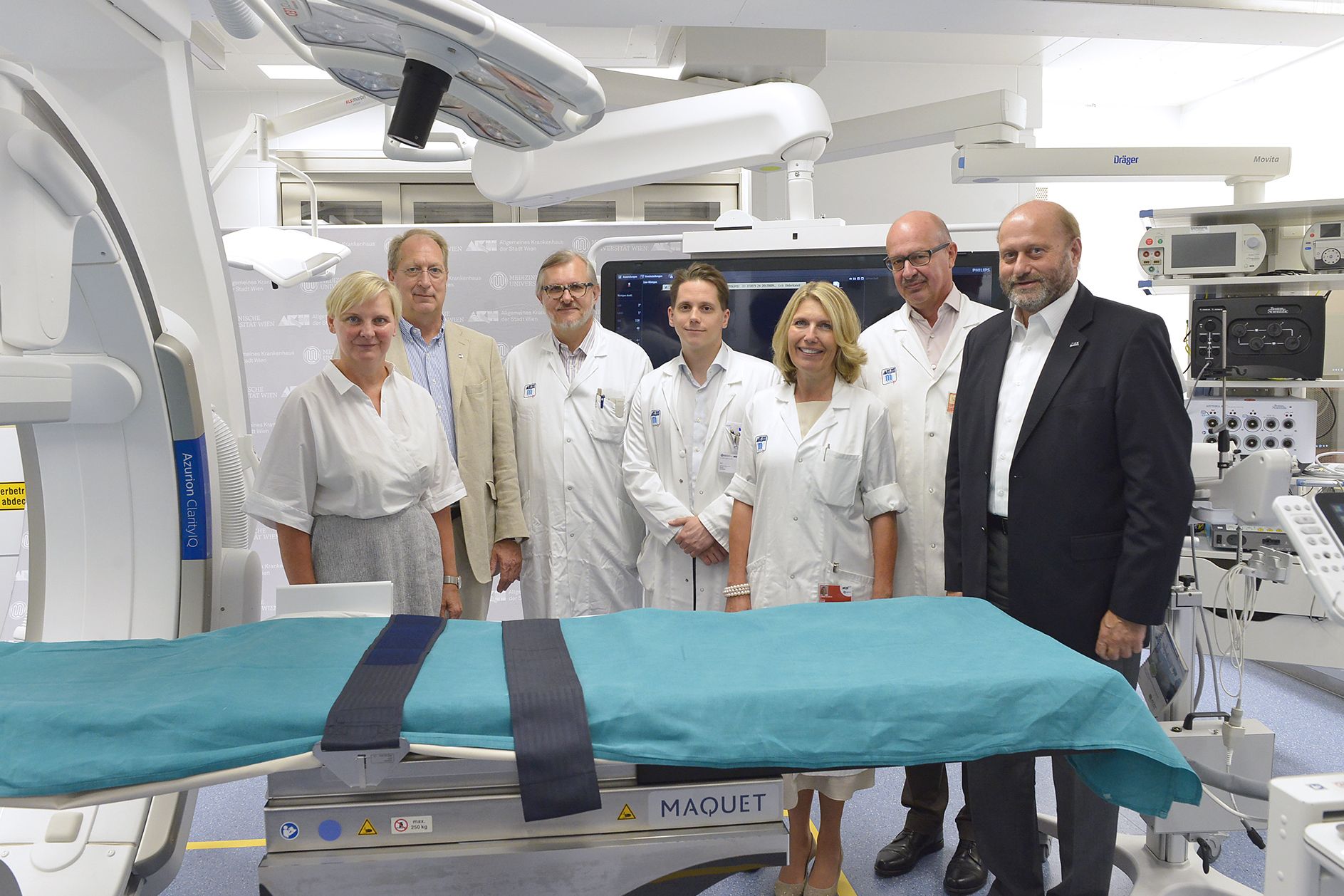 (Vienna, 25 August 2017) – Rapid developments in the field of minimally invasive surgery in cardiology, cardiovascular surgery and interventional radiology require the increased use of various imaging techniques, which are now on hand in the operating theatre during an operation. This means that one of the first facilities of its kind in the world, the latest Azurion angiography unit, is now available in a cardiac surgery hybrid operating theatre in the surgical area of Vienna General Hospital.
The high-performance angiography unit can be used either simultaneously or alternately by medical personnel from different specialisms. In this way, complex operations can be performed on an interdisciplinary basis under optimum, highly sterile conditions and new techniques can be developed. The operation is monitored on large screens and can be overlaid with available CT, MRI or ultrasound images (image fusion technology). This gives surgeons the maximum level of safety and control over the operation. There is also the benefit that the level of radiation exposure of patients and staff is minimal.

"Vienna General Hospital now offers Viennese patients additional highly complex procedures, which are completely state-of-the-art and are even pioneering for other hospitals," emphasises Sandra Frauenberger, Vienna City Councillor for Health. The provision of this facility marks a success for the collaboration between KAV and MedUni Vienna that started in January 2016. "We are establishing partially integrated centres in the clinical area as a move towards interdisciplinary patient care," explains Herwig Wetzlinger, Director of the General Hospital.

"The creation of the hybrid operating theatre reinforces MedUni Vienna's high level of expertise in the field of cardiovascular diseases. The importance of academic cardiovascular medicine has already been recognised by the creation of the 'Cardiovascular Medicine Research Cluster'. Our main aim is to ensure that patients benefit from basic research as quickly as possible," says MedUni Vienna Rector Markus Müller.

Teamwork by specialists from many different professions
Doctors from many different disciplines (such as cardiologists, heart surgeons, vascular surgeons, radiologists, anaesthetists) will work in the hybrid operating theatre, together with highly specialised nurses, perfusionists, radiology technologists and theatre assistants. Heart operations will be jointly planned within the "Heart Team" and jointly carried out by heart surgeons and cardiologists. With a floor area of more than 100 m2n (including service area), the operating theatre is much larger than an operating theatre used by only one surgical discipline.

The operations that will be performed include, for example, implantation or reconstruction of aortic or mitral valves, which can be performed by cardiologists or heart surgeons. The new theatre will also make it possible to carry out one procedure immediately after the other, such as bypass surgery followed by the insertion of stents to widen vessels, so that patients only need to be prepped and anaesthetised once. This particularly gentle approach also means that it will be possible to operate on patients for whom the risk of surgery was previously considered too great. At the same time, should any complications occur, all the technical equipment, including a heart-lung machine, is on stand-by in the operating theatre. "Having one of the most high-tech hybrid operating theatres in Europe will enable us to perform completely new operations via increasingly small incisions" says Günther Laufer, Head of the Division of Cardiac Surgery.

Use of the new hybrid operating theatre in Vienna General Hospital will be stepped up gradually, as all the professional groups will need to be comprehensively trained in the use of the new technology. The previous cardiac surgery operating theatres will continue to be used and the existing cardiac catheter area will still be used for diagnostic purposes. "Highly developed technology that offers a high level of safety during implantation is now available for cardiac catheter procedures", Irene Lang, Deputy Head of the Division of Cardiology, is delighted to report.

Vienna General Hospital and MedUni Vienna have jointly invested around 3.9 million euros in installing the hybrid operating theatre.
---