All News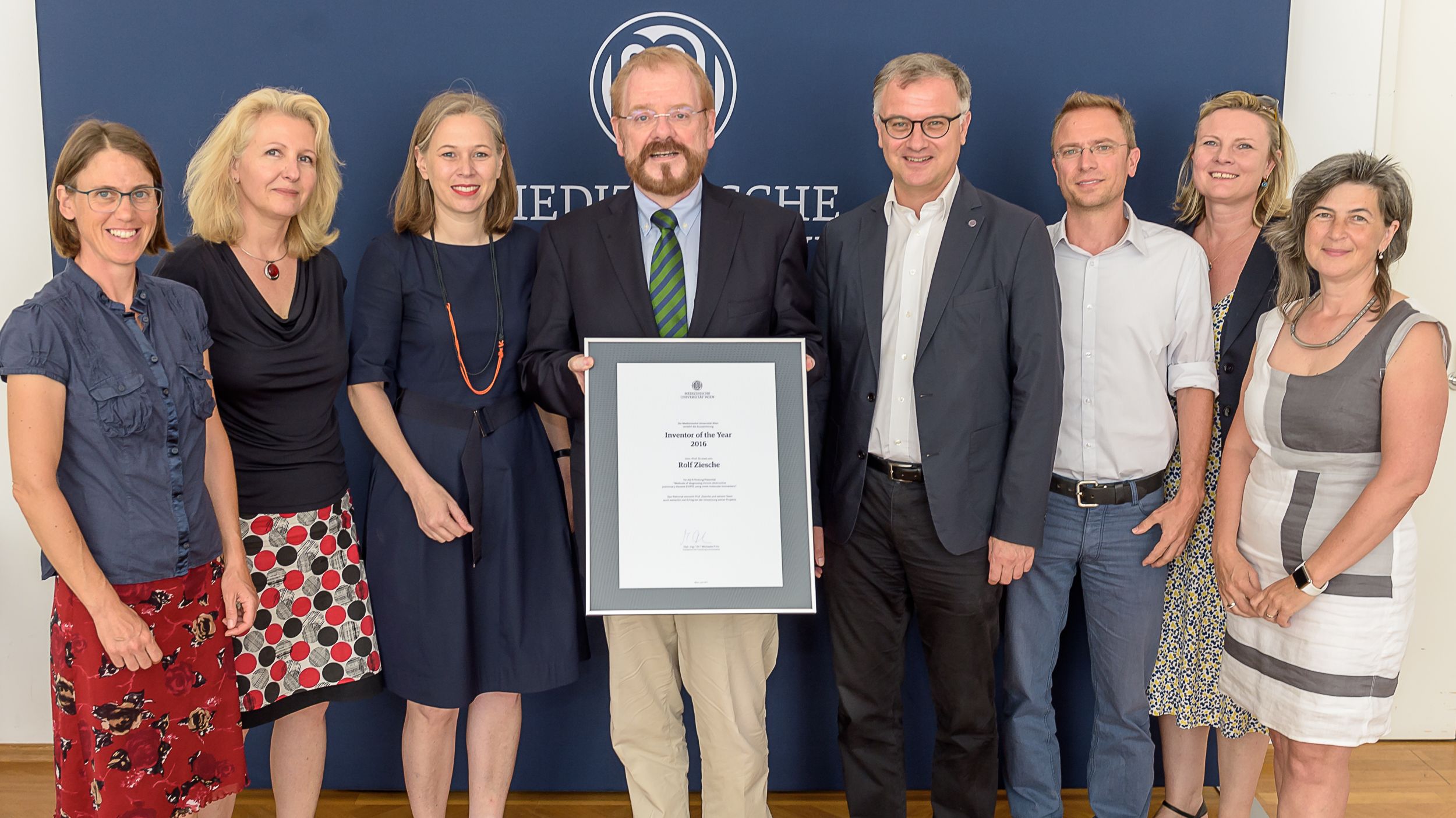 (Vienna, 22 June 2017) Rolf Ziesche from the Division of Pulmonology of the Department of Medicine II at MedUni Vienna/Vienna General Hospital has been named "Inventor of the Year 2016" by the Medical University of Vienna.
[Translate to English:] Rolf Ziesche ist es gelungen, relevante Marker bei der chronisch-obstruktiven Lungenerkrankung (COPD) zu identifizieren, die einen neuen Zugang zu Diagnostik und Therapie eröffnen. Die Studie entstand in Zusammenarbeit mit der Allgemeinen Unfallversicherungsanstalt (AUVA), dem Austrian Institute of Technology (AIT) und internationalen Partnern

WHO: COPD im Jahr 2020 die dritthäufigste Todesursache
Die chronisch-obstruktive Lungenerkrankung ist quasi der Prototyp einer multidimensionalen Erkrankung bei Menschen über 50 Jahren. Als Folge einer ständigen Belastung durch Verbrennungsprodukte aller Art (inklusive Zigarettenrauch) hat sich die COPD zu einer der weltweit bedeutendsten Erkrankungen mit enormen Kosten für die Sozialsysteme entwickelt. Experten-Schätzungen zufolge hat das im Jahr 2015 rund 38,6 Milliarden Euro in Europa und rund 50 Milliarden Dollar in den USA ausgemacht. Die Welt-Gesundheitsorganisation WHO geht davon aus, dass die COPD mit 6 Millionen Todesfällen im Jahr 2020 die weltweit dritthäufigste Todesursache sein wird.

Neben unzureichenden diagnostischen Möglichkeiten existiert derzeit auch keine Therapie, die dem unaufhaltsamen Fortschreiten der COPD begegnen könnte. In einer ersten Stufe wurde hierbei die COPD systematisch untersucht. Dabei ist es Rolf Ziesche gelungen, hochrelevante Marker und ihre krankheitsabhängige Expression im funktionellen und zeitlichen Kontext der Erkrankung zu identifizieren, die einen völlig neuen Zugang zur Diagnostik und Therapie der Erkrankung erlauben. Hierdurch wird erstmals der Übergang von gesund zu chronisch-stabiler Bronchitis sowie von stabiler Bronchitis in destabilisierte COPD nachvollziehbar. Diese Biomarker wurden in enger Zusammenarbeit mit der Abteilung Technologietransfer der MedUni Wien (Claudia Ballaun) erfolgreich zum Patent angemeldet.

Ziesche: "Das Verständnis pathophysiologischer Zusammenhänge, also der krankheitsrelevanten Vorgänge im klinischen Kontext, ist die Grundvoraussetzung für neue therapeutische Ansätze." Um die langjährige, multidimensionale Zusammenarbeit und Finanzierung zu gewährleisten, gründete Rolf Ziesche die Firma Transgenion. Mit diesem Spin-Off wird eine Fortsetzung der Kombination von akademischer Forschung und kommerzieller Nutzung institutionalisiert. Dabei dienen die internationalen Patentanmeldungen als solide Verhandlungsbasis mit weltweit agierenden Pharmafirmen für eine erfolgreiche Auslizenzierung. Bei erfolgreichem Markteintritt ist die Medizinische Universität Wien am kommerziellen Erfolg der Technologie beteiligt.
Zur Person
Rolf Ziesche, geboren in Aachen, arbeitete nach seinem Medizinstudium an der Universität Aachen, der Universität Freiburg, sowie am Pathology Department der Yale University. Nach einer Research Fellowship am Forschungszentrum der Universität Basel (1992 bis 1994) wechselte er als Assistenzprofessor an die Medizinische Fakultät der Universität Wien (heute Medizinische Universität Wien). Im Jahr 2003 wurde er Assoc. Professor. Rolf Ziesche ist Facharzt für Innere Medizin und Lungenheilkunde an der klinischen Abteilung für Pulmologie der Universitätsklinik für Innere Medizin II der MedUni Wien/AKH Wien. Seine Forschungsschwerpunkte sind chronische Lungenentzündungen und COPD. Rolf Ziesche ist Mitglied mehrerer nationaler und internationaler Fachgesellschaften und Träger zahlreicher Auszeichnungen. Er ist Mitglied der Ethikkommission der MedUni Wien und wissenschaftlicher Reviewer bei renommierten Fachmagazinen.
---