All News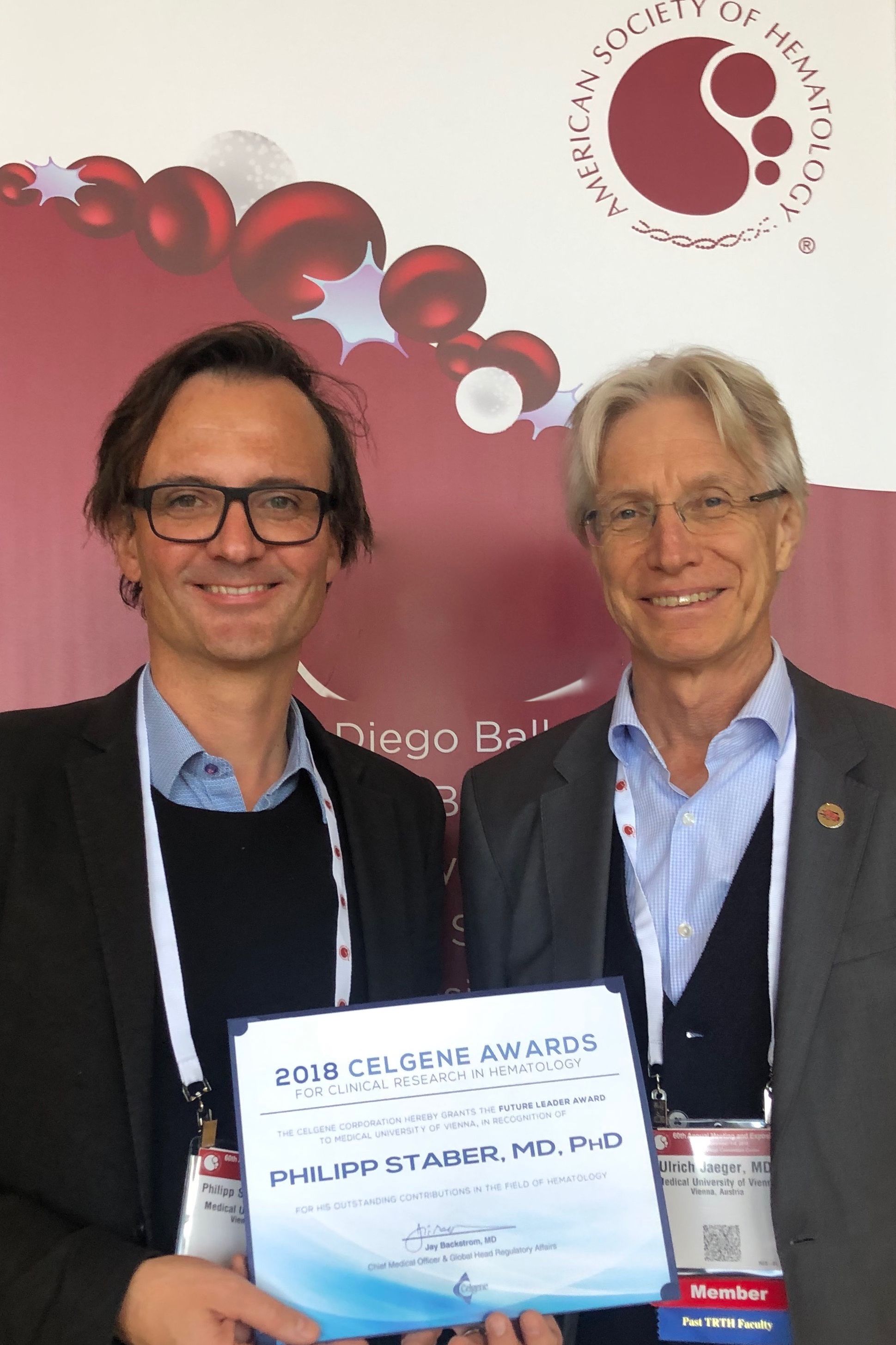 (Vienna, 17 December 2018) Haemato-oncologist Philipp Staber from the Division of Hematology and Hemastasology and member of the Comprehensive Cancer Center (CCC), MedUni Vienna/Vienna General Hospital, is the first European to have won the Celgene Future Leader Award. The prize is being awarded in honour of Staber's contribution to the development of functional precision medicine in the field of malignant diseases of the blood and lymphatic system. The $10,000 award was presented at the beginning of December at the 2018 Annual Meeting of the American Society of Hematology (ASH).
Staber's specific focus is translational research, that is the translation of basic research results into clinical applications and back again. In this area, he has successfully advanced the development of a relatively new field: functional precision medicine. He has now been awarded the coveted prize for this achievement. In the jury's justification for its decision, it recognised the doctor and scientist as being an "exceptional leader", who had made "essential contributions" to the field of functional precision medicine.

Functional precision medicine
The field of precision medicine is divided into two areas known as "genetic" and "functional" precision medicine. Genetic precision medicine mostly uses biological characteristics, so-called biomarkers, to select the appropriate treatment. These biomarkers provide indirect information about the response to therapy. In contrast, functional precision medicine looks at the tissue of the individual patient and directly tests the effect of the respective substances. Says Staber: "Using this procedure, it is possible to identify which treatment will suit the individual in question without having to make therapeutic assumptions. We were able to show in our EXALT 1 study that this procedure can be used in a routine clinical setting and is beneficial to patients."

The EXALT 2 follow-up study, in which Staber will again be international Principal Investigator, is to start in the second quarter of 2019. This prospective, three-arm randomised clinical trial will investigate which treatment selection strategy (functional drug testing versus Next Generation Sequencing versus conventional treatment selection by the oncologist) is most beneficial to patients.

About Philipp Staber
Philipp Staber studied medicine at MedUni Graz, where he also did his doctorate and gained his postdoctoral qualification. Following his training as a Consultant in Internal Medicine (2007) and a one-year scholarship in haematology and oncology, he won a scholarship as a post-doc at Beth Israel Deaconess Medical Center of Harvard Medical School from 2009 until 2013. Since 2014, he has been a Senior Doctor and Assistant Professor at the Medical University of Vienna and Director of the T-Cell Lymphoma Programme at MedUni Vienna. In 2015, he was appointed Associate Professor at MedUni Vienna and, in 2016, Director of the Lymphoma and CLL Programme of MedUni Vienna.
The list of Philipp Staber's prizes and honours is a long one and includes several Young Investigator Awards from the Austrian Society of Haematology and Haemato-Oncology, the Karl Fellinger Prize from Austrian Cancer Aid, an Erwin Schrödinger scholarship from the FWF, an APART scholarship from the Austrian Academy of Sciences and a Marie Curie International Outgoing Fellowship from the European Union.

So far, Staber has raised more than €1.8 million in research funding, is actively involved in teaching and supervising students and young scientists, manages a research laboratory and runs a study group (together with Ulrich Jäger) and has been and currently is Principal Investigator of various scientific studies. In addition, Staber is an author for some highly prestigious publications and a member of national and international specialist societies.

Center for Precision Medicine (ZPM)
Staber's field of research lies within personalised and precision medicine, which is the most significant trend in 21st century medicine. A Center for Precision Medicine (zpm) is therefore being built on the MedUni Vienna General Hospital Campus starting in 2022 (www.zpm.at).



---