All News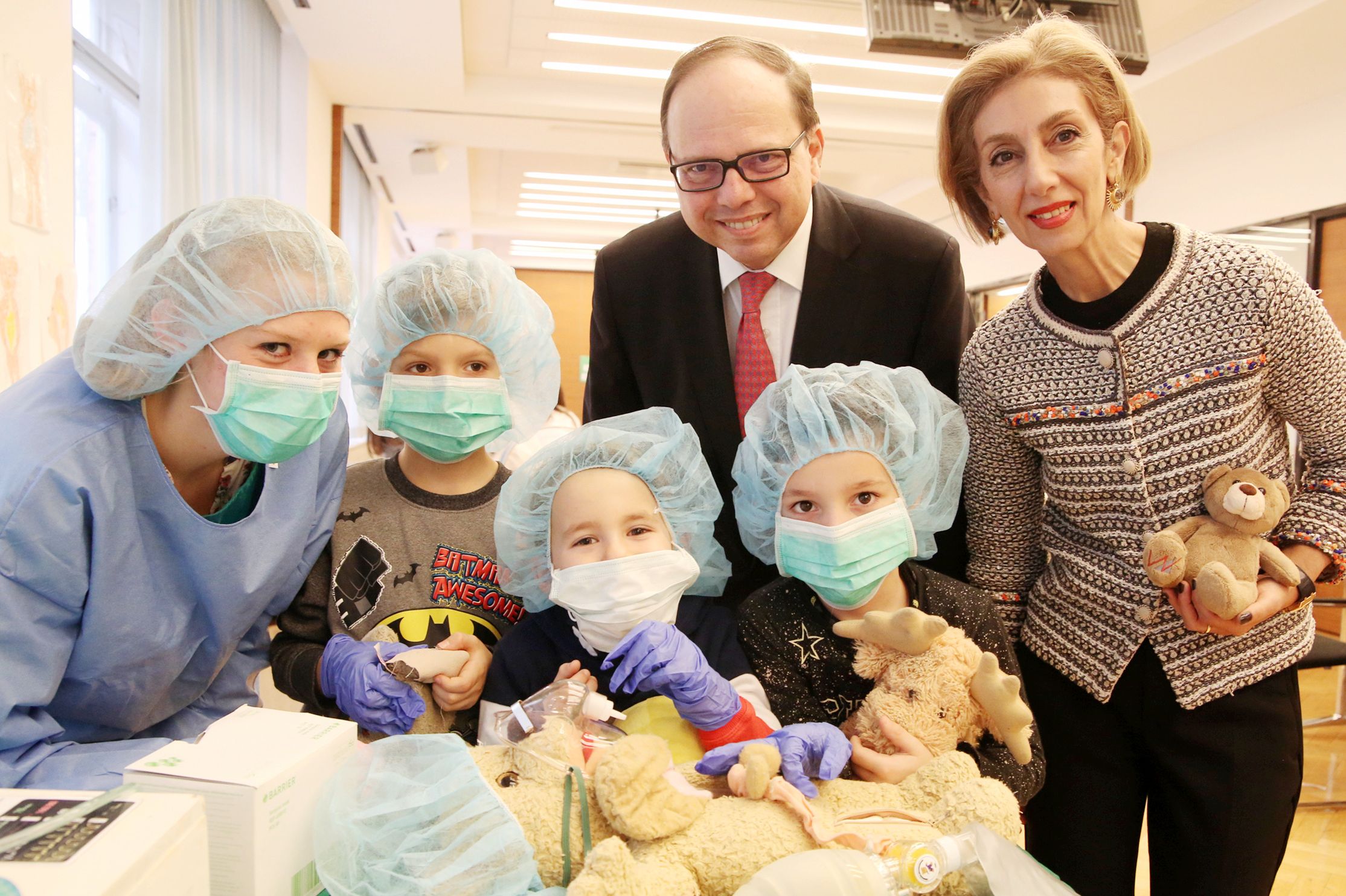 (Vienna, 05 December 2018) Today, hundreds of kids brought their favourite teddy bears, cuddly toys and dolls to the opening of the Teddy Bear Hospital in Vienna. This is a joint initiative organised by MedUni Vienna, the Austrian Medical Students' Association (AMSA), Vienna Medical Association, St John Ambulance and the Academic Association of Austrian Pharmacists. The soft toys were examined, treated and even underwent surgery in the outpatient clinics, with the able assistance of the little "doctors". Even Thomas Szekeres, President of Vienna Medical Association, and Anahit Anvari-Pirsch, MedUni Vienna's Deputy Curriculum Director, were allowed to assist with x-ray examinations and operations.
The Teddy Bear Hospital will be open until Friday 7 December (9:00 - 12:00 and/or 13:00 - 16:00 hrs, Vienna Medical Association, Weihburggasse 10-12). The children and their favourite toys will be looked after by more than 50 teddy bear doctors, students from MedUni Vienna. The event will simulate a real hospital visit: there is an admissions ward, an emergency room, a dental clinic and operating theatres. You can have an ECG or a CT scan. The children are actively involved as junior doctors. The aim of the event, which is taking place for the 18th time this year, is to overcome children's fear of doctor's appointments or going into hospital.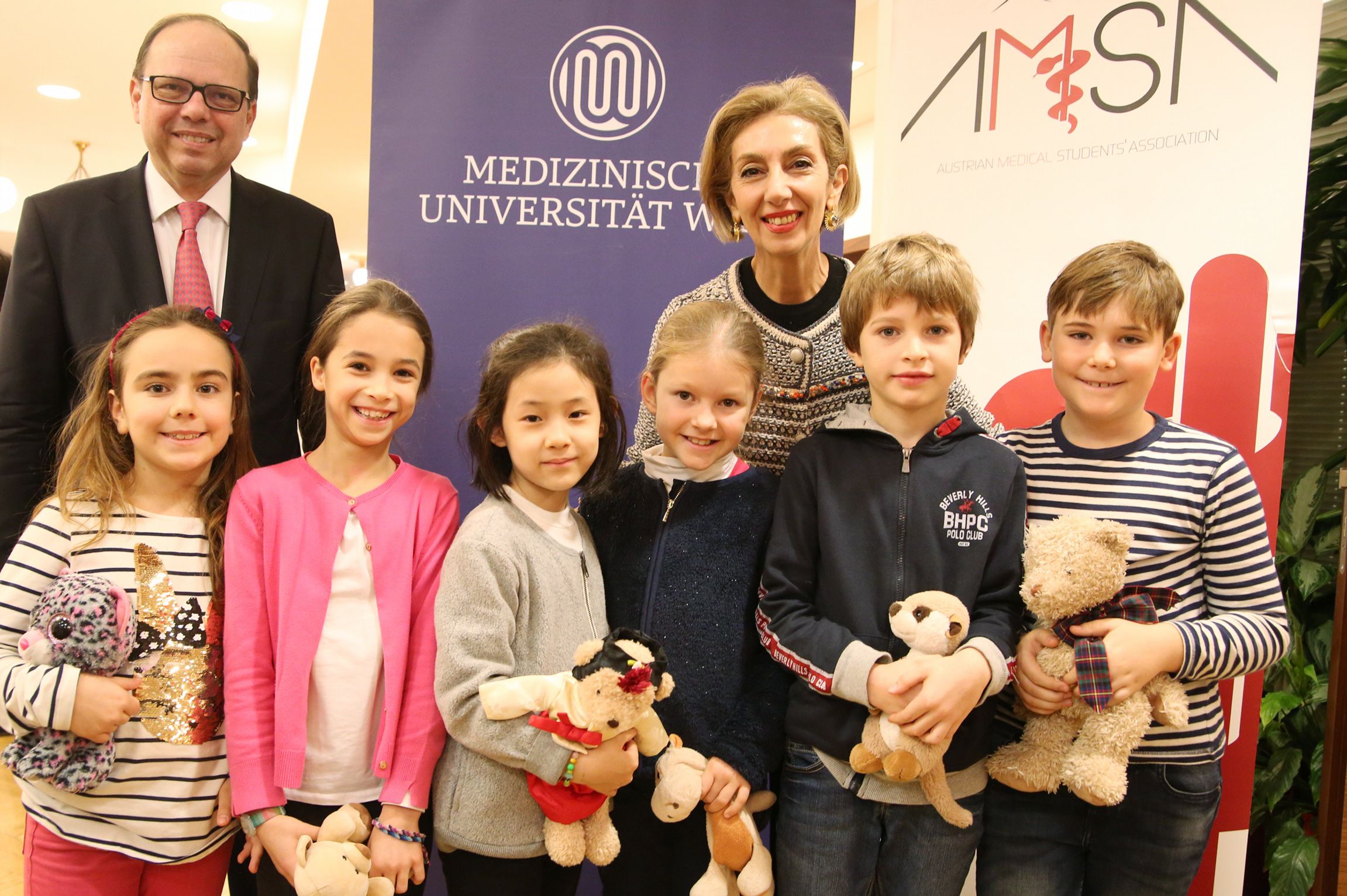 "The Teddy Bear Hospital is an excellent project, which has now established itself as an important tradition the Medical University of Vienna is very happy to support, and which enjoys a high level of personal commitment from our medical students," says Anahit Anvari-Pirsch, MedUni Vienna's Deputy Curriculum Director. "Through play, the children learn about the sometimes-complex procedures in a hospital, we arouse their curiosity and address any experiences they might already have had in this hospital environment. It is hoped that they will no longer experience a visit to the doctor or hospital as strange and potentially frightening but will be able to fall back on the positive experiences they had in the Teddy Bear Hospital."

Medical Association President, Thomas Szekeres, is delighted to host the Teddy Bear Hospital once again this year: "It is always a very special atmosphere when the Medical Association's convention centre is turned into a 'Children's Hospital' for three days." From a doctor's perspective, it is important to take the fear out of visiting the doctor or hospital while children are still young and to give the next generation a positive impression of the medical profession. Says Szekeres: "Hopefully we will be helping top doctors of the future to take their first steps or make their first 'incisions'. Whatever the case, we are looking forward to meeting every single one of our young guests."

Teddy Bear Hospital 2018 – open until Friday
5 - 7 December 2018 (9:00 -12:00 and/or 13:00 -16:00 hrs, admission free – suitable for children aged between 4 and 8 years, individuals need not book, for group bookings go to: teddy-wien@amsa.at, Vienna Medical Association, Weihburggasse 10-12, 1010 Vienna). You are kindly requested to bring slippers or trainers with you. The mornings are reserved for pre-booked school parties but, in the afternoon, individual children are welcome to drop in unannounced with their teddy bears.
---