All News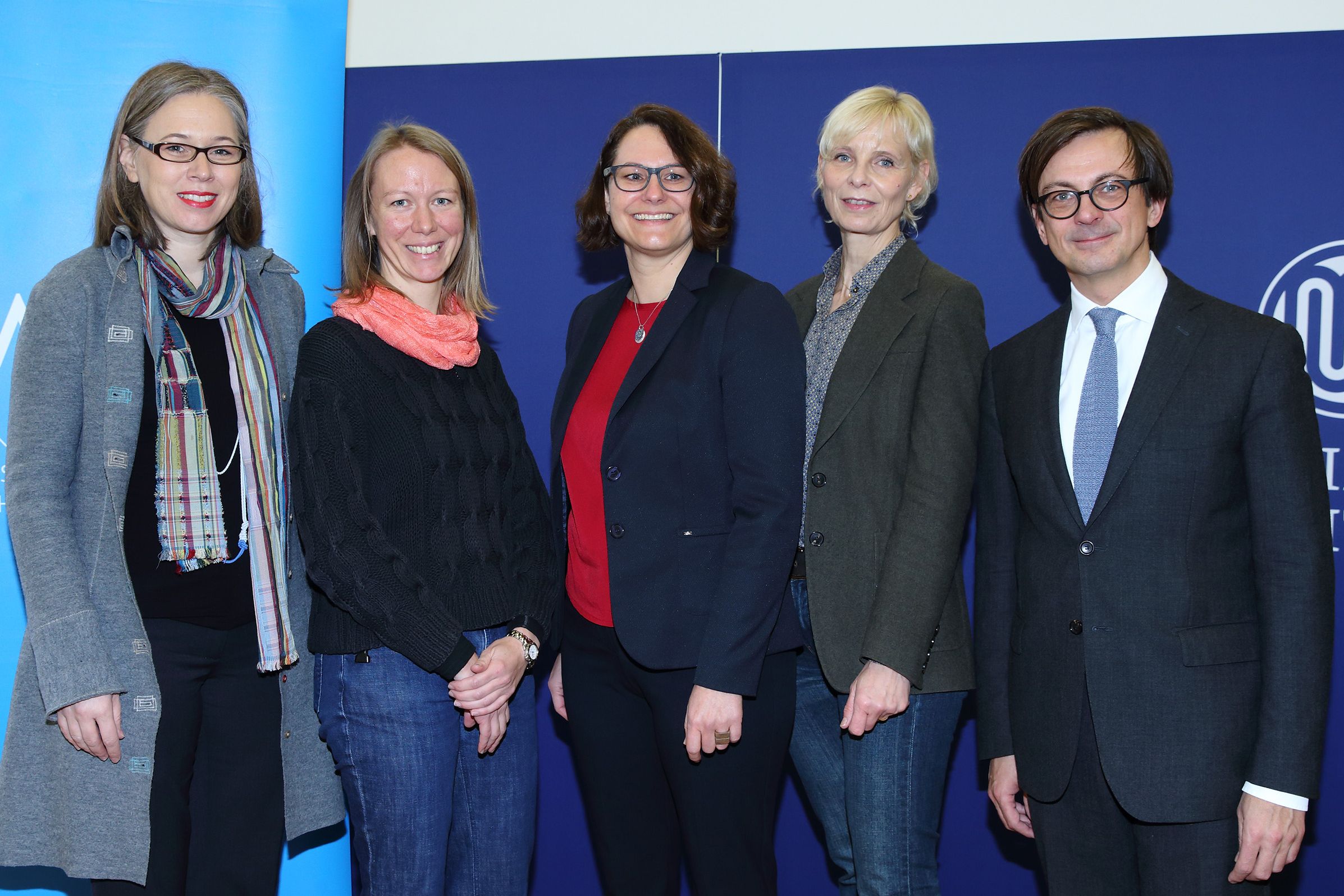 (Vienna, 3 December 2018) The Life Sciences Call 2018 "Linking Research & Patients' Needs" of the WWTF supports nine projects. The award-winning Viennese research teams deal with the interfaces between basic research and clinical application. The top-ics of the selected projects include cancer research, transplantation research and car-diovascular diseases. A total of around 6.2 million euros was awarded for this purpose this year.
The Vienna Science and Technology Fund (WWTF) is the only major private non-profit research fund in Austria. Its task is to finance top projects in scientific research, and at the same time the WWTF aims to attract highly talented young researchers to Vienna. With an annual budget of approximately € 12 million, most of which is provided by a private foundation, the WWTF supports those areas where Vienna already has great strengths and concentrates its resources on the fields of life sciences, information and communication technologies, applied mathematics and cognitive research.
The life sciences are one of the central strengths of the Viennese research landscape, which is one reason for the WWTF to pursue this topic in the long term. Since 2003, the WWTF has invested almost € 70 million in this field as part of highly competitive project calls. With the third call in the life sciences for "Linking Research & Patients' Needs", which has been closed, funding is being provided above all for projects that are intended to advance the interaction between laboratory and clinic.
The aim is to improve the understanding of the mechanisms leading to diseases and to develop therapeutic interventions based on these mechanisms. The central challenge here is to make better and faster use of the knowledge gained in basic research – particularly at the genetic molecular level and in animal models – for the care of patients and the fight against diseases.
The targeted promotion of cooperation between basic research and clinics is seen as a great opportunity to further strengthen the Life Sciences Cluster Vienna and to open up new paths towards patient-oriented approaches. "There are hardly any funding opportunities for larger projects in this area in Austria, so the WWTF offers one of the few funding opportunities for non-commercial translational research," says Dr. Michael Stampfer, Managing Director of the WWTF.
The call was addressed to scientists and clinical researchers at the University of Vienna and non-university research institutions who have submitted a multi-year project combining clinical and basic research.
Great interest in the community, award of € 6.2 million
The interest from the scientific community was correspondingly high: A total of 114 short proposals were received by the WWTF, 25 of which went into the full proposal phase. An international jury of seven, chaired by the British neuroscientist Paul Matthews, finally recommended nine projects with a total amount of € 6.261 million for funding on the basis of a worldwide expert review. The project funding per project amounts to between € 360,000 and € 800,000, the project duration is three to four years.
Five of the nine funded projects are located at the Medical University Vienna, two each at the University of Vienna and at St. Anna Children's Cancer Research.
The three projects presented in detail:

1) Improvement of taste perception by homoeriodictyol in cancer patients after chemotherapy
Veronika Somoza (Universität of Vienna) – Christoph Grimm (MedUni Vienna) – Ag-nes Reiner (University of Vienna)
Project duration: 3 years
WWTF funding: € 362,500
Chemotherapy causes taste disorders in 40-85 percent of all cancer patients, which have a negative effect on appetite, nutrition and quality of life. Although taste disorders are a known side effect of chemotherapeutics and can even affect patient mortality, it is still unclear how chemotherapeutics affect taste cells. In addition, there are no effective therapies yet.

Taste disorders caused by chemotherapeutics are often described as very bitter tastes. Since homoeriodicytol (HED) is one of the strongest bitter-masking substances known to date, this project will show whether and how HED can help cancer patients to relieve the increased bitter taste. In a clinical study, patients receive a mouth rinse with HED after completion of chemotherapy, which they use several times a day to rinse their mouth be-fore eating. The effects of HED on taste perception, food intake and body composition are captured. In addition, the effect of chemotherapeutics and HED on taste cells will be inves-tigated using a 3D cell culture model of taste buds.
The professional combination of oncology, molecular biology and nutritional science will help to clarify the underlying mechanisms of action of chemotherapeutics and HED on taste perception and to investigate a new therapeutic approach for chemotherapy-induced taste disorders.


2) Protecting vascular barrier function across discipline and disease boundaries
Klaudia Schossleitner (Medical University Vienna) – Benedikt Weber (Medical Uni-versity Vienna)
Project duration: 3 years
WWTF funding: € 366,000
The integrity of blood vessels is important for the unhindered supply of all organs of the human body. An out-of-control leakage of the vascular barrier can have serious and possi-bly even fatal consequences, such as burns or sepsis. The binding protein cingulin supports the cohesion of cell-cell contacts in blood vessels. There it makes an important connection to signal molecules. The aim of the project is to find out whether the binding function of cingulin during stress and disease can be used for future therapeutic approaches.

The project is characterised by a strong combination of basic science and application-oriented clinical research. State-of-the-art methods are used to visualise the permeability of cell models and blood vessels in real time. Consequently, the mechanisms shown are ana-lysed for their biological relevance in disease models. The aim of this project is to find out whether therapeutics already used in clinical practice can also be used for new approaches to the regulation of blood vessels. Vascular permeability is examined in patients with allergic reactions, hives or skin cancer. The knowledge of the proteins and interactions involved may in future enable a more targeted therapy of these diseases with increased vascular permeability.


3) Ultra-high-risk pediatric cancer - combinatorial drivers and therapeutic targets for precision medicine
Sabine Taschner-Mandl (CCRI) – Ruth Ladenstein (CCRI) – Nikolaus Fortelny (CeMM)
Project duration: 3 years
WWTF funding: € 799,400
Although the chances of cure for children, adolescents and adults with cancer have in-creased thanks to intensive research and therapy optimisation studies, there are patients who do not respond sufficiently to classical therapies such as combination chemotherapy and who often relapse within a few months. These patients are classified as ultra-high risk (UHR) patients and require new therapeutic approaches based on genetic or epigenetic changes in the tumour. However, these are often not sufficiently known. Together with the St. Anna Children's Hospital, the CCRI has identified genetic markers in neuroblastoma pa-tients that enable a risk assessment to be included in the UHR group at the time of diagno-sis. In this study, we now want to decipher those genes or signalling pathways that lead to a particularly aggressive expression of the tumour. Genetic CRISPR screens will be com-bined with RNA sequencing and zebrafish as a new tumour model. Based on this and ac-cording to the principle of "Synthetic Lethality", genes and drugs will be searched, which are only effective in the context of the genetic changes existing in UHR patients. In order to assess the success of the treatment for the patient in advance, these drugs are tested in a personalized zebrafish model. In the future, this model will serve oncologists as a decision-making aid for therapy selection.


More Informationen on all projects

Brief information on the other funded projects:

A novel macrophage precursor in adult bone marrow.
Wolfgang Weninger (MedUni Vienna) – Steffen Jung (The Weizmann Institute of Science)
Project duration: 4 years
WWTF funding: € 798,900

Investigation of novel precursor immune cells to develop new therapeutic approaches for inflammatory and malignant diseases.

Combination cell therapy for immunomodulation in kidney transplantation.
Thomas Wekerle (MedUni Vienna) – Rainer Oberbauer (MedUni Vienna) – Matthias Edinger (UK-Regensburg)
Project duration: 4 years
WWTF funding: € 799,600

Pilot study of a new combination cell therapy for transplant patients, which should prevent rejection reactions instead of drug immunosuppression.


Characterizing and targeting the Ewing sarcoma microenvironment to overcome re-sistance to therapy
Eleni Marina Tomazou (CCRI) – Christoph Bock (CeMM)
Project duration: 4 years
WWTF funding: € 799,500

Using state-of-the-art technologies, a comprehensive map of the Ewing sarcoma microen-vironment will be created and, at the same time, it will be evaluated whether the repro-gramming of non-tumour cells can provide a viable therapeutic treatment strategy.

Targeting mucosal biofilms in patients with gastrointestinal disorders
Markus Muttenthaler (University of Vienna) – Christoph Gasche (MedUni Vienna) – Atha-nasios Makristathis (MedUni Vienna)
Project duration: 3 years
WWTF funding: € 799,300

Investigation of the composition, function and relevance of bacterial biofilms that occur in intestinal diseases and development of intestine-specific biofilm modulators that can be used for new therapeutic strategies.

Systems medicine analysis of sarcoidosis by targeting mTOR in a co-clinical trial in pa-tients and mice
Georg Stary (MedUni Vienna) – Thomas Weichhart (MedUni Vienna) - Thomas Krausgruber (CeMM)
Project duration: 4 years
WWTF funding: € 972,100

Investigation of the role of the protein "mTOR" in connective tissue disease sarcoidosis by combining a clinical study and a mouse model to establish a new therapy.

Beyond lipid lowering – defining residual risk of cardiovascular events
Irene Lang (MedUni Vienna) – Christoph J. Binder (MedUni Vienna) - Taras Afonyushkin (MedUni Vienna)
Project duration: 4 years
WWTF funding: € 736,700

The role of certain immune cells and their activation in the context of an important class of danger signals produced by inflammation is investigated in patients with cardiovascular disease to find further causes of heart attacks.
---