All News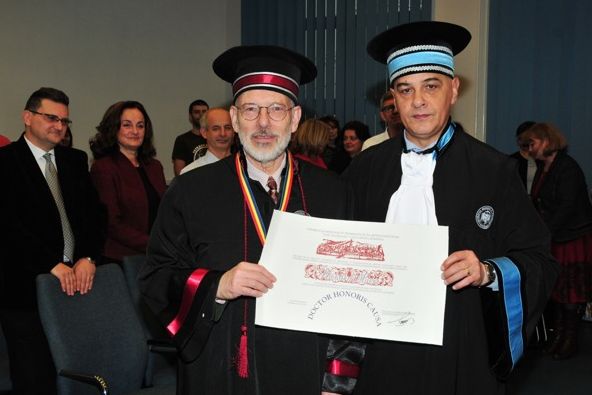 (Vienna, 13 February 2018) Richard März of MedUni Vienna has been awarded an honorary doctorate from Cluj-Napoca University in Romania.
The collaboration initially started via the EU project "European Quality and Professional Competence in Medical University Education and Management (EMEDIQUAL), which ran from 2011 until 2013. Over the following years Richard März was repeatedly invited to Cluj to give lectures, workshops and seminars on various didactic topics. He helped to establish problem-based learning (PBL) as a required course in Cluj and continues to advise the Medical Faculty.
About Richard März
Richard März was born in 1947 and studied chemistry and biochemistry at the University of Vienna and in the USA. He did his doctorate at St. Louis University (USA) in 1974. He wrote his dissertation on: "Biosynthesis of Purine Nucleotides in Explants of Mouse C3HBA Mammary Adenocarcinoma." In 1982 he gained the "Venia docendi" for medical biochemistry at the University of Salzburg and took up his position at the Medical Faculty of the University of Vienna the same year. Since the mid 1990s until today, his great passion has been medical education – März was also a member of the working group that developed the new medical curriculum, which came into force in 2001. Between 2000 and 2011 he was coordinator for the first academic year and, from 2005 to 2012, Head of the Division of Science and International Relations at the Teaching Center and MedUni Vienna's ECTS coordinator. Together with Jörg-Ingolf Stein (originally Med. Faculty Graz, now MedUni Innsbruck), he initiated the "Graz Conference", which will be held for the 22nd time this year – this time in Maribor. This conference has become one of the most important events in Austria and East European in the field of Medical Education with the focus on personal development.
---