All News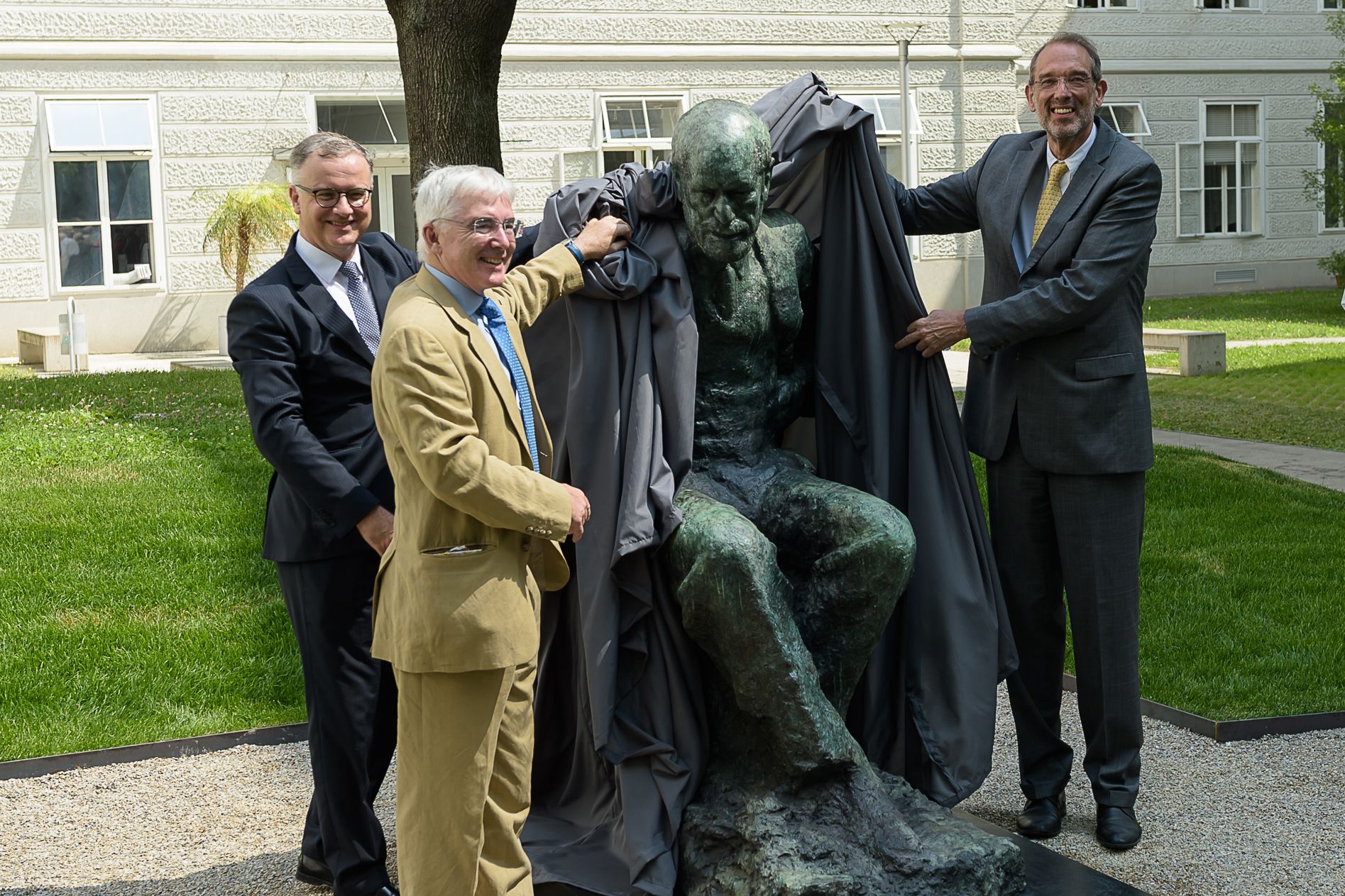 (Vienna, 4 June 2018) At 3:25 pm on 4 June 1938, the Orient Express pulled out of Vienna's Westbahnhof headed for Paris. Sitting on board as one of the most important people of the time: the 82-year-old Sigmund Freud. He was leaving the city he loved but under which he had also suffered. He was never to see it again. Exactly 80 years later, on Monday, 4 June 2018, a larger-than-life-size Freud statue by Oscar Nemon in London was erected and unveiled on the grounds of the Rectorate of the Medical University of Vienna, as a symbolic act in recognition of Freud's achievements. The ceremony was also attended by Lord David Freud, Sigmund Freud's great-grandson and by Heinz Faßmann, Austrian Federal Minister of Education, Science and Research.
"This act is in recognition of Sigmund Freud's huge achievements and to acknowledge our responsibility as the Medical University of Vienna for the expulsion of this outstanding scientist," said MedUni Vienna Rector, Markus Müller. "The "annexation" of Austria by the Nazi German Reich marked a profound break in the history of our university. For a long time, nobody spoke of what followed. However, the devastating consequences of 1938, in particular the expulsion of more than half the medical staff on grounds of racism or anti-Semitism, are a warning from history to future generations."

Most influential researcher in the world
Stephan Doering, Head of the Department of Psychoanalysis and Psychotherapy at MedUni Vienna, underscored Sigmund Freud's huge achievements: "Mozart and Freud are the most famous Austrians in the world and Berggasse 19, Freud's address in Vienna, the most famous address in the world. Moreover, Freud is Austria's most frequently cited researcher, with a Hirsch-index of 282. This makes him the most influential scientist ever." At the same time, Doering stressed that Freud's visions had been realised at MedUni Vienna: there has been a Psychoanalysis Department since 1971 plus also an outpatient clinic where socially deprived patients can obtain psychoanalysis on health insurance. Furthermore, psychoanalytical research is conducted in the spirit of Freud, who always wanted to see his specialism move closer towards medicine and biology. And, as from 2019, MedUni Vienna will be offering a postgraduate course in psychoanalysis and psychodynamic psychotherapy.

"I am delighted that after all these years there is a statue of my great grandfather back in the City for which it was originally intended. Oscar Nemon created a stunningly evocative sculpture which is a worthy commemoration of Sigmund's life and work. More than anywhere else in the world, it belongs at the Medical University of Vienna, successor to the organisation at which Sigmund was proud to call himself a Professor for half his adult life. I would like to pay tribute to the generosity of the Nemon family in making the mould available to allow this new casting to be made," said Lord David Freud.

Lady Aurelia Young, daughter of artist Oscar Nemon, went on to add: "It was my father's greatest wish that his statue of Sigmund Freud, which he made in Vienna in 1936, should be placed in Vienna - its original intended home. I would like to thank the many people who have made this dream come true, particularly the Medical University of Vienna, for giving the statue a home."

A fundraising project enabled the bronze statue to be brought to Vienna.
---