All News

(Vienna, 27-06-2018) Yesterday on Tuesday, the Comprehensive Cancer Center (CCC) of MedUni Vienna and AKH Vienna presented ten new research projects that are funded from the proceeds of the cancer research run and donations to the Cancer Research Initiative ("Initiative Krebsforschung"). An international jury selected 10 interdisciplinary, translational cancer research projects, which were identified as the best from 80 submissions after an anonymous evaluation process. The next run for cancer research where donations will be collected again for the next projects takes place on Saturday 6 October 2018 from 10.00 a.m. to 2.00 p.m. at the university campus in the "Old AKH" in Vienna.
The awarding of the CCC research funding and the presentation of the award-winning projects took place in the presence of the donors, sponsors and partners of the Cancer Research Initiative, who thus gained insight into the use of their contributions.
Christoph Zielinski, head of the CCC and one of the three founders of the Cancer Research Initiative said: "The only response to cancer is intensive research. We would like to thank everyone who made this research funding possible. The funds flow directly into projects that focus on promising, innovative solutions to the current challenges in cancer research".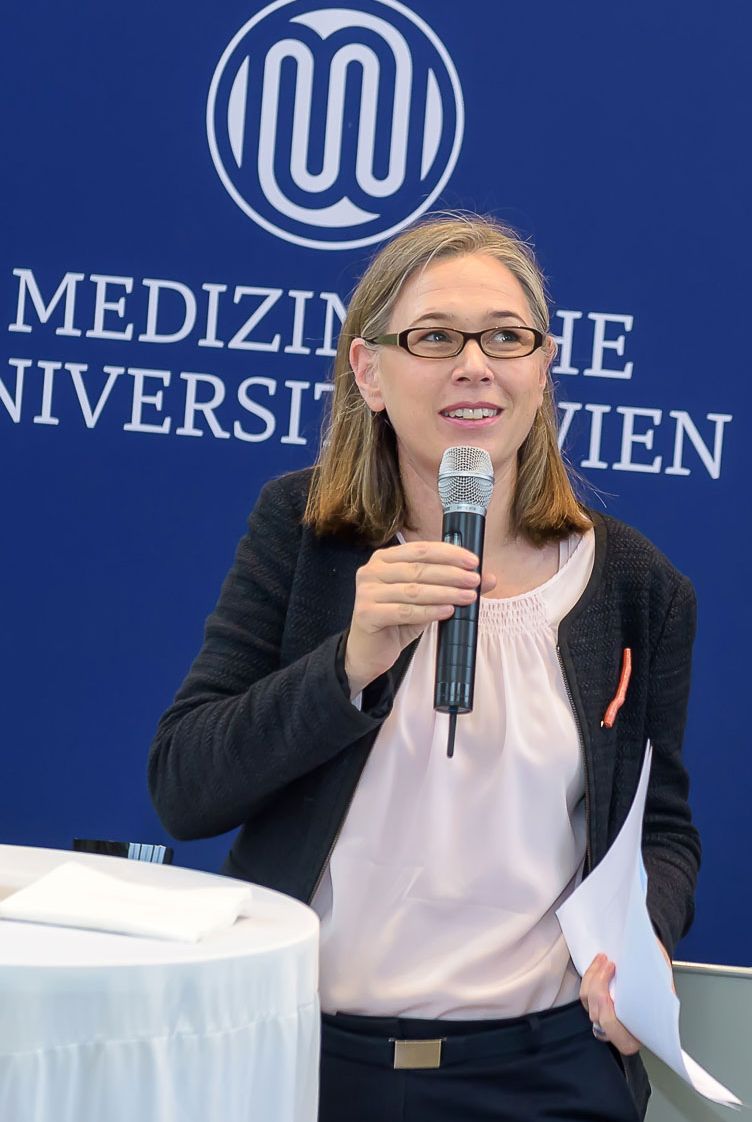 Michaela Fritz, Vice Rector for Research and Innovation at MedUni Vienna, who presented the research grants, was also very pleased: "The quality of the award-winning projects is outstanding, both in terms of the scientific question and their feasibility. They make it clear that MedUni Vienna is on the right track in the field of research".
The projects were reviewed and evaluated by a jury of seven international experts in the field of cancer research.

The winners are:

• Maximilian Marhold,
Department of Medicine I of MedUni Vienna and AKH Vienna "Mechanisms of second-generation androgen receptor antagonist resistance in neuroendocrine prostate cancer"

• Sibylle Madlener
Department of Pediatrics and Adolescent Medicine of MedUni Vienna and AKH Vienna "Identification of new CSF biomarkers and evaluation in recurrent MB or ATRT patients"

• Cihan Ay
Department of Medicine I of MedUni Vienna and AKH Vienna
"The role of podoplanin and neutrophil extracellular traps (NETs) in the development of cancer-associated thrombosis"

• Angelika Neuhofer
Institute of Cancer Research of MedUni Vienna
"Use of Organoid Technology to Predict Therapy Response and Develop Novel Strategies to Enhance Efficacy of anti-EGFR Therapy in Colorectal Cancer Patients"

• Lukas Kazianka
Department of Medicine I of MedUni Vienna and AKH Vienna
"Disruption of the C/EBP-PU.1 axis results in myelodysplasia: characterization of a novel disease-driving pathway linking hematopoietic progenitor cells and the bone marrow microenvironment"

• Herwig Moll
Institute of Pharmacology of MedUni Vienna
"A20: A master regulator of the tumor microenvironment"

• Victoria Stary
Department of Surgery of MedUni Vienna and AKH Vienna
"Tumor-associated macrophages in the context of the leukocytic infiltration in irradiated human rectal cancer and 3D co-culture models"

• Rainer Hubmann
Department of Medicine I of MedUni Vienna and AKH Vienna
"Characterization of NOTCH2 gain of function N2ΔEC deletions as possible causal genetic lesion in CLL"

• Paola Martinelli
Institute of Cancer Research of MedUni Vienna
"Semaphorin 3A in pancreatic cancer metastasis: role as driver, biomarker, and novel therapeutic target"

• Verena Paulitschke
Department of Dermatology of MedUni Vienna and AKH Vienna
"Dermatology - Identification of novel markers to predict response to anti-PD-1 immunotherapy in melanoma applying proteomics"

Comprehensive Cancer Center Vienna
The Comprehensive Cancer Centre (CCC) Vienna belonging to MedUni Vienna and Vienna General Hospital provides a network for all professionals from these two institutions who treat cancer patients, conduct cancer research and are active in teaching and education in this field. The Head of the CCC is Christoph Zielinski. (www.ccc.ac.at)
---