All News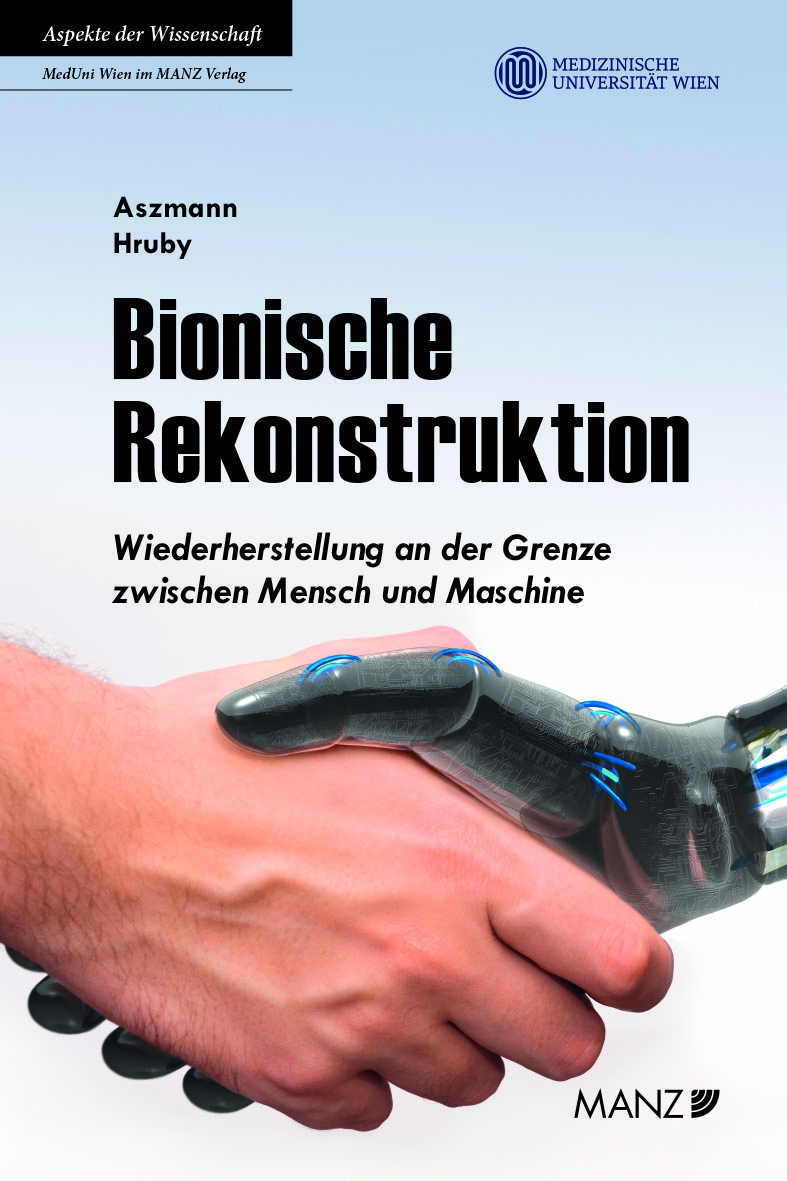 (Vienna, 07 May 2018) The number of traffic accidents on Austrian roads is rising every year – according to Statistik Austria, there were around 38,500 in 2016. At the same time, the number of people who survive is increasing, due to better emergency management. However, accidents involving serious injuries to the arms and legs are also becoming more common in extreme sports and in agricultural work. Since 2009, the method of "bionic reconstruction" developed by Oskar Aszmann at MedUni Vienna has facilitated the use of innovative technical aids for many of these accident victims, e.g. a bionic hand prosthesis. In the new science book entitled "Bionic Reconstruction" produced jointly by MedUni Vienna and MANZ-Verlag, Aszmann and co-author Laura Hruby outline, with reference to real cases, what options are available following traumatic injuries.

This new type of limb reconstruction and its unique application at the Medical University shot to international prominence in Spring 2011 with the "Patrick Mayrhofer case". Three years previously the 20-year-old electrician from Mühlviertel in Upper Austria accidentally touched the live circuit when working on a cable. The consequence: extremely severe injuries to his hands and legs, emergency operations, months of rehabilitation.

His legs and right hand were saved but he lost the use of his left hand. Patrick then decided to have his hand amputated and replaced a few weeks later by a bionic prosthesis. Today, Patrick Mayrhofer has won a silver medal in the Snowboard at the Paralympics 2018 in PyeongChang, is world champion in Banked Slalom, overall World Cup winner 2014/15 and 2015/16, and also works for Otto Bock Healthcare Products GmbH in the development of prostheses.

His story was and still is a media event – from interviews on the BBC news channel in the UK to appearances on German TV shows. Mayrhofer's story is representative of the stories of many people whose quality of life has been significantly improved by receiving a bionic prosthesis.

Introduction to reconstructive medicine
"In our book we tell the impressive stories of patients who have suffered long-term impairments to their hand or arm function as a result of a serious accident," say Oskar Aszmann, Head of the Christian Doppler Laboratory for Recovery of Limb Function at MedUni Vienna and his co-author and assistant, Laura A. Hruby. "The newly acquired medical knowledge and an introduction to modern reconstructive medicine will help the reader understand the treatment concepts used in the individual cases." The book takes you on a journey, starting with the story of Patrick Mayrhofer ("Against the Current") via that of civil engineer Florian, who lost an arm while climbing in 2014 ("Hanging by a Thread") to that of electrician Alexander, who suffered a nerve root avulsion injury to his right arm in mid-summer 2012 when his motorcycle collided with a lorry ("Off Track").

In each case, the MedUni Vienna scientists explain in detail, in an exciting and easy-to-understand style, the diagnostic and therapeutic processes that were followed – with the aim of achieving the best possible outcome for the seriously injured and traumatised patients in a truly hopeless situation. And how the patients have learnt to use their mechatronic limbs effectively in everyday life.

MedUni Vienna at MANZ Verlag: Self-help guides and interesting books
Six self-help books have been published in the "Health. Science" series by MedUni Vienna in collaboration with MANZ-Verlag: "Pollen and Allergy" (2015), "High blood pressure" (2015), "Diabetes" (2016), "Vaccination" (2016), "Health in Old Age" (2017) and "Prostate Cancer" (2018). There is also a book entitled "Climate Change and Health" in the "Aspects of Science" series, published in the summer of 2017, and this has now been followed by "Bionic Reconstruction".

Link to all books and online ordering: https://bit.ly/2Ji1em9.
Recommended reading: "Bionic reconstruction. Reconstruction at the man/machine interface." Oskar Aszmann, Laura A. Hruby, MedUni Wien at MANZ Verlag, ISBN: 978-3-214-01486-5. 2018, 180 pages, €23.90.
---