All News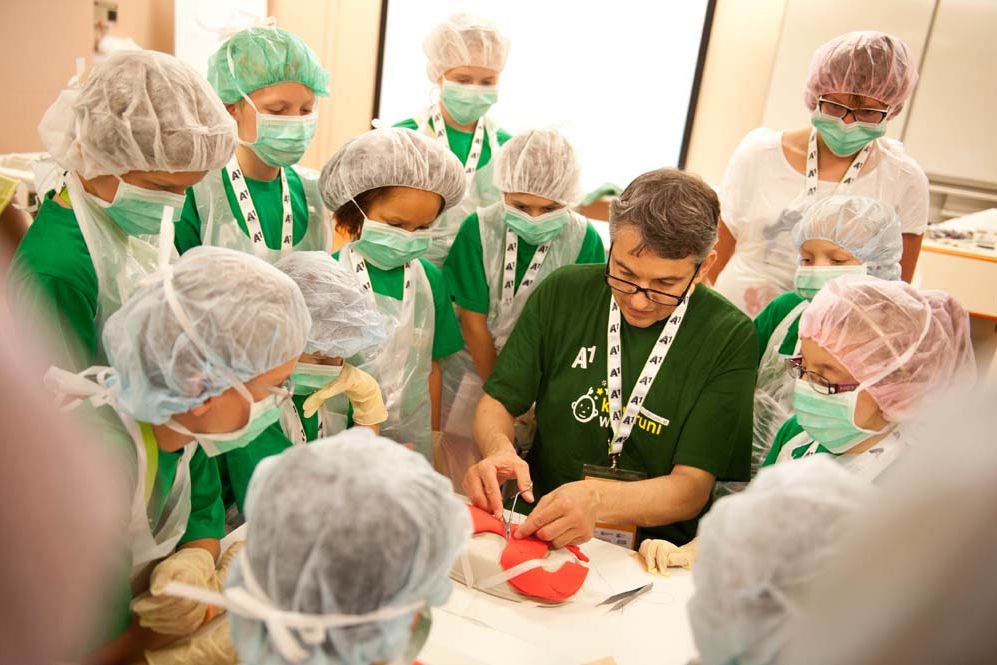 (Vienna, 14 May 2018) You can now check out the programme for the 16th Vienna Children's University in the hot-off-the press Study Planner with programme booklet or online at kinderuni.at. There are 416 classes on offer with more than 24,500 places. The theme at MedUni Vienna is: "Health detectives – On the trail of rare diseases". All that remains to do before registration opens on 11 June is: browse, select and register!
On Europe Day our neighbouring countries are acting like health detectives, tracking down rare diseases, learning interesting facts about our energy systems and their effect upon climate and environment or getting to know more about our animal friends: the programme for the seven Vienna Children's University sites – the University of Vienna, the Medical University of Vienna, Vienna University of Technology, Vienna University of Natural Resources and Applied Life Sciences, Vienna University of Veterinary Medicine, University of Applied Sciences Vienna Campus and Vienna University for Economics and Business Administration – has something to tempt every inquisitive child.

New this year are classes delivered in simple language to make is easier for children with German as a second or foreign language to visit KinderuniVienna. The "KinderuniTagesticket" (Children's University Day Pass) initiative will run once again, providing an escort for children from social institutions wishing to attend KinderuniVienna. And again there will be financial support to guarantee barrier-free attendance of KinderuniVienna.

The Study Planner and the website kinderuni.at provides more information about: the collection day, the graduation ceremony and the varied framework programme, which offers enjoyable games and opportunities for play between classes. Because the most important thing about KinderuniVienna is: it is meant to be fun and laughing is allowed at any time!

A free copy of the Study Planner with programme booklet can be collected from the porter at the University of Vienna, from wienXtra-kinderinfo in the Museum Quarter, from Kuppitsch bookshop on the University of Vienna Campus or from the A1 Internet für Alle Campus in the 2nd District. If you want to order a study planner for yourself or for an entire school class to be sent by post, you can do so at: www.kinderuni.at/programm.

Dates for KinderuniVienna 2018
Starting immediately : Registration at: kinderuni.at
11 June – 05 July: Online registration at: kinderuni.at
08 July: Collection day with family program, University of Vienna Campus
09 – 21 July: Vienna Children's University 2018
09 – 12/16 – 20 July: Children's University:Science, University of Vienna Campus
09 – 12 July: Children's University:Technology, Technical University of Vienna on the Getreidemarkt
09 – 12 July: Children's University:Natural Resources, Vienna University of Natural Resources and Applied Life Sciences
11 – 13 July: Children's University:Economics, Vienna University for Economics and Business Administration
12 – 13 July: Children's University:Applied Sciences, University of Applied Sciences Vienna
16 – 20 July: Children's University:Medicine, Medical University of Vienna
19 – 20 July: Children's University:Veterinary Medicine, Vienna University of Veterinary Medicine
21 July: Graduation ceremony in the University of Vienna's main building
---