All News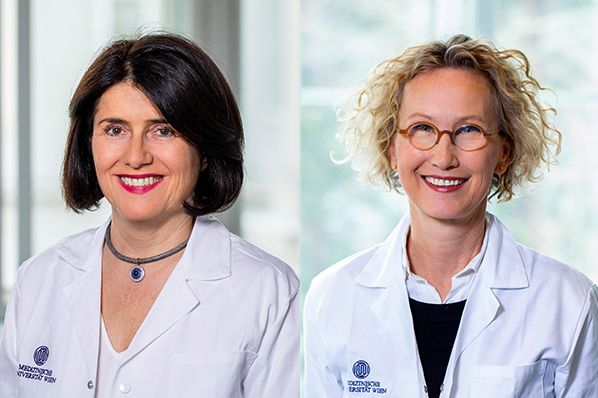 (Vienna, 16 April 2019), Maria Sibilia, Head of MedUni Vienna's Institute of Cancer Research, and Ursula Schmidt-Erfurth, Head of MedUni Vienna's Department of Ophthalmology and Optometrics, have been incorporated as full members of the Austrian Academy of Sciences.
Sibilia and Schmidt-Erfurth were incorporated into the mathematics/natural sciences class of the Austrian Academy of Sciences (ÖAW), of which they were previously corresponding members.
At its annual electoral session on 12 April 2019, the ÖAW affiliated 19 female researchers and 10 male researchers (5 new full members, 16 corresponding members and 8 Young Academy members) from various specialisms of the humanities and social and cultural sciences, as well as mathematics, natural and technical sciences, by virtue of their extraordinary scientific achievements and professional reputation. The new members will be welcomed into the Academy at a ceremony in Vienna on 18 May.

About Maria Sibilia
Maria Sibilia is regarded as one of the most distinguished molecular biologists in the field of EGFR signal transduction in cancer onset. She has headed up the Institute of Cancer Research at MedUni Vienna's Department of Medicine I since 2010 and is a member of the executive of the Comprehensive Cancer Center (CCC) Vienna, of which she is currently acting head. In 2012, she was elected as a member of the European Molecular Biology Organisation (EMBO). Maria Sibilia was awarded the City of Vienna Prize for Medical Sciences in 2013 and, in 2014, was awarded the title of "Commendatore" [Commander] of the Italian Republic for her scientific achievements. In 2016, she obtained a highly competitive and generous Advanced Investigator ERC Grant for her project on immunomodulation of the innate immune system to fight cancer.
Maria Sibilia studied biology at the University of Pavia, specialised in genetics and molecular biology while completing her PhD and then transferred to Vienna, where she became assistant professor at the Division of Dermatology and professor of cellular and molecular tumour biology in 2007. The main focuses of her research and interest are mouse genetics, tumour biology and immunology and innate immune defence.

About Ursula Schmidt-Erfurth
Ursula Schmidt-Erfurth is a professor of ophthalmology and an expert in ophthalmic surgery. She studied at the Ludwig Maximilian University in Munich, where she completed her training in ophthalmology. She has headed up MedUni Vienna's Department of Ophthalmology and Optometrics within Vienna General Hospital since 2004. Her main scientific interest is retinal research and the development of innovative diagnostic and therapeutic techniques in retinology. Ursula Schmidt-Erfurth developed photodynamic therapy while working at Harvard Medical School, Boston and this has been the global gold standard in the treatment of macular degeneration for a decade now. In 2006, she set up the Vienna Reading Center (VRC) at MedUni Vienna. This is a platform for digital analysis in retinal imaging, which is linked to 600 centers of excellence. With the establishment of the Christian Doppler Laboratory for Ophthalmic Image Analysis (OPTIMA) in 2013, she introduced Artificial Intelligence techniques into retinology for the first time, her group being seen as pioneers in a particularly innovative branch of modern medicine.
She has authored more than 400 peer-reviewed publications and leads an interdisciplinary research group of more than 30 externally-funded scientists. Ursula Schmidt-Erfurth has received numerous awards and honours, including the Fraunhofer Society Research Prize, the American Academy of Ophthalmology Achievement Award, the University of Washington's Roger Johnson Award and the Donald Gass Award from the Retina Society (USA). Since 2014, Schmidt-Erfurth has been an adjunct professor at Feinberg School of Medicine (Northwestern University, Chicago).
---