All News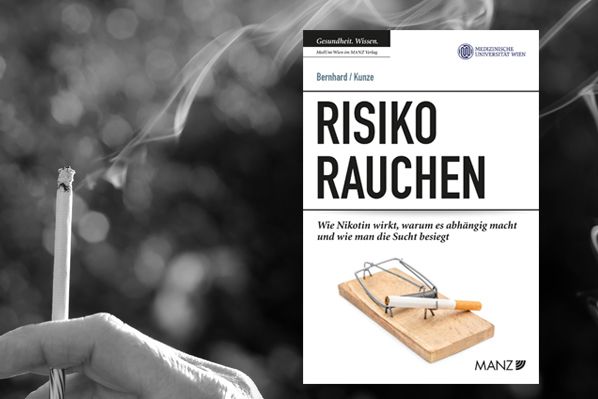 (Vienna, 23 April 2019) Every year, between 12,000 and 14,000 people die in Austria as a result of smoking. Nicotine dependence and heavy smoking are serious illnesses that should be recognised and treated as such. In their new self-help book entitled "Smoking Risk", recently published by the Medical University of Vienna in collaboration with MANZ Verlag, the two authors Michael Kunze and Gerda Bernhard from MedUni Vienna explain how nicotine dependence can develop, what health risks are associated with it and the best strategies to use to overcome this addiction, if you have a mind to do so.
The book also takes a critical look at the political attitude to smoking in Austria: "When it comes to smoking, the situation in Austria is woeful compared with other European countries. Although we are one of the global leaders in the scientific area, we lag way behind when it comes to the political handling of tobacco consumption and its consequences – from the protection of non-smokers, pricing and taxation policy, right through to the treatments on offer. And this is despite the fact that the World Health Organization classes nicotine addiction as a recognised disease and despite the fact that it is important for nicotine-dependent people that their environment, including catering establishments, should be as smoke-free as possible. This is essential for them to successfully quit smoking long-term," stress the authors. To sum up: "Here in Austria we are not good at controlling tobacco, because we are in constant denial about the existence of scientifically proven nicotine dependence that requires treatment."

What help is available?
The self-help book does not wag an admonishing finger and tells smokers to quit – instead, it points out what help is available, should someone decide to stop smoking or at least cut down their nicotine consumption. But one thing is sure: "Every cigarette you forego is a small contribution towards staying healthy. "Within just a few days of your last cigarette, you start to experience health benefits: the risk of heart attack falls rapidly, your sense of taste and smell normalise, as does your heart rate, breathing becomes easier and lung function improves.

The two authors explain how you can take small steps towards a general improvement in your health – the right way to tackle nicotine dependence, what recommended nicotine replacement therapies and supporting measures are available and offers practical tips for weaning yourself off smoking and about nicotine replacement products and why it makes sense to keep a smoking diary. The easy-to-understand information is backed up by the results of scientific studies conducted at the Medical University of Vienna and has interesting graphics – there are also commentaries from numerous MedUni Vienna doctors and researchers, outlining the potential consequences of smoking.

And finally, there are also top tips and tricks for day X, for the right time to quit smoking: "Choose a time when you are not stressed to do it. Make sure you can keep yourself occupied doing something you enjoy. Avoid situations that expose you to temptation and could make you reach for a cigarette," are among the most important pieces of advice from the experts.

MedUni Vienna at MANZ Verlag: Self-help guides and interesting books
Eight self-help books have now been published in the "Health. Science" series by MedUni Vienna in collaboration with MANZ Verlag: "Pollen and Allergy" (2015), "High Blood Pressure" (2015), "Diabetes" (2016), "Vaccination" (2016), "Health in Old Age" (2017) plus "Prostate Cancer" (2018), "Sloppy Food" (2018) and now "Smoking Risk". There is also a book entitled "Climate Change and Health" in the "Aspects of Science" series, published in the summer of 2017, and "Bionic Reconstruction" (early 2018).

Link to all books and online ordering: https://bit.ly/2Ji1em9

Recommended reading: "Smoking Risk", Michael Kunze and Gerda Bernhard, MANZ Verlag Vienna in collaboration with MedUni Vienna, 160 pages, April 2019. 21.90 EUR. ISBN: 978-3-214-13743-4.
---