All News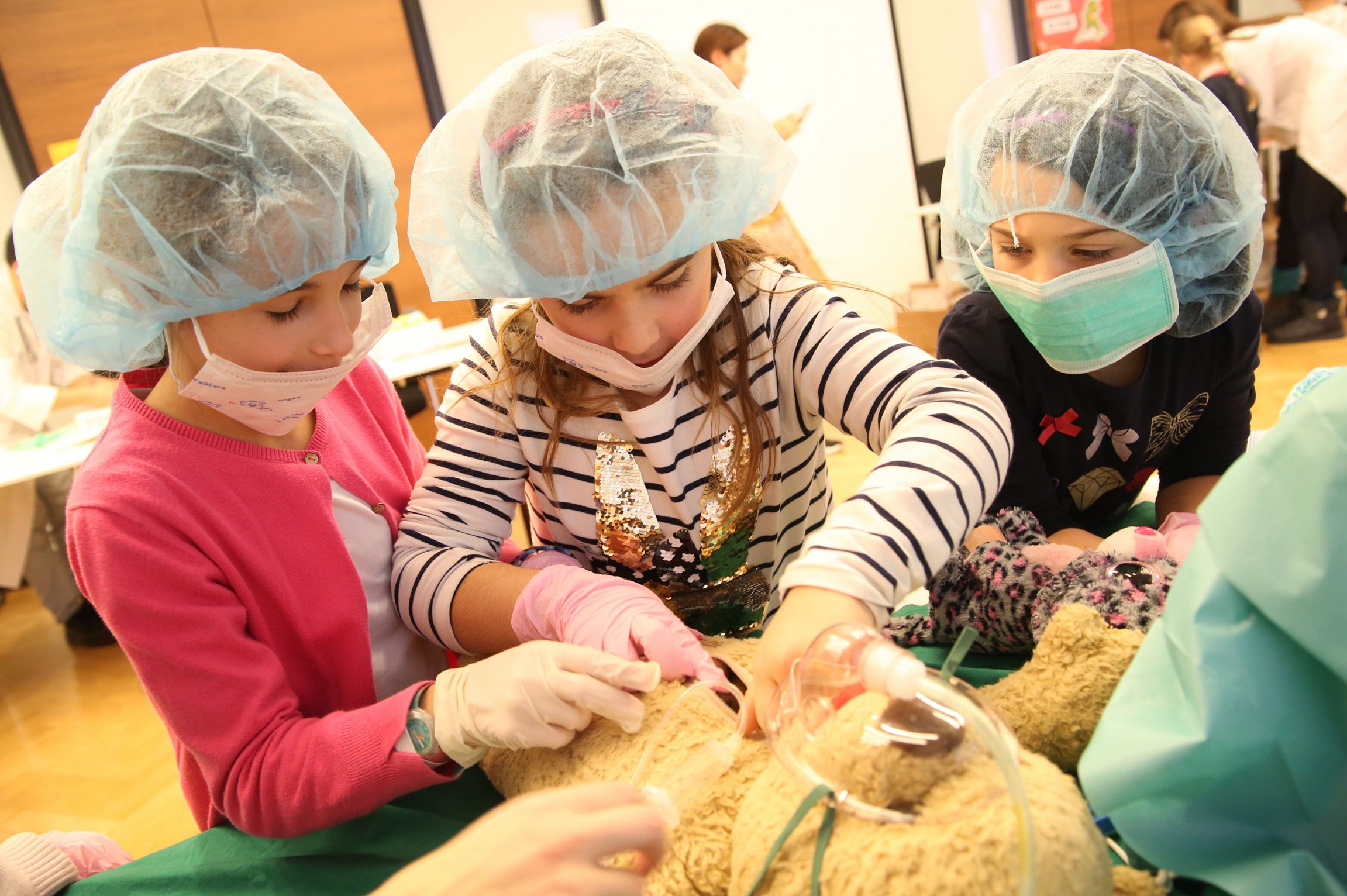 (Vienna, 04 December 2019) The 19th Teddy Bear Hospital will be opening its doors for three days on 16 December 2019 (opening times on each day: 9-12:00 and 13-16:00 hrs, Vienna Medical Association, Weihburggasse 10-12). It is a joint initiative between MedUni Vienna, the Austrian Medical Students' Association (AMSA), Vienna Medical Association, St John's Ambulance and the Academic Association of Austrian Pharmacists. The aim of the Teddy Bear Hospital initiative is to use the medium of play to allay children's fear of visiting the doctor or going into hospital. On these three days, children are therefore invited to bring along their cuddly toys, teddy bears or dolls and personally escort them through the hospital or even take an active role as "junior doctors" – while at the same time overcoming their fear of going to the doctor.
The children and their cuddly toys will be looked after by more than 50 "teddy bear doctors", students from MedUni Vienna. The treatment process mimics that of a real hospital – from admission through to discharge of the "patients". For example, there will be an ECG for measuring cardiac activity, a dental clinic and operating theatres. The children do not merely accompany their cuddly toys but are able to actively assist in their treatment. And St John's Ambulance Brigade will practise resuscitation exercises with the children, show them an emergency ambulance and describe all its functions. The Academic Association of Austrian, pharmacists (AFÖP), who are thrilled to be taking part in the Teddy Bear Hospital once again, will give children an insight into the workings of a pharmacy and show them what pharmaceuticals look like and how they are made.

Being more relaxed about real hospital visits
"The Teddy Bear Hospital is supported by a high level of personal commitment from our students and has become a regular institution at our university," says Anita Rieder, MedUni Vienna's Vice Rector for Education. "The children have lots of fun while learning in a playful way how a complex operation such as a hospital is run. These positive experiences will be a resource for them in the event of any subsequent visit they have to make to the doctor or hospital and will enable them to be more relaxed about many procedures. This lowers their anxiety level, thereby not only helping the children themselves but also their parents and the doctors treating them".

This year, Medical Association President Thomas Szekeres is again hosting the Teddy Bear Hospital and is looking forward to welcoming a host of young visitors: "There is always a great atmosphere when we convert the Medical Association's meeting rooms into a pretend hospital operated by children for three days – and the children always take it very seriously." What is important for him is that children dissipate any potential anxiety about visiting the doctor or hospital at an early stage but, at the same time, he also wants to awaken their interest in a very special profession: "Perhaps some of our young guests will decide that they also want to become doctors later on."

Event: Teddy Bear Hospital 2019
Monday 16 – Wednesday 18 December 2019 (9-12:00 and/or 13-16:00 hrs., admission free – suitable for children aged between four and eight, individuals do not need to book), Vienna Medical Association, Weihburggasse 10-12, 1010 Vienna. The organisers kindly request that you bring slippers or trainers with you.

The mornings are reserved for pre-booked school parties but, in the afternoon, individual children can drop in unannounced with their teddy bears, favourite dolls or soft toys. The hospital visit lasts approximately one hour and is suitable for kids aged between 4 and 8 years – admission is free.


---