All News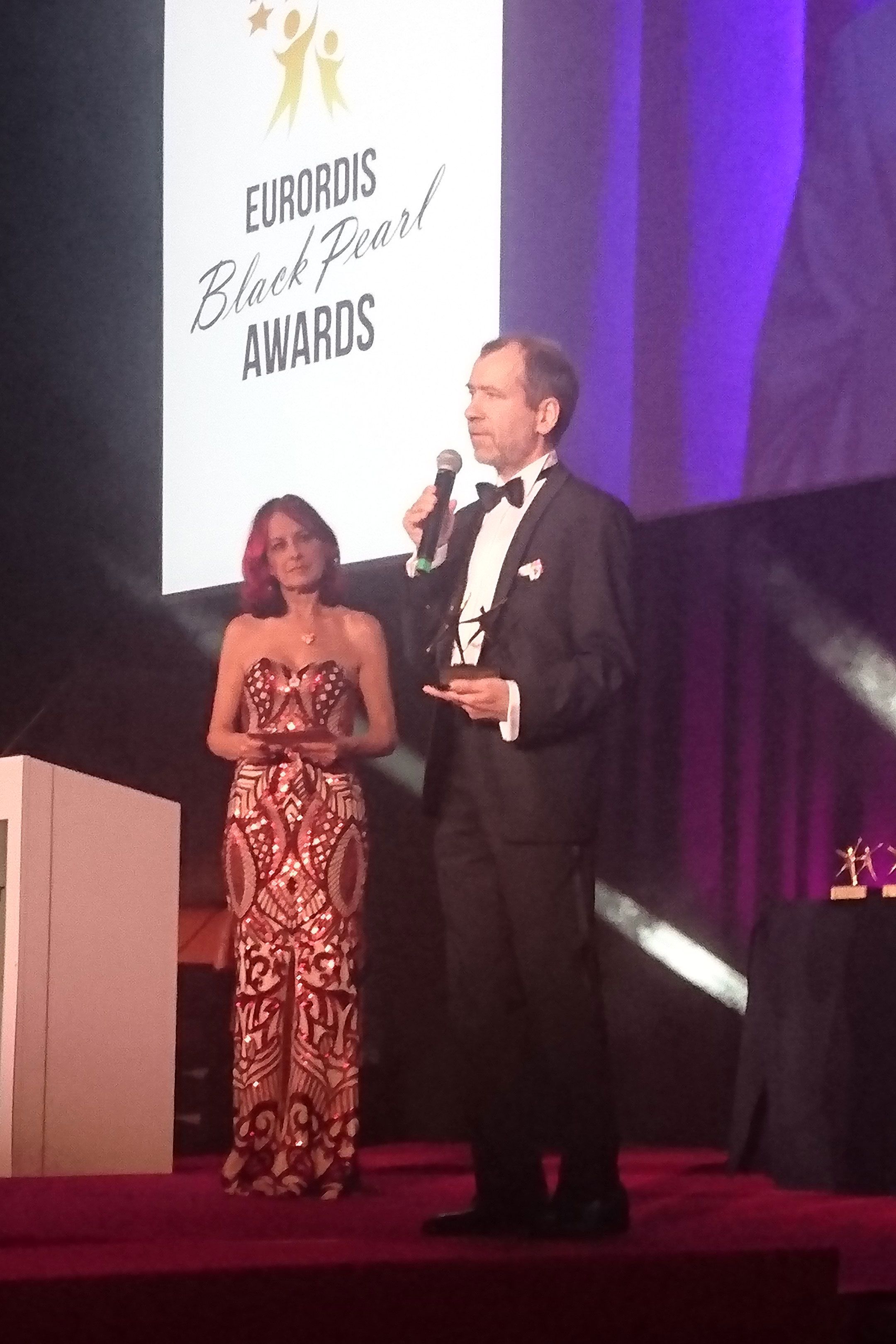 (Vienna/Brussels, 28 February 2019) Till Voigtländer, neuroscientist at MedUni Vienna's Institute of Neurology, was presented with the European Rare Disease Leadership Award at the EURORDIS Black Pearl Awards for his services in the field of rare diseases.
Since 2004, Till Voigtländer has been the Austrian Coordinator for Orphanet, which is now a globally recognised reference database for rare diseases (www.orpha.net). Orphanet makes high-quality information about rare diseases freely available on the Internet, in order to improve the diagnosis, treatment and care of patients with rare diseases. Today the project consists of a consortium of around 40 partner countries throughout the world.

The Austrian Orphanet team, comprising Till Voigtländer and Ursula Unterberger, which, for three years now, has been working closely with MedUni Vienna's Center for Anatomy and Cell Biology (Michael Jantsch, Trevor Lucas) was and is the starting point for numerous activities in the field of rare diseases. For example, the National Coordination Center for Rare Diseases (NKSE) was set up in 2011 at the instigation of Till Voigtländer on behalf of the Austrian Ministry of Health. As head of the NKSE, Voigtländer was in charge of drawing up the National Action Plan for Rare Diseases (NAP.se) published in 2015 and was responsible for implementing the measures contained in it, again in collaboration with Ursula Unterberger.

Till Voigtländer is a member of national and international committees: for example he has previously served as Austrian representative on the European Union Committee of Experts on Rare Diseases (EUCERD, 2010-2013), the European Commission Expert Group on Rare Diseases (CEGRD, 2014-2016) and the Cross-border Healthcare Directive Expert Group (2012-2013), and is currently on the Austrian Ministry of Health's Advisory Board on Rare Disease and Co-Chair of the European Commission's Board of Member States on European Reference Networks. He regularly lectures at national and international events.

About the prize
Since 2012, the Black Pearl Awards have been awarded in Brussels every February to mark the Rare Disease Day of EURORDIS, the European alliance of rare disease patient organisations, with more than 800 member organisations. The prizes go to people, but also organisations and firms, who dedicate their work to those afflicted by rare diseases. The prize is intended to recognise their unique service in addressing the challenges faced by patients and is symbolised by the graphic metaphor of the "black pearl", an extremely rare form of natural pearl.

About Till Voigtländer
Till Voigtländer studied medicine in Heidelberg and Berlin before going on to complete his specialist training in neurobiology at the Institute of Neurology in Vienna. He gained his postdoctoral lecture qualification in neurosciences (habilitation treatise: "Mechanisms of neuronal death in prion diseases") at MedUni Vienna in 2009 and has been an Associate Professor since 2015.
---