All News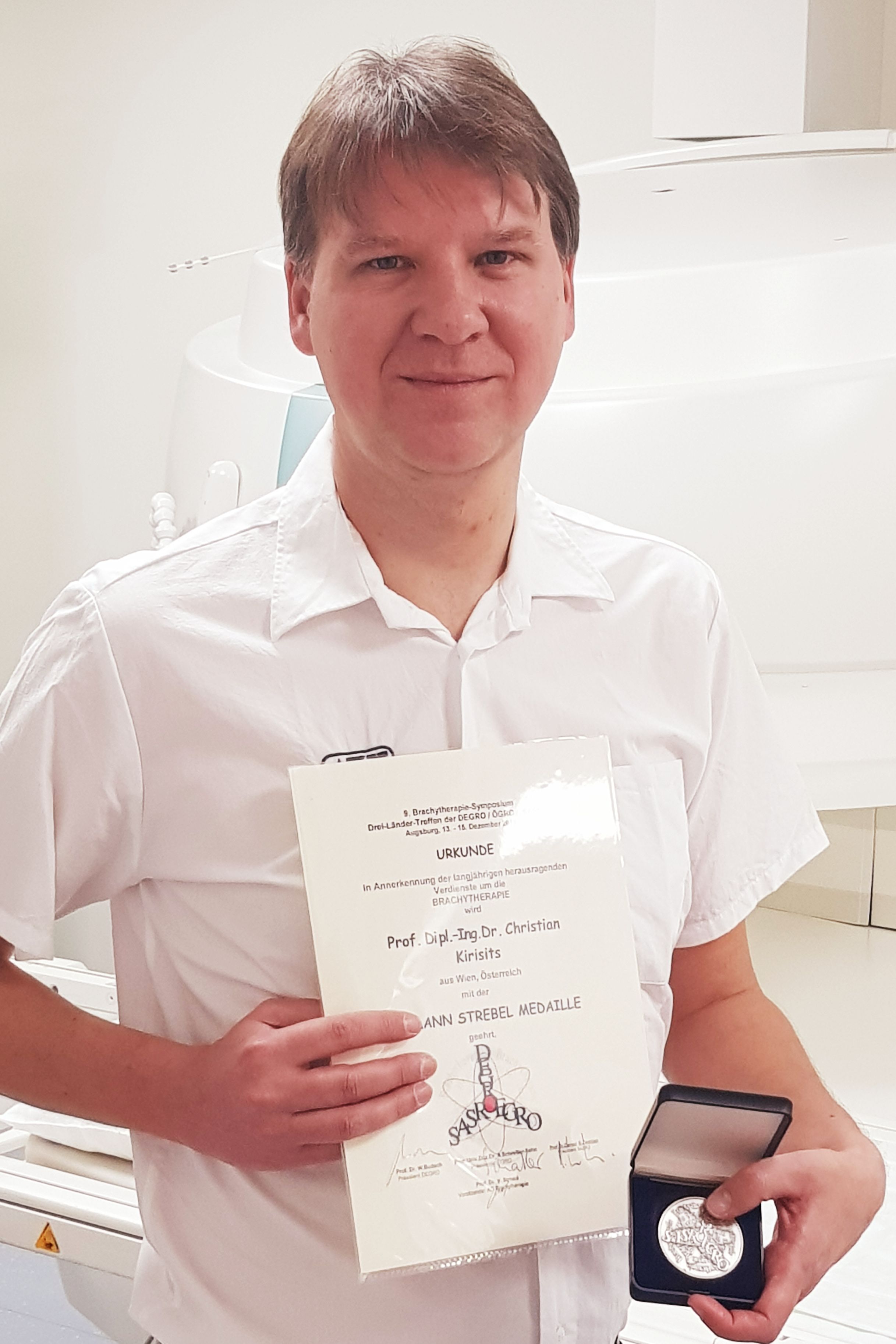 (Vienna, 10 January 2019) Christian Kirisits from MedUni Vienna's Department of Radiotherapy has been awarded the Hermann Strebel Medal in recognition of his many years of outstanding service in the field of brachytherapy within the German-speaking area.
He is receiving this award from the German Society of Radiation Oncology (DEGRO) together with its sister organisations in Austria (OEGRO) and Switzerland (SASRO). The medal was presented at the 9th. Brachytherapy Symposium in Augsburg. It is named after Hermann Strebel (1868-1943), a pioneer of radiotherapy.

Brachytherapy, a modern radiotherapy technique, involves using magnetic resonance imaging (MRI), computerised tomography and ultrasound scanning to accurately place remotely-controlled radioactive implants close to tumours to treat them with a high degree of precision. This means that a very high dose can be delivered to the target area while protecting surrounding organs as much as possible. The technique is particularly useful in the treatment of gynaecological tumours, prostate cancer and breast cancer. In some cases, brachytherapy also offers tailor-made treatment options for patients with tumours in the head and neck area, bronchial system, eye or in soft tissue. In specific situations, brachytherapy is an ideal treatment for children, where a targeted dose of radiation has to be delivered to a small area.

Innovative specialist techniques for treating cervical cancer with brachytherapy have been developed at MedUni Vienna and these are now becoming established as the international State of the Art. MRI and ultrasound imaging are used to plan the implantation procedure and to calculate the ideal irradiation geometry.

Kirisits has written and published important papers in this extremely interdisciplinary field. He is an author and co-author of international recommendations and guidelines pertaining to brachytherapy. Following his role as Chairman of the European Brachytherapy Committee (2016 – 2018), he has now also been recognised for his services within the German-speaking area.
About Christian Kirisits
Christian Kirisits studied technical physics and preclinical aspects of human medicine in Vienna, where he graduated in 2001 to become a Doctor of Technical Sciences, subsequently gaining his postdoctoral qualification in Medical Physics in 2005. As deputy head of the Division of Medical Radiation Physics at the Department of Radiotherapy, he is responsible for aspects of brachytherapy physics in patient care and research. With the aim of using physics for the benefit of people and the environment, his expertise is focussed on the disciplines of medical physics and acoustics/noise protection/noise-effect research, in which he is involved both at the university and in a private capacity. He has written more than 130 scientific publications (current h-index: 42), has served on and chaired scientific committees at numerous international conferences and is particularly committed to postgraduate teaching.
---