All News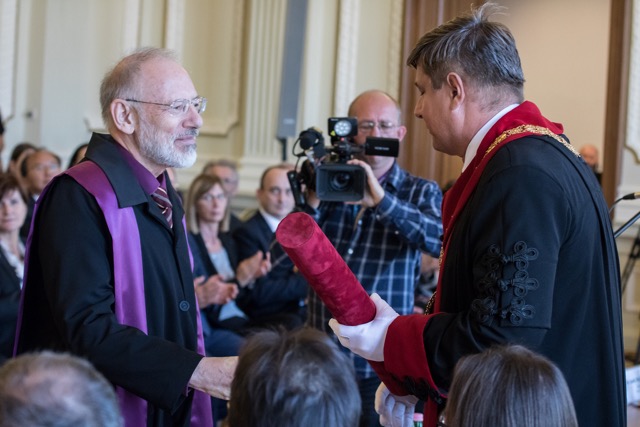 (Szeged/Vienna, 04 January 2019) On 10 November 2018, Richard März from MedUni Vienna was awarded the title of Senator Honoris Causa of the University of Szeged.
Through the EU Erasmus exchange programme, MedUni Vienna has long-standing contacts with the Medical Faculty of the University of Szeged. Szeged watched MedUni Vienna's curriculum reform with great interest. The honour bestowed upon Richard März is primarily in recognition of his enthusiastic advisory role in curriculum development and his expertise in other areas of medical education.
About Richard März
Richard März was born in 1947 and studied chemistry and biochemistry at the University of Vienna and in the USA. He obtained his doctorate at St. Louis University (USA) in 1974. He wrote his dissertation on: "Biosynthesis of Purine Nucleotides in Explants of Mouse C3HBA Mammary Adenocarcinoma." In 1982 he gained the "Venia docendi" for medical biochemistry at the University of Salzburg and started work at the Medical Faculty of the University of Vienna the same year. Since the mid 1990s until today, his great passion has been medical education – März was also a member of the working group that developed the new medical curriculum, which came into force in 2001. Between 2000 and 2011 he was coordinator for the first academic year and, from 2005 to 2012, Head of the Division of Science and International Relations at the Teaching Center and MedUni Vienna's ECTS coordinator.
Together with Jörg-Ingolf Stein (originally Med. Faculty Graz, then MedUni Innsbruck), he initiated the "Graz Conference". This conference has now become one of the most important Medical Education events in Austria and Eastern Europe, with a particular focus on personal development. As in 2011, März has been appointed head of the local organising committee for the AMEE (Association of Medical Education Europe) Annual Conference, which will take place in Vienna in August 2019.
---