All News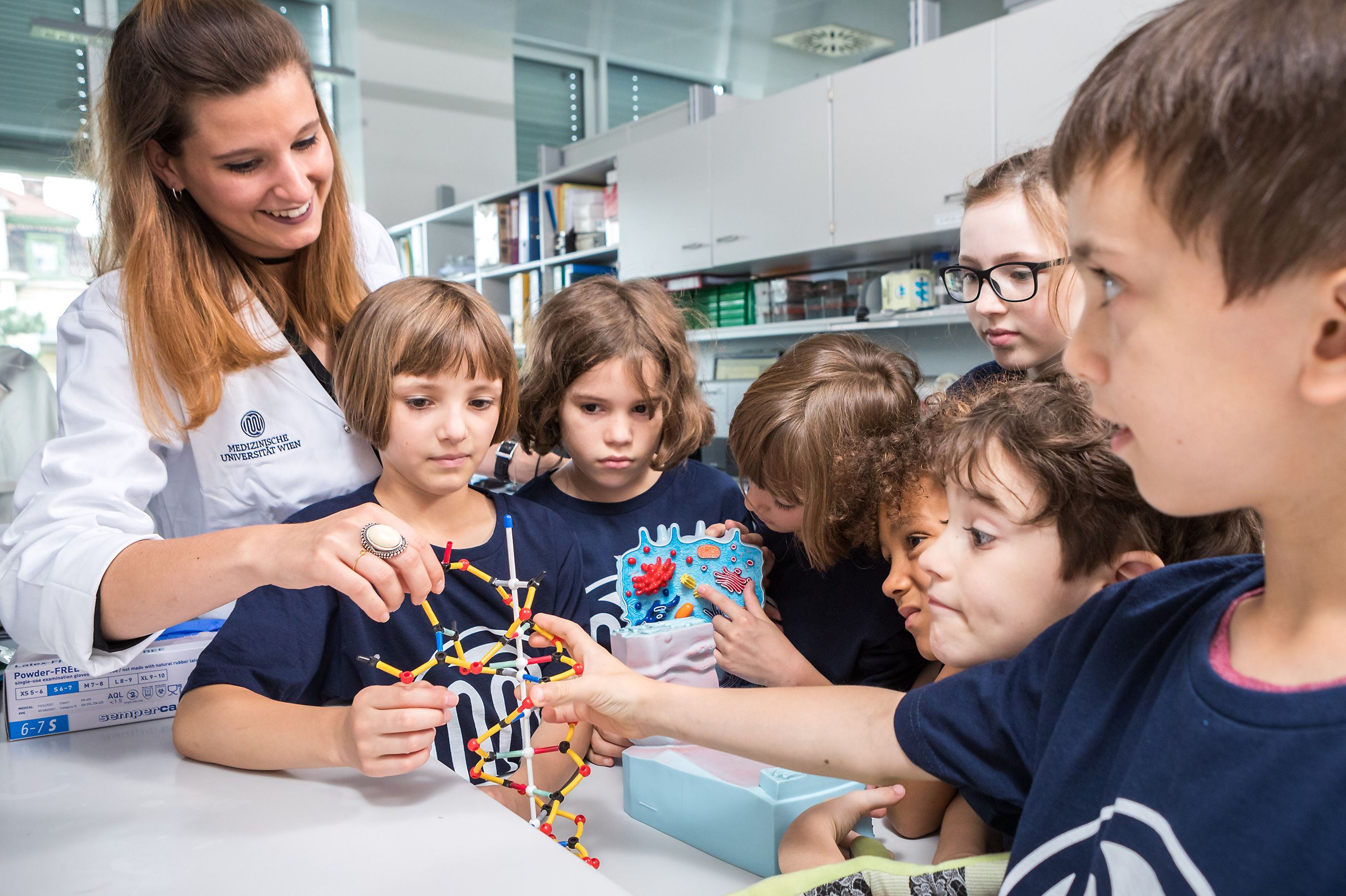 (Vienna, 15 July 2019) Today, children are once again taking over at the Medical University of Vienna for one week: They are storming the 96 classes of KinderuniMedizin [Children's University – Medicine], which is being held for the 17th time this year. The main theme this year is "Genes – blueprint for life". A total of 6,500 places are available for interested children aged between 7 and 12 years.
"Genes are not only the subject of this year's KinderuniMedizin but are also a central focus of university research," says Anita Rieder, Vice Rector of MedUni Vienna: "In-depth exploration of genes provides us with a better understanding and hence improved treatments for diseases. It is a completely new approach to health and disease."

The future of medicine lies in personalised or so-called precision medicine – which is, without doubt, one of the most important medical developments of the 21st century. Each person has their own inherited predisposition towards a genetic risk for specific diseases. Even though two people might be suffering from the same disease, they might respond differently to treatments and that is down to their genes. The aim is to treat patients in a very targeted way that takes account of their individual genetic characteristics. KinderuniMedizin teaches about the importance of genes in a very varied and interesting way, says Rieder: "We want to awaken children's interest in science and medicine at an early stage."

Therefore, many of the classes at KinderuniMedizin touch on the subject of genes: "How your genes make bones!" describes the path from cell to skeleton, "The book of life - and how to read it" explains what we can learn about ourselves from analysing our genes. And "Our genes under the microscope" shows what a genome is and what it has to do with mutations.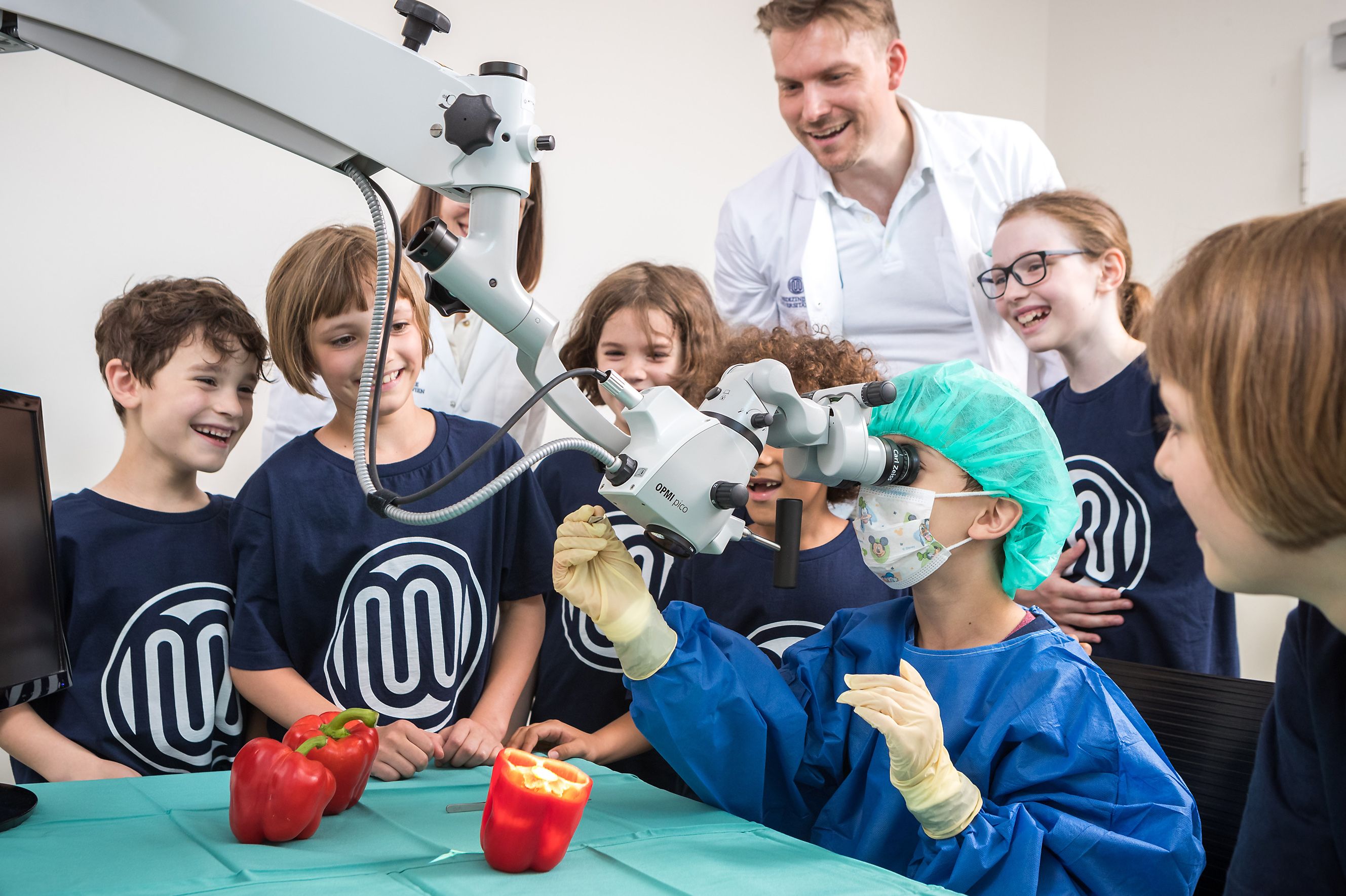 But the curious young scientists will also be offered other subjects during this one week at MedUni Vienna. In total there are 96 classes on the subject of medicine, in which the children can do bone jigsaw puzzles, gain insights into loose teeth and dental caries or can even take part in a basic surgery course and operate on a brain (simulated on a pepper) with the aid of a microscope.

Other exciting seminar, workshop and lecture topics range from "Even YOUR hands can save lives", "What happens when the emergency doctor arrives with flashing lights", "The ABC of immunisation" through to "Why is grandpa always so forgetful?".

Awards for many years of teaching
Three MedUni Vienna teachers, who had been teaching at KinderuniMedizin for many years were honoured this year: Gerlinde Gruber (class "Come on, let's do a bone jigsaw puzzle!"), Johannes Schmid ("What happens when bacteria get into a wound?") and Andreas Zajicek ("What happens when the emergency doctor arrives with flashing lights") have been teaching at KinderuniMedizin for ten years.

This year's KinderuniWien [Children's University Vienna] covers seven venues with more than 430 classes and around 4,200 participating children, aged between 7 and 12. KinderuniWien ends on 20 July with the graduation ceremony in the University of Vienna's Audimax auditorium.



---