All News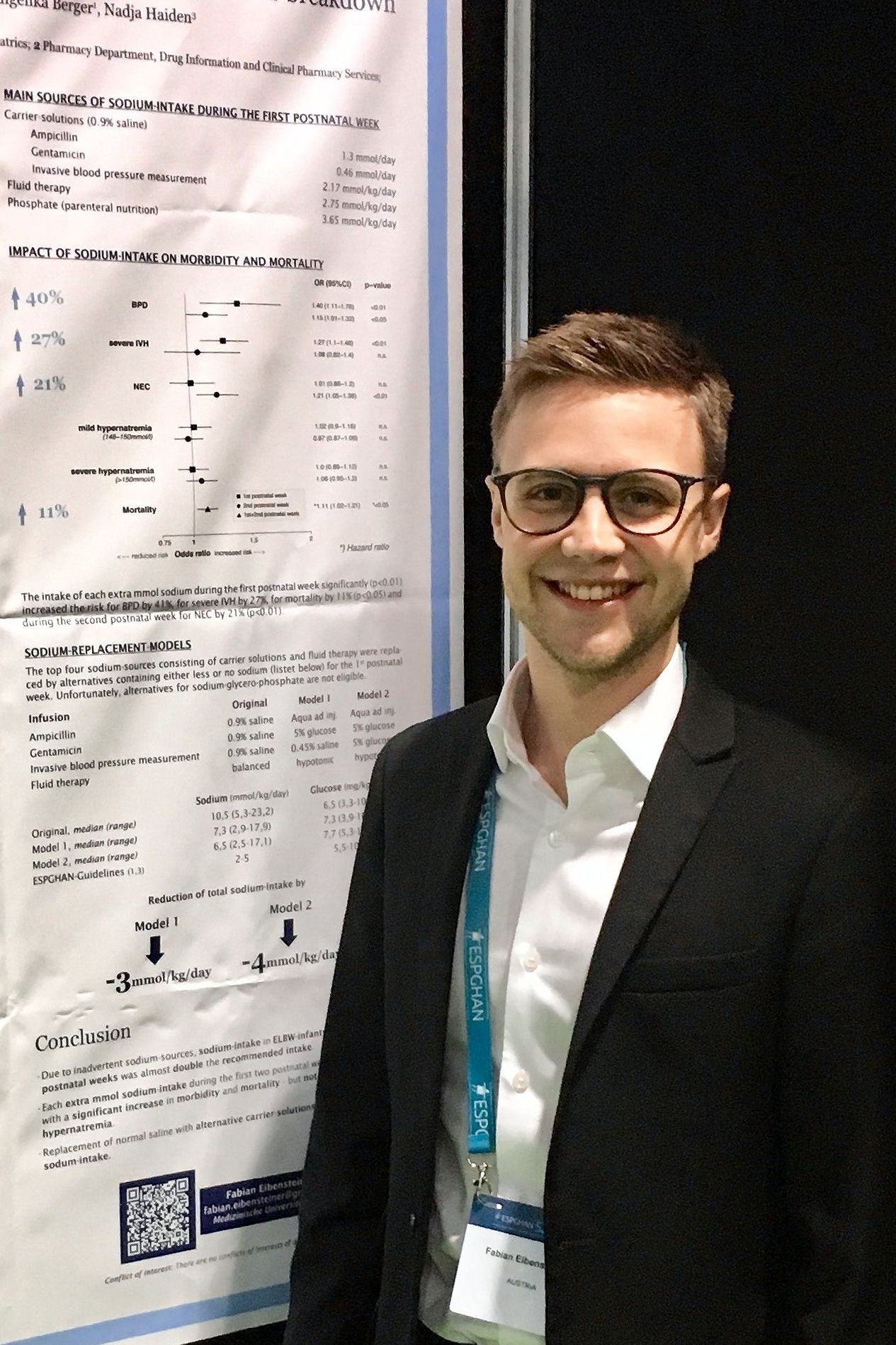 (Vienna, 14 June 2019) Fabian Eibensteiner, diploma student at MedUni Vienna's Department of Pediatrics and Adolescent Medicine has received two international scientific prizes for his thesis (supervisor: Nadja Haiden). He was awarded the Young Investigator Award by ESPGHAN (European Society for Pediatric Gastroenterology Hepatology and Nutrition) at its 52nd Annual Congress 2019 and 1st place in the poster prize by the Society for Neonatology and Pediatric Intensive Care Medicine (GNPI) at its 45th Annual Meeting 2019 for the presentation of his scientific work on sodium intake and associated morbidity and mortality in extremely-low-birth-weight infants.
His thesis entitled "Hypernatraemia in extremely-low-birth-weight infants – causes and therapeutic approaches: a retrospective data analysis" looks at the hidden iatrogenic sodium intake associated with the intensive care of ELBW (Extremely-Low-Birth-Weight, <1000g) infants. Fabian Eibensteiner demonstrated that the sodium intake of these preterm infants is significantly greater than that recommended by the ESPGHAN guidelines, is primarily due to hidden intake from the carrier solutions (especially NaCl 0.9%) of various medicines and is associated with a significantly higher rate of morbidity and mortality. He calculated two models to reduce this excessive sodium intake, one of which has already been clinically applied.

About Fabian Eibensteiner
Fabian Eibensteiner has been studying human medicine at the Medical University of Vienna since 2013 and is expected to complete his studies in July 2019. During this time, he has received several merit-based scholarships from the Medical University of Vienna. Since 2016, Fabian Eibensteiner has been working as a researcher at the Division of Neonatology, Intensive Care Medicine and Neuropediatrics at the Department of Pediatrics and Adolescent Medicine as part of the "Neonatal Nutrition Team" led by Nadja Haiden (Department of Clinical Pharmacology). His scientific training has been supplemented by a research observership at New York University School of Medicine (S. Arthur Localio Laboratory). In addition to his research work, he has also taught as an anatomy tutor in the dissection class at the Center for Anatomy and Cell Biology.

Service: Journal of Pediatric Gastroenterology and Nutrition
"Sodium intake in extremely-low-birth-weight-infants: a meticulous breakdown."
F. Eibensteiner, M. Thanhäuser, G. Laml-Wallner, A. Berger, N. Haiden.
doi: 10.1097/MPG.0000000000002403.

Link: journals.lww.com/jpgn/Citation/2019/05001/ESPGHAN_52nd_Annual_Meeting_Abstracts.1.aspx
---