All News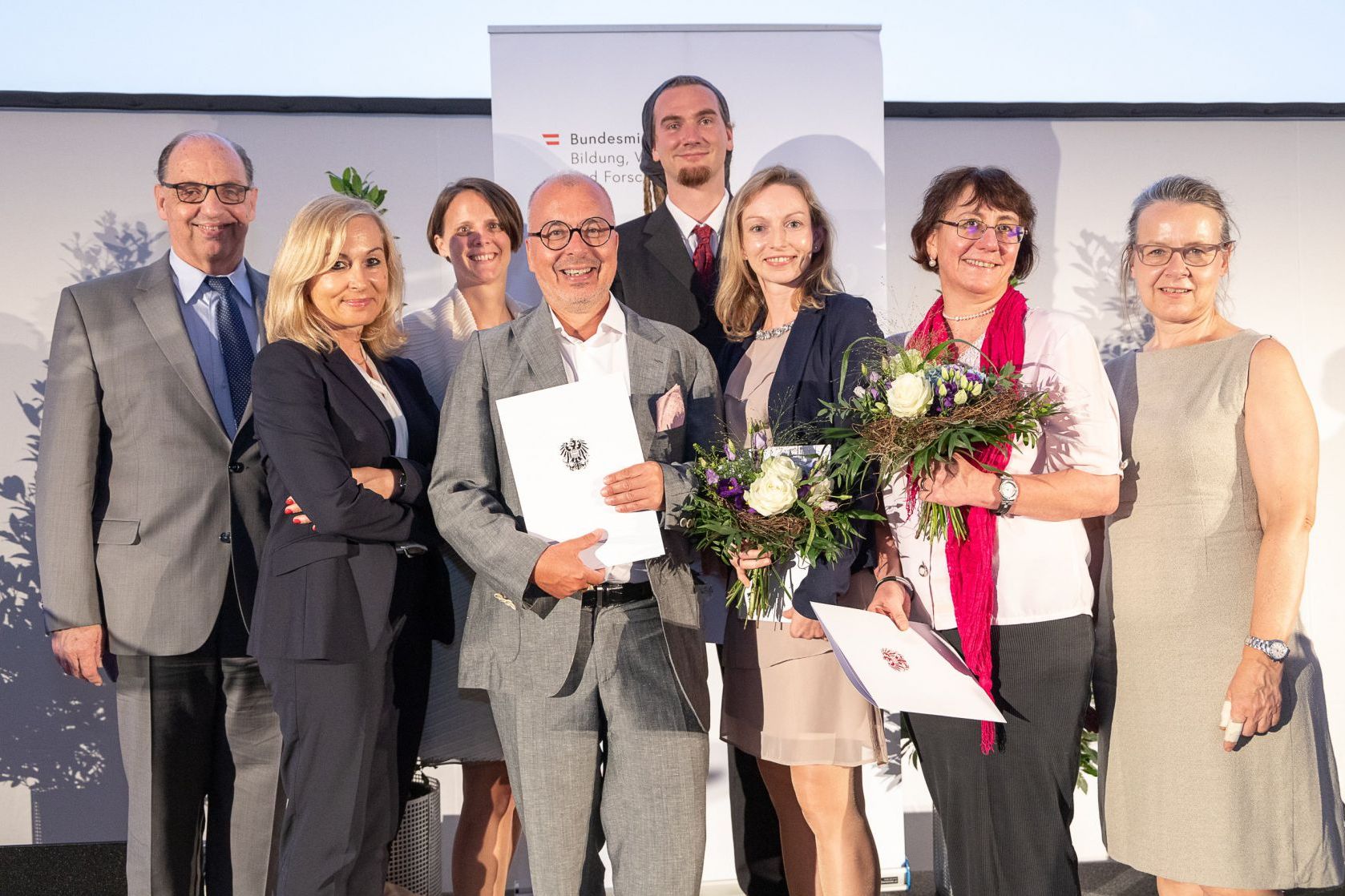 (Vienna, 28 June 2019) A project team from MedUni Vienna got into the Top 3 in the Ars Docendi State Prize for excellent teaching in the "Improvement in quality of teaching and study conditions" category. The jury awarded the place in recognition of the "Interdisciplinary case conferences – clinical rounds" class at the university.
The successful project submission entitled "KOMM – KompetenzOrientiert-MultiModal ärztlich entscheiden" [competence-oriented multi-modal clinical decision-making] describes the interdisciplinary case conferences used in teaching.

The format of the "Interdisciplinary case conferences – clinical rounds" class is case-based, question-led and research-led, designed to practice the cognitive skill of clinical decision-making and reflecting professional attitudes and behaviours in a fun way, in the form of problem-solving (question-answer). The aims are therefore to teach Clinical Reasoning and to develop or shape clinical attitudes (based on medical ethics and other medical humanities, public-health aspects, patient safety and personal safety, as well as information technologies and medical physics). Realistic scenarios for the clinical roles are developed and simulated with different gamification variants, in order to apply previously learned medical skills in a realistic situation.

Easing the transition from theory into practice
The transition from theoretical training to practical action (Translational Learning) is a particular challenge for students of human medicine. Many Clerkship Preparatory Courses are established throughout the world. The learning format that is presented here is backed up by one of the oldest (more than 10 years old) and therefore largest case vignette and assessment databases and a lot of multi-media E-learning content.

Every week, patient vignettes are discussed with the students in the form of Blended Learning and Flipped Classroom (132 case vignettes during the 2017/18 academic year, which are constantly being expanded both qualitatively and quantitatively). The seminars are held in lecture theatres with interactive online transmissions – organised and moderated by students – and supplemented by weekly webinars (in talk-show format) and small-group seminars. The class is constantly evaluated with direct structured feedback to the teachers.
The team:
Franz Kainberger, Department of Biomedical Imaging and Image-guided Therapy (team spokesman)
Monika Himmelbauer, Teaching Center
Georgios Karanikas, Department of Biomedical Imaging and Image-guided Therapy
Desiree Koller, Teaching Center
Philipp Pavelka, Teaching Center
Andrea Praschinger, Teaching Center

About the Ars Docendi State Prize
Comprehensive university education is the key factor in developing the knowledge and qualifications that are needed by a modern, knowledge-based society. Consequently, the aim of the Ars Docendi State Prize is to emphasise the importance of Austrian university teaching within the academic system and hence to encourage the associated quality development in teaching in general. As part of a joint initiative by the Federal Ministry for Education, Science and Research, the Austrian Universities Conference, the Austrian Polytechnics Conference, the Austrian Private Universities Conference and the Austrian Students Union, this year, applications were invited for the State Prize for excellent teaching at Austrian universities, polytechnics and private universities in five different categories.


---