All News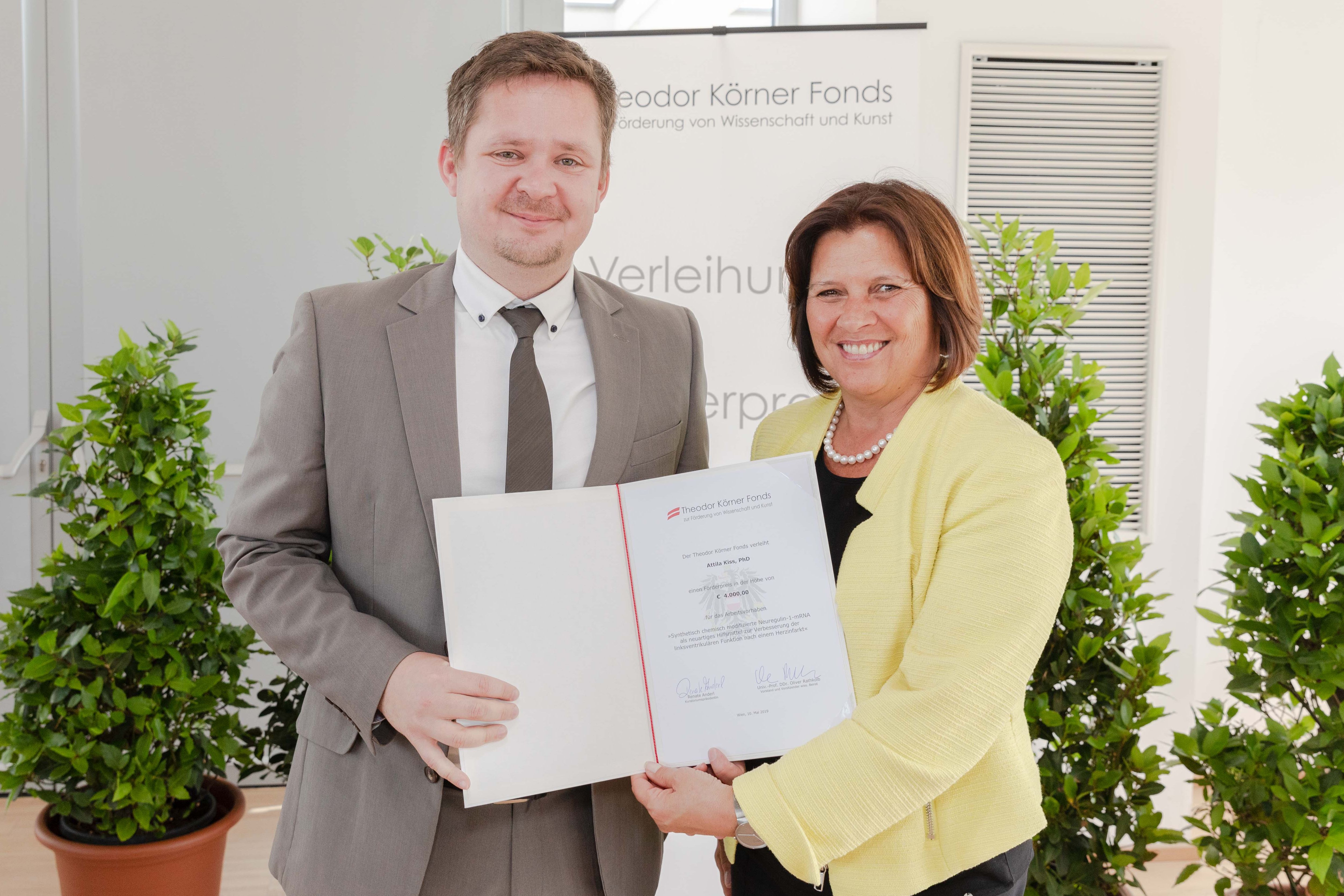 (Vienna, 16 May 2019) Attila Kiss from MedUni Vienna's Center for Biomedical Research has been awarded the Theodor Körner funding prize in the medicine, natural sciences and technology category. This prize for promoting young researchers will support a preclinical study into the treatment of heart failure.
Synthetisch chemisch modifizierte Neuregulin-1-mRNA als neuartiges Hilfsmittel zur Verbesserung der linksventrikulären Funktion nach einem Herzinfarkt
Der Myokardinfarkt (MI) ist ein schweres Krankheitsbild und stellt weltweit eine der Hauptursachen für Mortalität und Morbidität dar. Die dauerhafte Behandlung von Herzinsuffizienz-PatientInnen stellt darüber hinaus eine große sozio-ökonomische Herausforderung sowohl für die Patienten als auch für die Gesundheitssystem dar. Derzeitige präklinische und klinische Studien sind darauf fokussiert, neue Medikamente oder Medizinprodukte zu entwickeln, welche die Mortalität von MI-PatientInnen mit reduzierter linksventrikulärer Auswurffraktion verbessern.

Die Verabreichung von recombinant human NRG-1 (rhNRG) an PatientInnen mit Herzinsuffizienz ist einer der vielversprechendsten Versuche, um diese Pathologie zu behandeln. Die klinische Verabreichung von rhNRG ist jedoch aufgrund seiner kurzen Plasma-Halbwertszeit (HWZ) und dem damit verbundenen Aufwand für die PatientInnen und den Kosten nicht praktikabel. Deshalb sind gezielte Anstrengungen nötig, um die HWZ und damit die Effektivität von rhNRG zu verlängern.

Aktuelle Studien zeigen neue Versuche auf, bei denen Modifizierungen des genetischen Programms in erwachsenen Säugetier-Herzen durchgeführt werden. Diese chemischen Modifizierungen von mRNA (modRNA) bedingen eine rasche, hocheffiziente Expression von beinahe jedem gewünschten Protein in gesunden Maus-, Ratten-, Schweine- und Primaten-Herzen sowie in menschlichen Herzzellen. Das Ziel der präklinischen Studie von Attila Kiss ist die Evaluierung, ob eine einzelne Applikation von modRNA-NRG1 die Herzfunktion merklich verbessert und ob diese Therapie als neuer Ansatz zur Behandlung von Herzinsuffizienz nach MI dienen kann. Kiss arbeitet in diesem Projekt eng mit Katalin Karikó und Gabor Boros (VP, BioNTech RNA Pharmaceuticals, Mainz, Deutschland) zusammen.

Die Theodor Körner Förderpreise
Der Theodor Körner Fonds fördert junge WissenschafterInnen und KünstlerInnen Österreichs, die hervorragende Leistungen erbringen und von denen wichtige Beiträge für ihre jeweiligen Fachdisziplinen erwartet werden können. Der Preis soll vor allem jungen, noch nicht etablierten WissenschafterInnen und KünstlerInnen zugutekommen. BewerberInnen sollen bei Antragstellung nicht älter als 40 Jahre alt sein.

Die Auszeichnung ist mit einem Preisgeld verbunden. Die Förderpreise sollen zur Durchführung und Fertigstellung wissenschaftlicher bzw. künstlerischer Arbeiten ermutigen. Die eingereichten Projekte beurteilt ein Beirat. Die eingereichte Arbeit darf noch nicht fertig gestellt sein. Ausschlaggebend ist ihre allgemeine wissenschaftliche/künstlerische Qualität und gesellschaftliche Relevanz. Die Arbeit muss innerhalb von zwei Jahren nach Preisübergabe abgeschlossen werden.
Zur Person
Dr. Attila Kiss erhielt eine profunde akademische Ausbildung im Fach Biologie an der Universität Szeged in Ungarn. Seine weitere Karriere führte Attila Kiss im Rahmen eines 4-jährigen Postdoc Fellowship ans Department of Medicine, Divison of Cardiology, Karolinska University Hospital, Karolinska Institutet. Im Rahmen dieses Aufenthaltes konnte Kiss seine Kenntnisse und Fertigkeiten auf dem Gebiet der experimentellen Kardiologie, Pharmakologie und Molekularbiologie vertiefen. Vor vier Jahren wurde Kiss von Bruno Podesser ans Zentrum für Biomedizinische Forschung geholt. Dort leitet er die Forschungsgruppe "kardiovaskuläre Physiologie", betreut mit großer Verantwortung bisher acht Studierende bei der Erstellung ihrer Diplomarbeiten und Dissertationen als Ko-Betreuer und leitet zwei Journal Clubs sowie die jährliche "Biomedizinische Summer School", einen zweiwöchigen Intensivkurs für interessierte Studierende aus verschiedenen Fachrichtungen. Zusätzlich ist Kiss als Senior Postdoc unter der Leitung von Bruno Podesser im "Ludwig Boltzmann Cluster für kardiovaskuläre Forschung" im Programm "cardiovascular remodeling" tätig. Seine Aufgaben dort sind die Organisation regelmäßiger Fortbildungsprogramme für StudentInnen, sowie die Betreuung von Forschungsprojekten. Kiss hat bisher 12 Publikationen als Erst oder Letztautor und 17 als Ko-Autor verfasst. Er erhielt 2019 eine "interne Karriere Vereinbarung" an der MedUni Wien.
---