All News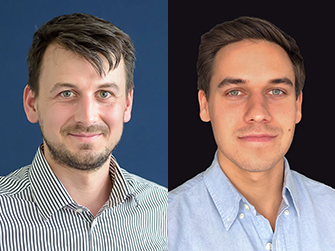 (Vienna, 14-05-2019) Johannes Gojo, basic researcher and doctor at the Department of Pediatrics of MedUni Vienna/Vienna General Hospital, and Georg Greiner, basic researcher and doctor at the Department of Laboratory Medicine of MedUni Vienna/Vienna General Hospital, have been awarded the Hans und Blanca Moser funding award for their work in the field of translational research. Both scientists are members of the Comprehensive Cancer Center (CCC) of MedUni Vienna and Vienna General Hospital.
Gojo won the award for identifying a potential biomarker for more precise classification of ependymomas, which are malignant brain tumours in children. The study, conducted at MedUni Vienna and Vienna General Hospital within the framework of the Comprehensive Cancer Center (CCC) and in collaboration with the German Cancer Research Center in Heidelberg, was published in the prestigious journal "Neuro-Oncology".
Details of the study

Greiner received the award for identifying the cytokine CC chemokine ligand 2 (CCL-2) as a mediator of pathological bone marrow changes in systemic mastocytosis. Systemic mastocytosis is a blood disorder, primarily characterized by proliferation and infiltration of neoplastic mast cells in the bone marrow and/or other organs. The study was the result of a joint project between various working groups from MedUni Vienna and Vienna University of Veterinary Medicine and was published in the leading journal "Blood".
Details of the study

About the Hans and Blanca Moser funding award
The Hans and Blanca Moser Foundation was set up by its founders, actor Hans Moser and his wife Blanca Moser, to fund medical specialists working in the fields of cancer and cardiovascular disease. Since 2010, it has also rewarded outstanding scientific publications in these fields.

The publications must have appeared in a scientific peer review journal in the year preceding the call or must have demonstrably been accepted for publication by an outstanding scientific journal with a peer review system.
Only the lead authors of these publications, who have a Dr. med. univ. qualification or are demonstrably working towards the same, and are no older than 35, may apply for the award. The award is worth €3,000 and is presented at the annual conference of the Austrian Society for Haematology and Medical Oncology (OeGHO).

About Johannes Gojo
Johannes Gojo studied biology at Albert Ludwig University of Freiburg in Breisgau, from which he obtained his first diploma. In 2006, in parallel to studying molecular biology at the University of Vienna (BSc in 2011), he started a medical degree at MedUni Vienna, gaining his doctorate in 2012. In 2012 he then started his specialist training in paediatric and adolescent medicine, with the emphasis on paediatric neuro-oncology. This was followed in 2013 by a PhD in Clinical Neurosciences, which he successfully completed in 2018.

In his research, Gojo is focussed on developing targeted and personalised therapies for paediatric brain tumours, studying the mechanisms of treatment resistance in paediatric brain tumours and finding new biomarkers for paediatric brain tumours.
In addition to this, Johannes Gojo has authored and co-authored numerous publications, has a merit-based scholarship from MedUni Vienna and several funding awards and has already obtained five grants for his research work (funding awards from Fellinger Cancer Research, the Austrian National Bank's Jubilee Fund, the City of Vienna's Mayoral Medical Research Fund on two occasions and TRANSCAN 2).

About Georg Greiner
Georg Greiner studied human medicine at the Medical University of Vienna from 2008 to 2014. He gained his initial scientific experience while preparing his thesis as a student. He also worked as a research assistant in Gregor Hörmann's research group at the Department of Laboratory Medicine from 2012 until 2014. Since 2014, Greiner has pursued his training as a specialist in medical and chemical laboratory diagnostics at the Medical University of Vienna. He completed his PhD in 2017 on the N094 "Malignant Diseases" programme. In addition to his research activities, Dr Greiner also lectures and supervises students writing their Bachelors, Masters and PhD theses.

The focus of Greiner's research was initially on the investigation and significance of the Wnt/b-catenin signalling pathway antagonist Dickkopf homolog 1 (Dkk 1) in prostate cancer and neuroblastoma. Since 2012, he has dedicated himself to the analysis of cytokines as mediators of specific bone marrow mutations in myeloproliferative neoplasia at the Department of Laboratory Medicine. This research is conducted in close collaboration with the Austrian Science Fund's myeloproliferative neoplasia research programme.

Center for Precision Medicine (zpm)
Gojo's and Greiner's research areas fall within the scope of personalised or precision medicine. This is the most significant trend in 21st century medicine. A Center for Precision Medicine (zpm) is therefore to be built on the MedUni Vienna General Hospital Campus starting in 2022 (www.zpm.at).
---