All News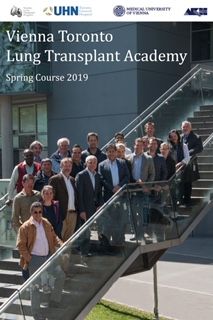 (Vienna/Toronto, 13 May 2019) For eight years now, a one-week Lung Transplant Academy has been held twice a year in Vienna under the leadership of Walter Klepetko, Head of the Division of Thoracic Surgery (Department of Surgery, MedUni Vienna/Vienna General Hospital). This is the only course of its kind in the world, not only providing participants with basic theoretical knowledge but also giving them the opportunity to be involved in the clinical practice of lung transplantation. So far, more than 150 experts have attended from more than 30 different countries. The successful, internationally recognised programme already established in MedUni Vienna/Vienna General Hospital is now to be "exported" for the first time to North America and will henceforth be offered under the name Vienna Toronto Lung Transplant Academy.
Under the leadership of renowned expert and thoracic surgeon Shaf Kesavjee, Toronto has one of the most innovative and highly regarded lung transplantation programmes in the world. The course, which is now completed, offered experts from many different disciplines, ranging from anaesthesia and surgery through to pulmonology, a multi-faceted programme with an extraordinary combination of clinical practice, structured lectures and experimental lung transplantation in a wet laboratory using extracorporeal membrane oxygenation (ECMO) and ex vivo lung perfusion (EVLP). Colleagues from Toronto also took part in the course in Vienna for the first time, as members of the faculty. "Due to its huge success and popularity, we have decided that henceforth we will hold the Lung Transplant Academy in Vienna in the spring and Toronto in the autumn," said Klepetko.
About the MedUni Vienna/Vienna General Hospital lung transplantation programme
Since it started in 1989, the Vienna Lung Transplantation Programme has become one of the best in the world. With around 120 lung transplants being performed every year, it is one of the largest programmes in the world, alongside Toronto, Cleveland and Hanover.
---