All News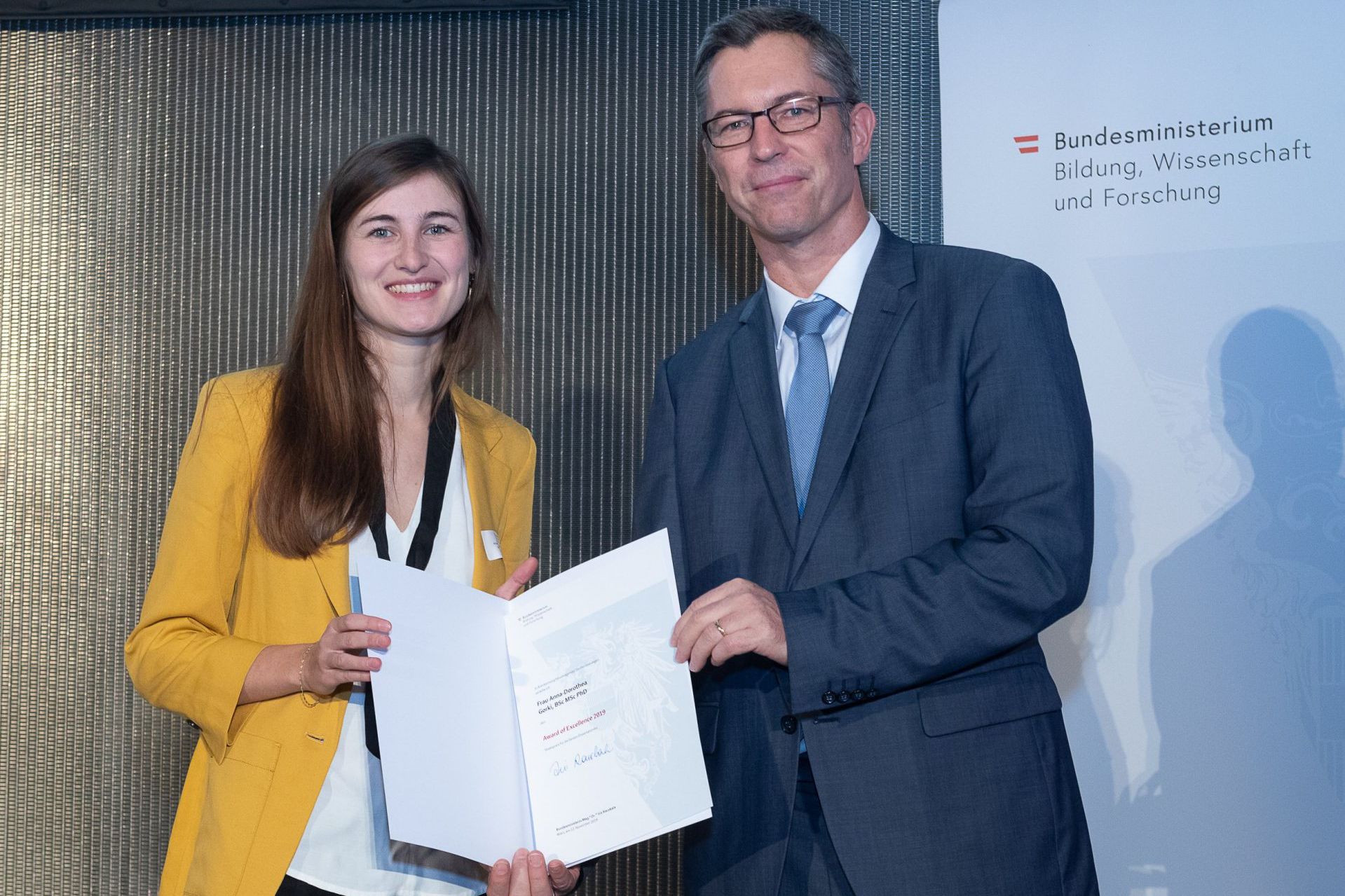 (Wien, 13-11-2019) Anna-Dorothea Gorki, PhD-Studentin im Forschungslabor für Infektionsbiologie der Universitätsklinik für Innere Medizin I der MedUni Wien, wurde vom Wissenschaftsministerium für ihre Abschlussarbeit mit dem Award of Excellence ausgezeichnet.
Anna-Dorothea Gorki überzeugte mit der im Top-Journal "Cell" publizierten Studie "Lung Single-Cell Signaling Interaction Map Reveals Basophil Role in Macrophage Imprinting" (DOI:10.1016/j.cell.2018.09.009). Die Studie entstand in der Arbeitsgruppe von Sylvia Knapp im Forschungslabor für Infektionsbiologie

Die Rolle basophiler Granulozyten in der Lungenreifung nach der Geburt
Schon der erste Atemzug eines Neugeborenen stellt die Lunge vor große Herausforderungen: zum einen werden Strukturzellen der sich entfaltenden Lungenbläschen zum ersten Mal der Außenwelt ausgesetzt; zum anderen müssen Immunzellen plötzlich bereitstehen, um Eindringlinge wie Bakterien oder Viren zu bekämpfen. Wie der Körper diese lebenswichtigen Änderungen wenige Stunden und Tage nach der Geburt bewerkstelligt, ist bisher nur wenig erforscht.
In der Studie wurde nun mittels neuester Technologien das präzise Zusammenspiel von Struktur- und Immunzellen während verschiedener Phasen der Lungenentwicklung genau untersucht. Die dabei verwendeten Einzelzell-Untersuchungen auf RNA Ebene (single-cell RNA-Sequenzierung) ermöglichten es erstmals einen "Zell-Atlas" der sich entwickelnden Lunge, von sehr frühen Stadien im Maus-Embryo bis zum Erwachsenenalter, zu erstellen. Basierend auf diesem einzigartigen Datenset analysierten die ForscherInnen anschließend potentielle Interaktionen zwischen Zellen der sich entwickelnden Lunge und konnten u.a. eine vom Knapp-Labor früher beschriebene Interaktion zwischen Epithelzellen und den innate lymphoid type-2 Zellen (ILC2s) kurz nach der Geburt bestätigen (2).

Der Award of Excellence des Bundesministeriums für Bildung, Wissenschaft und Forschung wird seit 2008 an die 40 besten Absolventinnen und Absolventen von Doktoratsstudien der wissenschaftlichen und künstlerischen Universitäten des vergangenen Studienjahres vergeben. Die Vorschläge dafür kommen von den Universitäten.

Zur Person
Anna-Dorothea Gorki studierte Molekulare Medizin im Bachelorstudium in Freiburg und wechselte dann für ihren Master nach London. Ende 2013 begann sie ihr PhD-Studium im FWF-geförderten Doktoratskolleg "Cell Communication in Health and Disease (CCHD)" an der MedUni Wien und am CeMM, im Labor von Sylvia Knapp (Universitätsklinik für Innere Medizin I). Schon von Beginn an beschäftigte sie sich mit dem Thema der Immunzellentwicklung und dem Zusammenspiel der verschiedenen Zellpopulationen in der Lunge. Ein 8-monatiger Auslandsaufenthalt in Israel im Labor von Ido Amit ermöglichte es ihr, unterstützt von einem EMBO Short-term fellowship, in die Welt des single-cell RNA-Sequenzierens einzutauchen und diese Kollaboration nach ihrer Rückkehr nach Wien erfolgreich weiterzuführen. Seit August 2018 studiert Anna-Dorothea Gorki berufsbegleitend Bioinformatik an der FHCampus Wien, um sich in den nächsten Jahren vertieft mit der Analyse von High-Throughput Daten zu beschäftigen. Im Mai 2019 wurde Gorki von der MedUni Wien als Researcher of the Month ausgezeichnet.


---