All News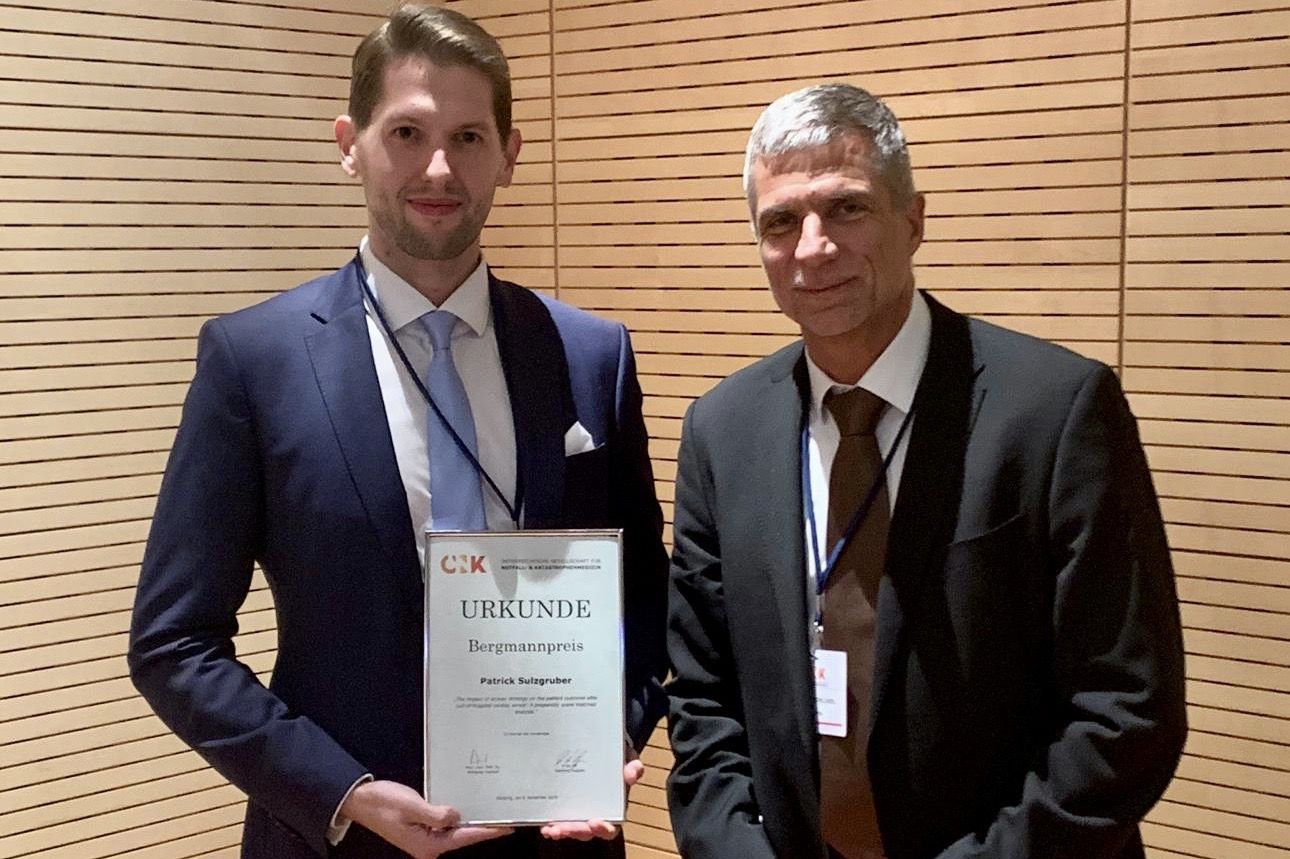 (Vienna, 07 November 2019) Patrick Sulzgruber from the Medical University of Vienna's Division of Cardiology was awarded the Hans Bergmann Publication Prize at this year's conference of the Austrian Society of Emergency and Disaster Medicine in Salzburg (3 – 5 November). This will be the third time in a row that Sulzgruber has won this prestigious research prize.
The Hans Bergmann Publication Prize is regarded as the most important Austrian prize in the field of emergency medicine research and it was awarded to Sulzgruber for his scientific paper entitled: "The impact of airway strategy on the patient outcome after out-of-hospital cardiac arrest: A propensity score matched analysis", which he produced in collaboration with Fritz Sterz and Raphael van Tulder from the Department of Emergency Medicine.

Airway management is a central element in the treatment of cardiac-arrest patients. While endotracheal intubation continues to be the gold standard for preserving the airway and for ventilation during resuscitation procedures, so-called supraglottic airway management devices – such as the laryngeal tube – are becoming increasingly popular in the treatment of cardiac arrests. In the years since it was first introduced, there has been a significant increase in the use of the laryngeal tube as the primary airway management device, because it is simple to use, and people do not need much training to be able to use it. However, it would appear that, in many cases, the laryngeal tube has not been properly placed in patients receiving primary out-of-hospital emergency care and the device is often used carelessly.

Since literature on the subject did not provide any valid data on the impact of airway strategy on the outcome following cardiac arrest, Sulzgruber and his colleagues investigated the extent to which the choice of airway device influences survival. Based on the "Vienna Cardiac Arrest Registry", they studied a total of 2,224 patients who had suffered an out-of-hospital cardiac arrest and compared the preclinical airway strategies that were chosen.

It was found that patients who were primarily treated with endotracheal intubation had the best outcome in terms of 30-day survival and neurological outcome, while patients who had had their airway secured by laryngeal tube, had a significantly poorer outcome. Interestingly, it was found that patients who had initially been treated with a laryngeal tube but were then endotracheally intubated by the emergency doctor had a comparatively better outcome than patients who were ventilated via the laryngeal tube for the entire duration of the resuscitation process.
In conclusion, the results of the study show that use of a laryngeal tube in the treatment of a cardiac-arrest patient is associated with a significantly inferior outcome. It can therefore be concluded that endotracheal intubation should take place as soon as possible. In cases where a laryngeal tube is unavoidable – by way of an alternative airway management device (for example where there is a 'difficult airway'), users must proceed with extreme caution and proactively monitor for leaks and dislocation. Particularly in the case of supraglottic airway devices, it is necessary to make sure that there is sufficient oxygenation and high-quality ventilation throughout.

About Patrick Sulzgruber
Patrick Sulzgruber is currently working at MedUni Vienna's Department of Medicine II, Division of Cardiology, and his scientific work focuses on resuscitation research, acute coronary syndrome, heart failure, atrial fibrillation and anti-thrombotic pharmacotherapy in cardiovascular diseases. He has authored numerous publications, some of which have been written in collaboration with prestigious universities such as Harvard Medical School, the University of Heidelberg and the University of Geneva. In addition to his medical studies, Sulzgruber completed a PhD in Vascular Biology (supervisor: Alexander Niessner) as part of the MDPhD Excellence Programme. He has also completed a Master of Business Administration (MBA) in Health Care Management at Vienna University for Economics and Business Administration. Patrick Sulzgruber is also an active member of the Working Group on Cardiovascular Pharmacotherapy of the European Society of Cardiology, in which he is playing a leading role is drafting the Consensus Statement. Sulzgruber has already received numerous national and international awards for his research work – including being nominated "Researcher of the Month" by the Medical University of Vienna in May 2016.


---