All News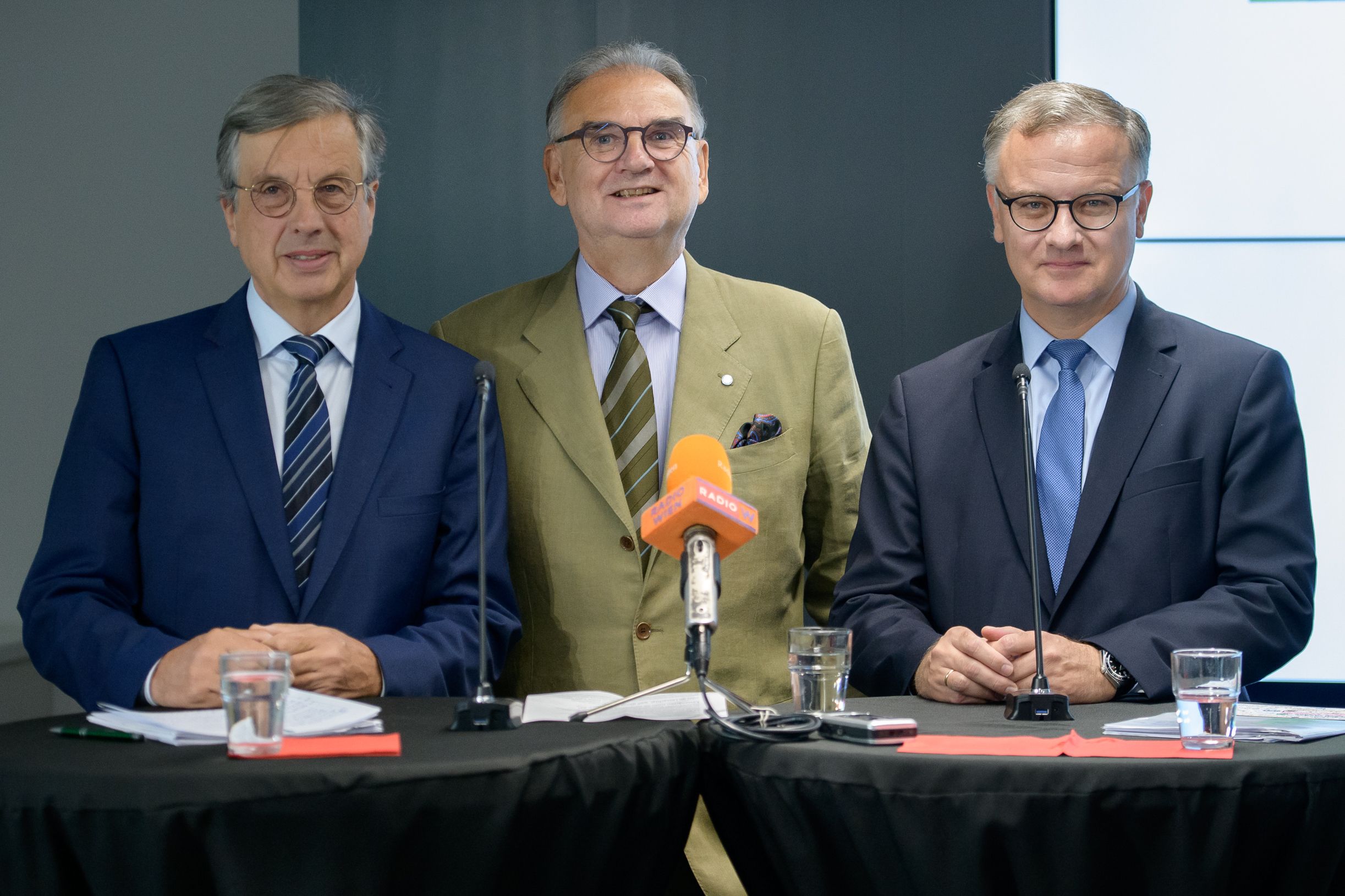 (Graz/Innsbruck/Vienna, 23 September 2019) At a press conference held in Vienna today (Monday), the rectors of the three Austrian medical universities – Hellmut Samonigg (Med Uni Graz), W. Wolfgang Fleischhacker (Med Uni Innsbruck) and Markus Müller (MedUni Vienna) – criticised the call by politicians to double the number of university places for medicine. Together, they made it clear that having more students and more prospective doctors was "completely the wrong strategy" to combat the threatened doctor shortage and that doubling the number of university places would actually have a negative impact upon Austria as a location. Instead, they insisted, it was a matter of rectifying long-standing "faults in the system" and improving the general conditions for doctors working in Austria, in order to make the profession more attractive here.


"Austria is already a net producer of doctors for the entire world and increasing the number of university places would only compound this situation. We would only be using Austrian tax revenue to train more doctors for other countries," emphasised MedUni Vienna Rector Markus Müller. In terms of the total population, Austria already has a high proportion of medical graduates compared with other countries. However, according to the latest statistics, only 60% of them take up their medical careers in Austria.

Recently, some politicians called for the number of university places to be doubled and proposed this as "the" solution to supply problems within the healthcare system. "Today we want to emphatically disagree with this assessment – it is definitely the completely wrong approach," stressed the rectors in unison.

High doctor density, faults in the system
On the contrary, there is an extremely high density of doctors and medical graduates in Austria. Even in the 1980s, there were around 20,000 doctors in Austria. "At the time, people talked about a glut of doctors," recalled Med Uni Graz Rector Hellmut Samonigg. "The number has now risen to around 45,000. Nonetheless, people are now talking about the scenario of a threatened shortage of doctors." He said this is primarily a regional problem: there are problems in rural areas and in certain fields, such as general medicine, for example – but not universally throughout Austria. And these problems would not be expected in the future.

Generally, the main thing is to remedy the obvious defects in the system rather than simply "producing" more and more doctors. "Austria just doesn't manage to keep its graduates in the country, because the system is not attractive enough, so that we can't seem to lure German or Swiss doctors to work in Austria either. The power of a location also depends upon being able to attract workers from abroad and that just doesn't happen," criticises Rector Müller. In order to make Austria more attractive, political measures are therefore necessary to improve working conditions and especially to establish other forms of practice and different cultures of collaboration between the different strata of outpatient care.

"The universities cannot solve the acute allocation problem. However, we are in ongoing discussions with the political decision-makers, medical associations and social insurance institutions and are attempting to alleviate the situation, for example by improving training in certain subjects where there is a shortage, such as general medicine, child and adolescent psychiatry and pathology, and updating our curricula," adds W. Wolfgang Fleischhacker, Rector of Med Uni Innsbruck.

Rector Hellmut Samonigg pointed out that the three medical universities, together with the Medical Faculty of the University of Linz, have already developed concrete measures to help the universities to encourage more students to work in general practice when they complete their studies. For example, Med Uni Graz is providing a postgraduate course in general medicine.

Basic training is a hurdle
One of the greatest hurdles for young doctors is the so-called basic training they have to do after completing their medical degree: all graduates – regardless of their personal preference to specialise or go into general medicine – are required to complete nine months of basic training in Austria. However, in very many cases there is a long delay before they can do this. "We know from targeted graduate surveys in the Tyrol that the majority of our graduates want to stay in Austria. However, the current shortage of basic training places in our hospitals frustrates these plans and exacerbates the situation, because the only solution for many of them is to go to a neighbouring country to complete their training without having to wait," points out Med Uni Rector Fleischhacker.

Appeal to politicians not to undermine the universities
In the rectors' view, doubling the number of university places would also have another negative effect: "For the universities, this would represent a departure from the successful strategy we have followed over the past few years of improving our international standing. This would have a dramatic and negative impact on our staff-student ratio, would push us down the university rankings and would have serious consequences for research. We therefore appeal to the politicians not to undermine the universities," said the rectors of the three Austrian medical universities.



---