All News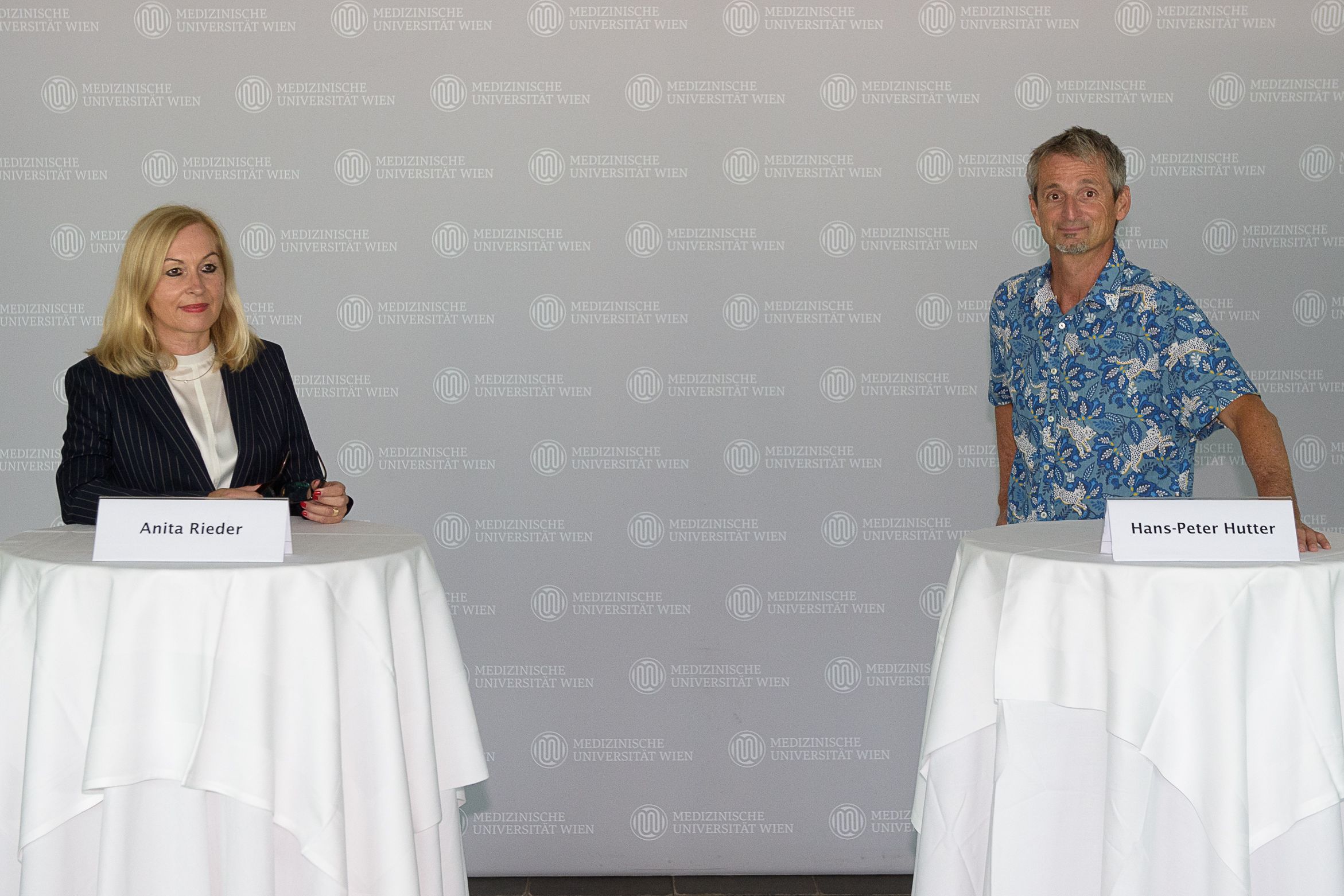 (Vienna, 13 August 2020) The standardised MedAT entrance exams to study medicine will take place tomorrow (Friday) in consultation with the relevant authorities of medical universities in Vienna, Innsbruck and Graz and the Medical Faculty of the Johannes Kepler University (JKU). In order to protect against the COVID-19 infection risk, these exams will be conducted subject to maximum safety precautions.
MedUni Vienna has divided the candidates along geographic lines so that they will take the exam either at Messe Wien (around 5,300 candidates) or Salzburg Exhibition Centre (2,500): applicants to study human medicine in Vienna with addresses in Germany, Salzburg, the Tyrol (North, East and South Tyrol), Vorarlberg and Upper Austria will sit the exam in Salzburg, all applicants from other Austrian States, from other EU and non-EU countries, as well as all applicants to study dentistry will sit it in Vienna.

Due to the huge number of participants (around 7,800 registered at MedUni Vienna), this year's MedAT exams represent the greatest challenge so far, especially under COVID-19 conditions, as was emphasised by Anita Rieder, MedUni Vienna's Vice Rector for Education, and Hans-Peter Hutter from MedUni Vienna's Center for Public Health, speaking at a press conference held in Messe Wien on Thursday. "In the short time we had left to adjust to the massively altered situation for MedAT, we also examined other options to enable us to guarantee a fair admissions procedure, both in terms of methodology and logistics. After intensive discussions with all those involved, it was concluded that it is essential for the MedAT entrance exams to go ahead, so that the next generation of doctors can start their studies on the basis of the MedAT, for which they had all prepared," said Rieder.

10 football pitches required for the exams and necessary distancing
Hans-Peter Hutter explained that MedUni Vienna's safety and prevention strategy makes provision to uniformly "reduce the number of candidates in each exam room". "Even travel to and from the exam venues was considered in the strategy, to reduce potential concentration effects as far as possible. The aim is also to minimise the need to travel, by train for example, right across Austria." The Vienna lines and the Salzburg transport services were likewise considered in the strategy. The candidates are also being split between many different entrances, where there will be requisite hygiene measures such as distancing, disinfecting of hands, measuring temperature and a strict requirement to wear masks until the exam starts. Candidates do not need to wear a face mask while sitting the exam. A large number of safety assistants will be on hand all day long to ensure that candidates can enter and leave safely in compliance with COVID-19 safety guidelines. Several Red Cross COVID-19 triage teams will also be helping out on the day. There has been extremely detailed consultation with the health authorities.

A total of 70,000 m² (Vienna 50,000/Salzburg 20,000) are being provided in Vienna and Salzburg (which equates to around 10 football pitches), as well as many ancillary areas. Says Rieder: "We are making sure that an exact distance of two meters is observed, both for queuing and for the spacing of seats. Due to the 'seating plan' we have already employed in previous years, we know exactly where people are sitting." Candidates will be admitted in stages, on the basis of specific time windows. People who arrive late will be regarded as "did not attend". "And anyone who feels ill on the day of the exam must stay at home," said MedUni Vienna's Vice Rector, appealing to people's sense of responsibility. During the break, candidates will be able to eat food they have brought with them and there are sufficient toilets available – however, it will not be possible to go for "walks" as in previous years or to leave the exam halls.

In total, there are around 1,900 distance markings at the entrances, in the cloakrooms, in the toilets and at the exits, all MedUni Vienna exam staff and security staff, local technical staff and all other employees involved in the exams have had a PCR test for COVID-19. "In this way, we are making sure that we do not cause a cluster of infections ourselves. All our staff have been thoroughly trained in the safety procedures," said Rieder. Even the ventilation systems have been studied and assessed by technical experts to ensure "optimal air renewal", thereby reducing the risk of infection due to aerosols, stressed environmental medicine expert Hutter.

About MedAT
A total of 1,740 university places are available for human medicine and dentistry for the 2020/21 academic year, 740 of these at the Medical University of Vienna (660 human medicine/80 dentistry).


Content of the MedAT-H and MedAT-Z entrance exams
The entrance exam for human medicine (Med-AT-H) is a multi-part, written exam comprising the following elements:
Basic knowledge test for medical studies: checking existing knowledge from school in the areas of biology, chemistry, physics and mathematics.
Text comprehension: checking reading ability and understanding of texts.
Cognitive skills and abilities: this part of the test consists of five groups of exercises (assembling figures, numerical sequences, language proficiency, memory and retention and recognising implications) and covers basic cognitive skills and abilities.
Social and emotional skills: this part of the exam consists of a group of exercises on Reading Emotions and Social Decision-Making, covering important aspects of social and emotional skills.
The entrance exam for dentistry (MedAT-Z) is largely identical to MedAT-H, except that the "Text Comprehension" section of the test is replaced by "Manual Skills" and the group of exercises on "Understanding Implications" is replaced by "Wire Bending" and "Reproducing Shapes".
---