All News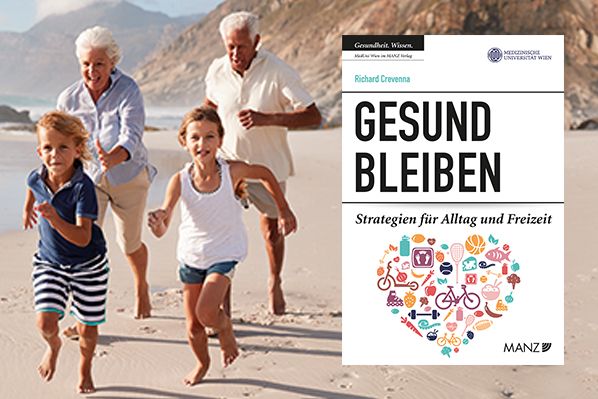 (Vienna, 20 January 2020) Over the course of the last few decades, life expectancy has greatly increased in the Western world and this trend is set to continue. Every second child born today will live to be 100. "Unfortunately, the number of so-called healthy years is not keeping pace in our latitudes," stresses Richard Crevenna, Head of the Department of Physical Medicine, Rehabilitation and Occupational Medicine at the Medical University of Vienna. In the self-help book "Staying Healthy", published by MedUni Vienna in collaboration with MANZ Verlag, he describes in a scientifically based but easy-to-read style, what strategies are available in everyday life and leisure to maintain a high quality of life even into old age – and what you can start to do about it while you are still young.






Life expectancy has increased significantly since the year 2000 and living to be 100 is no longer a utopian dream – but reaching this age "healthy" is becoming increasingly difficult, as is shown by the figures provided by Eurostat, the statistical office of the European Union. Crevenna explains: "In the EU, women can expect to remain healthy until an average age of 64.2, this number being 63.5 for men. However, despite a comparable overall life expectancy, Austria falls well below the EU average in this regard: here the "healthy" life expectancy is 57.1 years for women and 57.0 years for men. This puts us in fourth or fifth place in an EU-wide comparison."

The art of living happily
In the recently published book, the MedUni Vienna expert is therefore offering various suggestions for work and leisure time to help live a long – and healthy – life. The focus is not only on the need to do more sports, physical activity and exercise, follow a healthy diet and not smoke, or on hygiene or preventive measures such as immunisation, healthy sleep or avoiding accidents but Crevenna also places a great deal of emphasis on what he calls the "art of living". "If you want to remain healthy for a long time, then, as well as adopting a healthy lifestyle, you must also pay attention to psychological aspects: try not to take everything so seriously, emphasise the positive and don't dwell on the negative or look back with sorrow or regret but enjoy life and maintain social contacts with family and friends."

Accumulated expertise
In addition to practical advice for avoiding common civilisation diseases, which, as Crevenna points out, is "often easier than you think", the book also includes contributions from numerous national and international health experts, who provide advice and practical information from their fields of expertise about preventive measures you can take to promote a long, and above all healthy, life – the list goes from A to Z, e.g. from "Aktivität & Bewegung" [Activity and exercise] into old age through to "Zahnpflege" [Dental care].


Link to all books published by MedUni Vienna in collaboration with MANZ Verlag and to online ordering: bit.ly/37NTSlS. The book is, of course, also available in the MedUni Vienna shop in the foyer of Vienna General Hospital.
Recommended reading:
"Staying Healthy", Richard Crevenna, MANZ Verlag Vienna in collaboration with MedUni Vienna, 162 pages, January 2020, ISBN: 978-3-214-04367-4; 23.90 EUR.
---