All News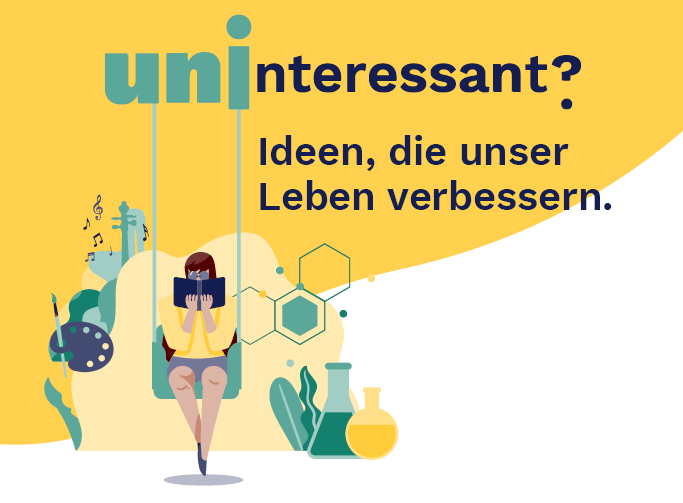 (Vienna, 25 May 2020) "UNInteresting? – Ideas that improve our lives" [UNInteressant? – Ideen, die unser Leben verbessern]: This is the slogan for an online campaign starting today, Monday 25 May, which is the first of its kind to be run by the non-profit association Universities Austria (uniko). All 22 public Austrian universities are participating in the campaign, together with the Austrian Science Fund FWF. According to uniko President, Sabine Seidler, the aim of the campaign is to present easy-to-understand information about the direct benefits that universities and university-generated knowledge have upon people's lives," thereby also highlighting the importance of research, science and universities.

The selected topics of health, culture & sport, technology, environment, the economy & work, social coexistence are each linked to specific people – and a direct prompt on the website homepage: "Take a look at the research being done by Austrian universities and what it has to do with your everyday life." Says Seidler: "The prime target groups for the campaign are inquisitive people who go looking for information online and do not necessarily bother with traditional print media, and all those who have nothing to do with universities in their everyday lives."


The outbreak of the COVID-19 pandemic means that there is an urgent need to supplement the six topics addressed on the website uninteressant.at with an extra one, namely "Coronavirus Research". This doesn't just include medical aspects; as in all other fields of knowledge, scientific, technical, medical and arts universities have something to say on the subject. Starting today, the 22 universities and the FWS will be promoting the campaign on their respective websites and on social media. Universities Austria will project-manage the campaign together with the Monopol Agency, which also oversees the successful uniko project "Schrödinger's Cat" www.schroedingerskatze.at.
"Austrian universities provide the knowledge that will determine how we are going to live over the next few decades," says the uniko president. "The essential questions are: How do we manage vital resources? How do we organise our social coexistence? How can we protect ourselves from diseases? This knowledge is the key to our future," adds Seidler. Klement Tockner, President of the Austrian Science Fund FWF, which is cooperating in and supporting the campaign, adds: "It is only in a crisis that we can see what is really important – science and research certainly are. Researchers provide knowledge and tools that improve our lives in many areas and help us to plan for the future. The wide range of topics covered and the high quality of university research are not only impressive but are crucial for Austria's innovative capability and economic development."
---