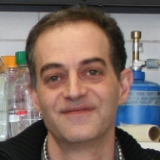 Keywords
Animals, Genetically Modified; Carcinoma, Non-Small-Cell Lung; Inflammation; Kirsten murine sarcoma virus; Receptor, Epidermal Growth Factor
Research interests
My main research goal is modeling human diseases using genetically modified animals as tools. I have a strong expertise in the generation and characterization of transgenic mice (conditional knock-outs, knock-ins, BAC-based transgenic, etc.) mimicking human diseases with special emphasis in lung cancer. Currently, my research group is focused in three main topics:
1) Role of inflammation in KRAS driven lung adenocarcinomas.
2) Targeted and immune-therapies in lung adenocarcinomas .
3) Exploring the possibilities of using BAC-based expression vectors applied to mammalian (e.g. CHO-K1 cells) recombinant protein production, which could provide anti-cancer treatments, a collaborative project with POLYMUN Scientific Immunobiologische Forschung, an Austrian company in the field of recombinant protein production.
Techniques, methods & infrastructure
Molecular biology
Cell culture
Genetically modified mice
Tumor transplant models
Recombinant protein production
Grants
Afatinib in KRAS driven lung cancer (2020)
Source of Funding: FWF (Austrian Science Fund), stand-alone project
Principal Investigator
JAK in KRAS driven lung cancer (2020)
Source of Funding: FWF (Austrian Science Fund), Stand-Alone Project
Principal Investigator
Carbohydrate libraries for improved innate immunity binding (2016)
Source of Funding: FFG (Austrian Research Promotion Agency), BRIDGE
Principal Investigator
EAVI2020 - European AIDS Vaccine Initiative 2020 (project partner) (2015)
Source of Funding: EU, H2020-PHC-2015-single-stage_RTD
Principal Investigator
Growth hormone resistance and liver fibrosis (2013)
Source of Funding: FWF (Austrian Science Fund), Stand-Alone Projects
Principal Investigator
BAC-based Expression System Technology (2011)
Source of Funding: FFG (Austrian Research Promotion Agency), Bridge
Principal Investigator