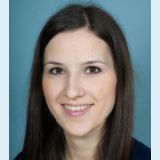 Keywords
Adolescent Psychiatry; Crisis Intervention; Early Intervention (Education); Mental Health; Self-Injurious Behavior; Suicide
Research interests
In my research, I focus on developing technology-enabled interventions for young people who engage in self-injurious behaviours. I work closely with young people to include their perspectives and needs in the design of such inteventions.
Techniques, methods & infrastructure
Qualitative research (thematic analysis and content analysis)
Participatory research (co-design workshops and focus groups)
Selected publications
Čuš, A. et al., 2021. "Smartphone Apps Are Cool, But Do They Help Me?": A Qualitative Interview Study of Adolescents' Perspectives on Using Smartphone Interventions to Manage Nonsuicidal Self-Injury. International Journal of Environmental Research and Public Health, 18(6), p.3289. Available at: http://dx.doi.org/10.3390/ijerph18063289.
Edbrooke-Childs, J. et al., 2021. Young People Who Meaningfully Improve Are More Likely to Mutually Agree to End Treatment. Frontiers in Psychology, 12. Available at: http://dx.doi.org/10.3389/fpsyg.2021.641770.
Liverpool, S. et al., 2020. Engaging Children and Young People in Digital Mental Health Interventions: Systematic Review of Modes of Delivery, Facilitators, and Barriers. Journal of Medical Internet Research, 22(6), p.e16317. Available at: http://dx.doi.org/10.2196/16317.