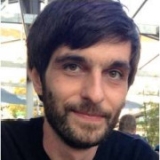 Keywords
Optical Imaging; Physics; Tomography, Optical Coherence
Research group(s)
Baumann Lab
Head: Bernhard Baumann
Research Area: Develop multi-functional imaging techniques based in OCT for the preclinical diagnostic of Alzheimer's disease.
Members:
Research interests
Optical methods enable rapid, noninvasive, and three-dimensional imaging with micrometer scale resolution. My research interests are the development of new optical methods for biomedical imaging – in particular optical coherence tomography (OCT) – and their application for improved diagnostics of diseases in both clinical and preclinical research.
Techniques, methods & infrastructure
Optical imaging setups for retinal and microscopic imaging
Image processing and analysis
Longitudinal studies in biomedical research settings
Grants
Deciphering nano-scale tissue motion (2022)
Source of Funding: FWF (Austrian Science Fund), International Projects
Principal Investigator
OPTIMEYEZ - Optical imaging platform for high-throughput longitudinal studies of the eye in disease models (2022)
Source of Funding: EU, ERC Proof of Concept
Principal Investigator
OPTIMALZ - Optical imaging of ocular pathology in Alzheimer's disease (2015)
Source of Funding: EU, ERC-2014-STG
Principal Investigator
Preclinical imaging of the rodent eye with multi-functional optical coherence tomography (2013)
Source of Funding: FWF (Austrian Science Fund), Stand-Alone Projects
Principal Investigator