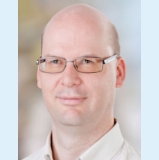 Keywords
Allergens; Allergy and Immunology; Biochemistry; Pollen Allergy
Research group(s)
Biochemistry and Bioinformatics
Head: Christian Radauer
Research Area: Gaining a deeper understanding of the molecular basis and the clinical relevance of the allergen-specific humoral immune response as well as elucidating molecular properties of allergenic proteins that contribute to their allergenicity.
Members:
Research interests
Many forms of inhalant allergy are associated with food allergy due to cross-reactivity between inhalant allergens and homologous food allergens. However, IgE cross-reactivity does not always translate into clinically overt food allergy. Our research focuses on the characterization of these allergens and the cross-reactive epitopes for IgE and other isotypes. Our aim is to elucidate factors that determine the clinical outcome of cross-sensitization.
The second focus of our research is related to the question which properties determine the allergenicity of a protein. By using bioinformatics analyses, we classify allergens, non-allergenic homologues and whole proteome sequences by sequence-related and structural properties with the aim of discriminating allergens from non-allergenic proteins and improve the currently insufficient methods of allergenicity prediction. An outcome of this work has been the AllFam database of allergen families, which is freely accessible on the internet at http://www.meduniwien.ac.at/allfam/
Techniques, methods & infrastructure
In addition to standard methods in molecular biology, protein chemistry and immunochemistry, we use phage libraries to - among others - select allergen-specific recombinant antibodies. Moreover, a focus of the Biochemistry and Bioinformatics group is the application of bioinformatics methods, such as functional and evolutionary classification of proteins or homology modelling and structure comparison, on the study of allergenic proteins.